This Student's Artwork About Sexual Assault Is Moving People to Tears
"This hit me hard."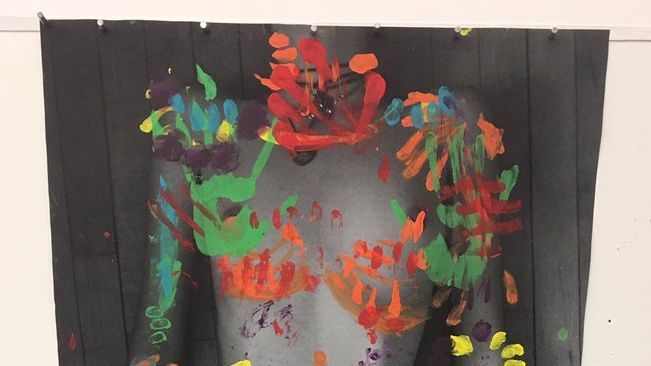 (Image credit: Emma Krenzer/Twitter)
Emma Krenzer, 19, has created a powerful piece of art that is deeply resonating with people all over the world. The Nebraska Wesleyan University student made a visual for her art class that depicted what it feels like to be sexually assaulted.
She took a photo of her friend and then finger painted areas of her body with different colors, each color representing a different person in a woman's life. Yellow represented a friend, who might touch you at your elbow or your waist. Orange represented her lovers, splattered gently over her shoulder, knees, and groin. And red was labeled "someone I told not to," deeply indented over her neck, inner thighs, and vagina.
"I thought about what was true for myself, and also, what I perceived to be commonly true for people in general, when I mapped out these touches," Krenzer told BuzzFeed.com.
Krenzer completed the art project the night that she came back from the Women's March on Washington, and posted the finished product on her Twitter account on Monday afternoon. It's received over 127,000 retweets since then, and countless comments from people who found it extremely powerful.
Emma tweeted that she plans to make prints and continue the piece as a series so follow her work.
Follow Marie Claire on Facebook for the latest celeb news, beauty tips, fascinating reads, livestream video, and more.