How I Saved Myself from an Abusive Boyfriend
Like Lindsey Wegner, women 16 to 24 years old are most at risk of suffering abuse at the hands of a lover. Would you know the signs?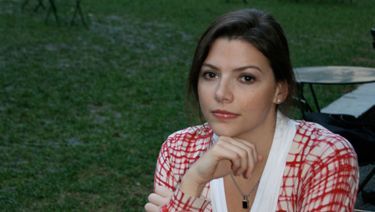 (Image credit: Maria Eugenia Miranda)
Marie Claire Newsletter
Celebrity news, beauty, fashion advice, and fascinating features, delivered straight to your inbox!
Thank you for signing up to Marie Claire. You will receive a verification email shortly.
There was a problem. Please refresh the page and try again.
When Lindsey Wegner told her high school sweetheart that she had — before meeting him — hooked up with someone she hadn't dated, she never expected he'd react the way he did. They were driving to Lindsey's parents' house in suburban Indianapolis as she talked about her past, and he instantly became enraged. He started shouting, called her a slut and a whore, and turned the car around. He then sped off to a dangerous neighborhood because he said he wanted to get caught in the crossfire of a shooting. Just 19 years old at the time, Lindsey didn't know what to think — a feeling she had for the next several years.
Still, the fog of teenage love veiled the red flags.
"I knew that wasn't right. That kind of behavior is not okay, but I didn't know how to handle it," says Lindsey, who is now 26.
As she got in deeper with her boyfriend (who shall remain unnamed), more disturbing behavior cropped up. After an argument in her freshman-year dorm room at Indiana University, he kicked an ottoman across the room, prompting a neighbor to stop in to check on Lindsey. The resident assistant on her floor soon summoned her for a meeting to discuss the incident.
"When we did schedule a time to talk, he insisted on being there," says Lindsey. "This was supposed to be a conversation between the RA and myself, and he dominated the entire thing." He manipulated the meeting and was beginning to control other aspects of Lindsey's life. She stopped hanging out with her male friends because he didn't want her getting attention from other men, and she became estranged from her best friend Ashley because he didn't get along with her, either.
All of these were warning signs of what would become an abusive relationship, but Lindsey was too inexperienced with love to pick up on any of them. Women 16 to 24 years old are most at risk for domestic violence, according to U.S. Department of Justice data. Just in the last 18 months, 32 percent of teens reported emotional abuse or physical violence in a relationship.
"While love is a real powerful barrier and has a huge impact on people at any age, for young people, it's very new," says Stephanie Nilva, executive director of Day One, an organization in New York City that combats dating violence. "They don't have a lot of experience with relationships, and they don't have the framework to say that they're going to do better."
No Place to Run
Lindsey endured name-calling and insults from her boyfriend — but avoided talking to her family and friends about it because she was embarrassed and ashamed. "I was a strong person, and I just became very insecure as a result of him talking about me and calling me names," says Lindsey. "So I cared even more about what people saw."
On top of a lack of perspective on her relationship, not having the resources to identify her situation fueled the fire. "People just ended up turning their backs on [me] instead of reaching out because it was something that … people don't understand. And there weren't a lot of resources on campus about that. Indiana University's a huge school — 36,000 students — and the awareness isn't really there." Most schools don't have the support system or infrastructure set up to identify dating violence, says Katie Gentile, Ph.D., an associate professor of counseling and gender studies at John Jay College of Criminal Justice in New York City. It's a chronic problem across the country.
When Lindsey's sophomore year rolled around, her boyfriend talked her into moving in together. The first night they were in their new apartment was also the first night he struck her. He was angry over some trivial argument, and he pushed her to the ground and started to punch her. "You don't want to believe that that person doesn't love you … that they want to hurt you," she says. "You always remember the good times when you're going through it."
He continued to hit her the rest of the semester. Isolated from her friends and family, Lindsey felt so hopeless she started to think ending her life was the only way out.
Saving Grace
An instant message from her friend Amber — who was in the military and was stationed overseas — changed everything. Lindsey revealed that her boyfriend was beating her, and Amber threatened to tell Lindsey's family if she didn't tell them herself. Boosted by her friend's support, Lindsey got up the nerve to call her brother, Michael, while she sat in her car in the library parking lot. "It was so hard to get those words out," she says. She asked him not to come help her get out until after finals. In two weeks, her family drove to pick her up and then to the courthouse for a protective order.
Unfortunately, it's not that easy for teens and young adults in other states. Many jurisdictions require that the perpetrator and victim be current or former spouses, or have a child in common, to get a restraining order, according to the National Coalition Against Domestic Violence. (See how your state fares.) Often, support groups cater to domestic violence issues among older women, and awareness programs work with grade school kids, but there's not much in the middle, says Joe Samalin, who works with the national organization, Men Can Stop Rape, to develop prevention programs on college campuses.
"One of the challenges in working with colleges and universities, especially on the issue of dating violence and domestic violence, is that very often traditional college-aged students tend to fall into the cracks between adult domestic violence and youth dating violence," says Samalin.
The Cycle
A week after Lindsey got the protective order, she was instant-messaging with her ex. While a court order put an end to the physical abuse, it took another year of emotional and verbal abuse for Lindsey to completely break ties with her abuser. She went back because she had become dependent of him. "I felt very lonely," she says. Her family was at work during winter break, and she had nobody to keep her company.
It's a vicious cycle that's hard to understand, but Eminem's music video, "Love the Way You Lie" — featuring Rihanna, a victim of domestic violence herself — portrays it very well, says Jean Sung, a teen dating violence survivor and Day One's Youth Voices coordinator. Still, she's not so sure about the message it sends: "I can't tell if it's glorifying it or spotlighting it, and I think that's a definite problem for me."
Although it's not clear what Rihanna is trying to convey by singing with self-proclaimed wife-beater Eminem, her 2009 case against ex-boyfriend Chris Brown was a sea-change in the conversation, says Nilva. Now, people see that it can happen to anyone of any economic or social background. The high-profile case chipped away at the stigma of dating violence and made it a household term, says Nilva.
"I think the thing that's still missing is a real strong accountability for the batterer," says Gentile. "No one would ever say if you were being mugged, 'How were you walking down the street? Was your wallet bulging from your pants?' But for rape victims and dating violence victims, you still get a tinge of or an overt questioning of your legitimacy to be a victim, and that goes hand in hand with lack of accountability."
After years of healing and rebuilding, Lindsey is happy with her life. Initially, she was worried that the effects of being in an abusive relationship — having to take incompletes in three college courses and not getting the grades she would have otherwise gotten — would stymie her career goals, but she worked hard. She's been accepted to IU for law school and plans to work in family law so she can help other women and girls understand their rights. "When I got in, I felt like I had reached my ultimate goal because this was no longer haunting me."
October is Domestic Violence Awareness Month. If you think you or any of your loved ones may be an abusive relationship, check out the signs at breakthecycle.org. Get help by calling the National Teen Dating Abuse Helpline (1-866-331-9474) or the National Domestic Violence Hotline (1-800-799-SAFE).
Celebrity news, beauty, fashion advice, and fascinating features, delivered straight to your inbox!