The Instagram Guide to Dubai
What to see, do, and—more importantly—take pictures of in this extra desert oasis.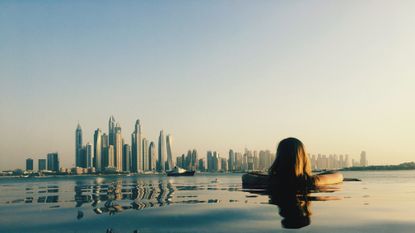 (Image credit: Sapho Marekovic / EyeEm)
Marie Claire Newsletter
Celebrity news, beauty, fashion advice, and fascinating features, delivered straight to your inbox!
Thank you for signing up to Marie Claire. You will receive a verification email shortly.
There was a problem. Please refresh the page and try again.
Dubai can feel like a dreamland. A little more than 100 years ago, what now is a buzzing metropolis was just desert. Today, Dubai is bigger, better, shinier. It gives off the impression that Dubai's developers saw what other cities had and wanted it for themselves, but more. New York has a Chrysler Building? Dubai has two—and they're taller. Aspen has world class skiing? Dubai has 22,500 square meters of slopes—inside. It's no wonder the city is a massive tourist destination, particularly one for those who want to get a killer image for their Instagram grid. If you take the word "extra" as a compliment, Dubai is the perfect city for you. Here are our recommendations for where to go to get the pics that will make your Insta grid double-tap worthy.
The Burj Khalifa
Of course, the world's tallest building (soon to be the second-tallest, because Dubai can't just have just one of the world's tallest buildings, no sir) is prime for Instagram photos. The Burj Khalifa has 154 floors and stands at 829.8 meters, or 2,722 feet, tall—for comparison, One World Trade Center in New York City is the tallest skyscraper in the United States with a dinky little height of 541 meters, or 1,776 feet, and a measly 104 floors.
It's hard to get a bad photo of the Burj Khalifa; sure, it's impossible to get the entire thing in one image from the bottom, but that's when you'll make good use of that slo-mo option to show the grandness of the building. Then, head inside (buy a ticket in advance and get there early, the lines can be a little out of control). From the 124th, 125th, and 148th floors—you can see all of Dubai from different angles. Capture the gorgeous blue waters of Dubai Fountain, or in the distance, you can spot the World Islands. I'm terrified of heights, but once you're up that high, it's surreal; it feels like you're looking at a painting.
The Dubai Mall
You know your old suburban mall, with the Cheesecake Factory and Sephora? Well, imagine if that mall had a baby with Fifth Avenue, and it married Las Vegas and those two entities procreated? Yeah, that's the Dubai Mall. It has literally every single store you can think of—including a Borders, which I didn't know was still in business—as well as an indoor aquarium where people can scuba dive, a human waterfall, and, well, pretty much anything your heart desires. Once you exit, you're in front of the Dubai Fountains, where nightly they have a musical light show that you can't miss.
The Souks In Old Dubai
"Old Dubai" is a relative term—the city is young compared to the rest of the world. But the souks in Old Dubai are traditional shopping markets where travelers can find gold, spices, perfumes, and textiles. Everything is so otherworldly and colorful, it'll be hard for you to find something not to take a photo of. From here, I recommend hopping on an abra, a wooden water taxi, to get some gorgeous shots of Dubai from the water.
The Palm Jumeirah
The Palm Jumeirah is a manmade island linked to Dubai via a tunnel, and it must be seen to be believed. The island is home to some of Dubai's most famous and beloved hotels and resorts. The latest to open is the W Hotel Dubai at The Palm, which is an Instagrammer's playground. There's something for every vibe here: for the throwback-loving, millennial pink 'Gram Girl? You can get some amazing photos at the legendary Massimo Bottura's only restaurant outside of Italy, Torno Subito. Torno Subito, a pastel playground of teals, yellows, and pinks, feels like those '60s Fun In The Sun Annette Funicello movies exploded. For the funky downtown girl whose always looking for a killer wall to pose in front of, there's SoBe, Dubai's only rooftop bar with 360-degree views. Get there early to watch the sunset over the Arabian sea. Then there's Akira Back, which has an entrance lit and designed in such away that its only use must be posing and pretending you're a Bond girl.
The Dubai Miracle Garden
The Dubai Miracle Garden is a miracle for all Instagrammers, especially those who may or may not have read The Secret Garden 75 times growing up. The Miracle Garden is (shocker) the largest natural flower garden in the world with more than 109 million flowers, and it really does feel Alice In Wonderland–esque. The only not-so-miraculous part is that it's pretty well-known, so you have to get there early or in the off-season if you want to get that perfect shot of you waving someone into your garden, or twirling, or whatever it is pretty princesses do when they've found a mystery garden.
For more stories like this, including celebrity news, beauty and fashion advice, savvy political commentary, and fascinating features, sign up for the Marie Claire newsletter.
RELATED STORIES
Celebrity news, beauty, fashion advice, and fascinating features, delivered straight to your inbox!
Amanda Mitchell is a writer and podcaster with bylines at Marie Claire, OprahMag, Allure, Byrdie, Stylecaster, Bon Appetit, and more. Her work exists at the apex of beauty, pop culture, and absurdity. A human Funfetti cake, she watches too much television, and her favorite season is awards season. You can read more of her work at amandaelizabethmitchell.com or follow her on Instagram and Twitter @lochnessmanda.