I Survived a Deadly Avalanche
Climber Larissa Browning recounts her harrowing descent.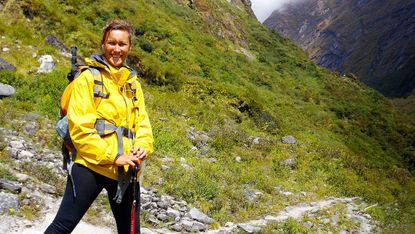 (Image credit: Courtesy of Larissa Browning)
Marie Claire Newsletter
Celebrity news, beauty, fashion advice, and fascinating features, delivered straight to your inbox!
Thank you for signing up to Marie Claire. You will receive a verification email shortly.
There was a problem. Please refresh the page and try again.
I was never athletic as a kid, but after a breakup three years ago, I promised myself I'd start traveling. Since then, I've whitewater-rafted in the Grand Canyon and hiked in Peru. Mount Kilimanjaro was my next goal, but I had to try high elevation first. So I decided to tackle Nepal's Annapurna Sanctuary trail, which goes from Phedi to Annapurna Base Camp at 13,500 feet, to test my altitude and attitude.
Annapurna is next to Everest, and it's considered the less competitive, more spiritual route. As an ICU nurse who works nights in hectic emergency rooms, I craved meditation as much as adrenaline. I signed up with a company that provides guides, food, and bare-bones guesthouses. My team—nine hikers, from a 26-year-old free spirit to an 85-year-old couple—was led by a middle-aged Nepalese man named Gokul and a vibrant 30-year-old Australian named Kate.
Our four-day trek to base camp was surreally green and lush. Reaching our destination and standing before 26,000-foot peaks felt sacred, like being in a cathedral.
But my serenity vanished when we started our descent the next morning. Defying weather reports, clouds swallowed the trail in blinding fog. Unable to see three feet ahead of me, I tailed Kate's voice down the path, trembling with each step. On the edge of a mountain, there's no room for error: If I slipped and started rolling down, I wouldn't stop. I tried singing Nepalese songs to distract myself but lost concentration when freezing, monsoon-like rains started flooding the path.
Panic struck as ear-shattering thunder crashed and mudslides took out hills around us. I remembered a Nepalese boy we'd met who had lost his family in a mudslide. His dad had thrown him out of its path, leaving him the lone survivor. Would that tragic fate be ours, too? Even in a heavy jacket and boots, I felt naked and completely exposed.
By then, I was too exhausted to be scared. My body ached, and I was developing a fever. If I take one more step, I'll collapse. To block the pain, I focused on my teammates. My goal used to be mastering the trail; now it was making sure they got home alive. Linking arms and shouting words of encouragement, we became family.
We had planned to stop in Deurali, but our guides decided we should go to Dobhan, 2,000 feet farther down. That was a lucky break: Turns out the avalanche was trailing us. Had we stayed, we would have been snowed in and surely caught hypothermia.
When we finally arrived at Dobhan, rain beat on the guesthouse's tin roof all night as we girls huddled together for warmth. The next morning, the storm was even worse. So was my fever, but we had to keep moving, trudging through knee-deep water. Days earlier, we had passed a river by crossing a hillside ridge now erased by a mudslide. Gokul suggested we get on our hands and knees and crawl around the cliff's edge. I couldn't stop thinking about death, but life pulled me forward—visions of family, friends, the promise of more adventures.
Ten treacherous hours later, we reached the safety of another guesthouse at 1,700 feet. I had never felt more tired or sick, but euphoria and a deep sense of gratitude rushed over me. We guzzled down wine and beer and toasted being alive. It wasn't until the next day that we knew how lucky we were: There had been 19 deaths on Annapurna. The casualties now total more than 40. An extraordinary combination of luck and timing is how we survived.
I'm still going to try Kilimanjaro this month. My friends say I'm crazy, but who would I be without these experiences? I'm hopelessly drawn to the self-discovery, spirituality, and humility. I need to see what that big mountain is all about.
This article appears in the February 2015 issue of Marie Claire, on newsstands now.
You should also check out:
20 Adventures to Have in Your Lifetime
Celebrity news, beauty, fashion advice, and fascinating features, delivered straight to your inbox!