Glass Nail Files Are Here to Change Your Manicure Game
Guys, my polish lasted a full *week* without chipping.
Here's the extent to which I think about nail files on a daily basis: I don't. Sorry, nail-file makers of the world, but if it sands down my talons in a somewhat painless way, then I'm fine with it. At least, that's what I used to think, before this shiny, glimmering, beacon of hope—also called a glass nail file—crossed my desk for the billionth time in my career last week, and I actually stopped to try it out for once. And holy wow; I am officially a changed, albeit-late-to-the-party, woman.
Look, I know it's hard to believe that anyone could muster any emotion other than passivity when it comes to nail files (unless you're my grandma Barb, who stashes old emery boards around her house like a mouse preparing for war), but then you clearly haven't used a glass nail file. Because unlike the ultra-grainy, somewhat torturous emery boards under Barb's couch cushions, which literally shred the edges of your nail, leaving them more prone to splitting and breaking, glass nail files are essentially a bunch of angels gently kissing your nails shorter. More or less.
"One of the biggest mistakes you can make when filing your natural nails is using a nail file with too rough of a grit, which can cause damage," says manicurist and ultimate nail guru Miss Pop, noting that "typically, glass files—also known as crystal files—come with a gentler grit," making them both safer on your nails and easier to handle. But don't let the glass name freak you out—it's not like you're filing your nails with a chunk of fragile glass, but instead with a super-treated, thermal-tempered, chemically-etched piece of glass that gently buffs your nails down while sealing the edges of keratin together. So, you know, almost the opposite of the ripping, shredding things currently in your drawer.
RELATED STORY
If all of that sounded like jargon to you, then just listen to this: My manicure lasted for a full WEEK without any chips or flaking, which is an actual rarity for me (I smack my nails into stuff a lot. Idk.), after I used the crystal file (which was the Sephora Collection Crystal Nail File BUY IT, though you can also try the Classy Lady Professional Glass Nail File BUY IT, which is a favorite on Amazon).
And unlike with regular ol' nail files, which always leave that slightly detached, but-still-hanging-on edge of roughness underneath your nail that you have to scratch off, glass/crystal files leave you with none of that. Plus, according to Miss Pop, they last a really, really long time, too. "They're not like regular nail files, where the paper can peel up at the edges," she says. "Plus, they can be washed with soap and water between uses, which you can't really do with emery boards, so they're easy to sanitize."
So if you're looking for a way to up your manicure game even a tiny bit, may I suggest to you the magical, mystical, fantastical glass nail file? As for me, I just bought 230 of them, since I plan to replace Barb's stash in the middle of the night while she's sleeping. I'll let you know how it goes.
RELATED STORY
Celebrity news, beauty, fashion advice, and fascinating features, delivered straight to your inbox!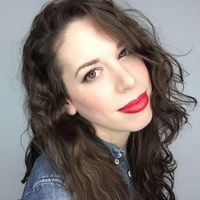 Chloe Metzger is the deputy beauty director at Cosmopolitan, overseeing the editorial content and growth strategy of the hair, makeup, and skin space on digital, while also obsessively writing about the best hair products for every hair type (curly girl here; whattup), and the skincare routines that really, truly work (follow her on Instagram to see behind-the-scenes pics of that magazine life). She brings nearly a decade of writing and editing expertise, and her work has appeared in Allure, Health, Fitness, Marie Claire, StyleCaster, and Parents. She also has an unhealthy adoration for Tom Hanks and would like to please meet him one day, if you could arrange that. Thanks.