How CBD Can Save Your Skin
Plus, what to know before you buy so that you get the most out of your CBD beauty products.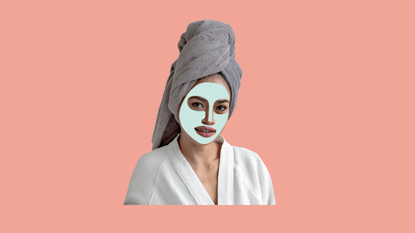 (Image credit: Morgan McMullen / Getty Images)
Marie Claire Newsletter
Celebrity news, beauty, fashion advice, and fascinating features, delivered straight to your inbox!
Thank you for signing up to Marie Claire. You will receive a verification email shortly.
There was a problem. Please refresh the page and try again.
As a beauty editor, I receive dozens of packages a day, which accumulate in a hefty pile in our product closet. On any given day, at least half of those are touting oils, tinctures, creams, serums, and gummies containing the sexiest ingredient on the market: CBD, an active nonpsychoactive extract of the cannabis plant (basically, it won't get you high). It's mood-boosting benefits—think: reduced anxiety and better sleep—are its most well-known, making it the current darling of the wellness space. But recently, it has developed a rep as a skin-savior too. While studies are limited, CBD is being hailed as the ultimate anti-inflammatory and acne healer, and the ingredient is being included in dozens of topical beauty products. (Yes, to see any aesthetic improvements, you'll need to reach for a topical, like a cream; tinctures or vapes won't provide the same skin benefits.) But before you start slathering, it's important to get your facts straight about what you're actually putting on your body. Here, we break down exactly what you need to know to be a smarter CBD consumer...with amazing skin.
What Topicals Actually Do
While there have been few clinical trials centered around CBD as of yet—due to the fact that cannabis was federally illegal until the recent passage of the Farm Bill—some studies have shown it to be a potent anti-inflammatory that can regulate oil production. While this is ideal for all skin types and everyday general skin health (we all suffer from inflammation at one point or another), Dr. Junella Chin, D.O., medical cannabis expert at cannabisMD, says it's a wonder for a few specific conditions.
Acne
In addition to reducing inflammation, CBD also calms redness and irritation. "A lot of my patients have cystic acne, which can become very inflamed. I find that a CBD treatment really calms it down," she says. "My favorite product, and one that many patients find helpful, is Escape Artists' Fast Relief Cream." Dr. Chin suggests applying a pearl size amount to the affected area 2–3 times a day.
Post-Procedure
The ingredient is also super nurturing after a hardcore facial or treatment, says Dr. Chin. "I give patients the same CBD face cream to use post-procedures, like after Photofacials, Fraxel, and other laser treatments. It helps soothe the skin so it heals faster."
Sunburn
"When applied to the skin, you'll notice that a sunburn will calm down a little quicker, with a similar effect to aloe," she explains.
Aches and Pains
While tinctures can also help stymie pain, some more potent topicals can ease aches on contact. "Apply the creams on tight muscles, areas where there have been injuries, or the abdominal and pelvic regions to ease pre-menstrual cramps," Dr. Chin adds.

What to Know Before Shopping for CBD Skincare
So, if you suffer from any of the above, CBD might be for you. But before buying anything, remember that the industry is new, rapidly expanding, and unregulated. That means brands are jumping on the CBD bandwagon, marketing to millennial women, and taking your hard-earned dollars—sometimes without concern for safety or efficacy. We got Charlotte Palermino, co-founder of the cannabis education platform Nice Paper and forthcoming beauty brand Dieu X Skincare, to help demystify the skincare aisle. Here, her most important points.
Know Your Terminology
Terms to Look For: Whole plant hemp, phytocannabinoids, hemp extract, cannabis sativa extract, cannabidiol, phytocannabidnoid rich (PCR)
If these words are on the label, it means there's actual CBD in your products, as opposed to the byproducts of hemp or cannabis that don't contain the active ingredient. Since CBD is still largely unregulated, brands could make false CBD claims when their formulas don't actually include it. Even if that's not the case, CBD-rich products will cost more than their CBD-less cousins (see below)—make sure you're spending your dollars on the real thing.
Terms to Avoid: Cannabis sativa oil, hemp seed oil, hemp seed extract
These products could be stellar on their own, as these oils are great moisturizers and help nourish the skin, and a lot of brands use them without claiming they contain CBD. But if you're looking for actual CBD, these byproducts of hemp and cannabis don't have it.
Size Matters
Finding a potent formula requires a little math. Compare how many milligrams of CBD are listed on the label in relation to the ounces on the packaging. For example: While 500 milligrams of CBD would go a long way in one ounce of face oil, it wouldn't be as strong in a five-ounce tub of salve. Palermino's simple solution: "If you're looking for something potent, smaller bottles may have stronger dosing. If you see a huge container of CBD that doesn't cost much, it's probably diluted CBD. If there are only 100 milligrams in a three-ounce bottle of lotion, think about how much CBD is in each pump—it's not a lot."
Lip, Red, Hand, Material property, Mouth, Finger, Lipstick, Cosmetics, Nail, Lip gloss,
Some brands may be off-base with their potency if they're not diligent with their testing—that is, if they're even testing at all. Explains Palermino: "If you don't see CBD or hemp extract or any of the words that denote CBD in the top half of the ingredient list, the dosing could be weak"—whether its creators are aware of it or not. "If you see fragrance above CBD or CBD as the last ingredient, it's probably not very strong and is really a marketing play," she adds. "By law, cosmetic companies must list their ingredients in order of potency."
Shop Responsibly
"If you want to be sure the formula is the real deal, ask the brand for a Certificate of Analysis," says Palermino. This means the brand has done responsible and exact testing on their products, and it also gives you the active percent of CBD in their formulas.
Look for Diversity
It's just as important to know who's behind the scenes, says Palermino. "See who the founders are and who they've hired. Try and support brands run by women and people of color." The black community is increasingly targeted and incarcerated for marijuana use, while many others profit from the cannabis industry for the same actions. Take it a step further and support brands that make donations towards social justice.
Shop My Favorite CBD-Infused Products:
For more stories like this, including celebrity news, beauty and fashion advice, savvy political commentary, and fascinating features, sign up for the Marie Claire newsletter.
RELATED STORIES
Celebrity news, beauty, fashion advice, and fascinating features, delivered straight to your inbox!
Taylore Glynn is the Beauty and Health Editor at Marie Claire, covering skincare, makeup, fragrance, wellness, and more. If you need her, she's probably roasting a chicken, flying solo at the movies, or drinking a bad Negroni at JFK.