Makeup Artist Lisa Eldridge Walks Us Through Her Beauty Routine
The YouTube beauty guru is all for green tea ice cubes and a blotted lip look.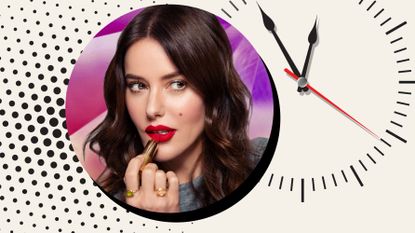 (Image credit: Design by Hanna Varady)
Makeup artist Lisa Eldridge–whose A-list clients include Alexa Chung, Rosie Huntington-Whiteley, and Dua Lipa, to name a few–has changed the game. She was the first leading makeup artist to get on YouTube, allowing millions of subscribers to get an inside look at her favorite methods and products, before that was an industry norm. Eldridge has inspired and educated a generation of beauty lovers (including yours truly) to try out new looks, learn about the history of makeup, and embrace their own skills. With her line of Velvet Lipsticks, newly launched Lip Glosses, and a Lip Kit worth splurging on, she's used her viewer base to learn what they wanted out of products, and made it happen. Below, the London-based artist shares 24 hours in her world, and lets us in on all her tips and tricks for looking beautiful, with or without makeup.
Rise and Shine
I'm not the best morning person, so my morning routine is not anything like my evening routine. I wish I was a morning person. It's my ambition in life to retrain myself. I try and just drink lemon and water and be quite healthy when I first wake up.
Morning Maintenance
I always cleanse my face in the morning, even though I probably don't need to because I don't have any makeup on. When I wake up and I'm puffy under the eyes, I feel so down on myself. So I keep a lot of stuff in the fridge—under-eye pads, an eye serum with a cold applicator, always.
Beauty Signature
I always use at least a moisturizer and an SPF. And I always use an essence. I'll press it in, put the moisturizer on, and then once that's all settled, I follow with SPF. I don't wear a lot of makeup in the morning unless I'm going for lunch with the Queen or something. I do like blush and a little bit of tinted lip gloss or something just to look healthy, but that's about as far as I go.
Mask Hack
When I've done big celebrities for red carpet, the thing they always tell me is, "Oh my God, my makeup is still on at midnight. How'd you do that?" I just really use a small amount of product and get maximum effect. And I think that's what would work with masks as well: very thin layers of makeup, very well blended, just less of everything.
And I love blotting lips because I like that slightly [melted] look. If I'm using a lip color which is really pigmented, I tend to use a small amount and just really work it into the lips so that it becomes a stain. It has been nice because a lot of my people that follow me send me pictures with [their Lisa Eldridge Velvet Lipsticks]. They show me that their mask hasn't got any marks on it. [My new lip oils are] more like lip treatments, but they're quite pigmented as well, so they're butter and oil blend glosses.
Worth It
Silk pillowcases and eye masks. I find that I've trained myself, without realizing, to only sleep with a silk eye mask. Why did I do that? Now I have to replace them a lot. And I like the really nice ones with the lavender in them that are all cushiony and gorgeous.
Cheap-But-Chic
I make ice cubes with green tea. If you make really strong green tea, just pour some of it into ice cube trays and keep it in the freezer. If you've got a bad puffy day—you've had a traumatized night for whatever reason, or you've just gone to bed late, or you didn't properly cleanse your face or something—a green tea ice cube held against the eyes and massaged around the eyes is genius. It's like putting pure iced caffeine on your face, with all the antioxidants. It's the cheapest but best thing you can possibly do.
Business Beginnings
I was definitely the first pro makeup artist doing a lot of top quality work who then decided to jump into YouTube. I was watching YouTube and I just thought, "This is genius." A lot of people that were high up in the makeup industry, or the fashion industry, were quite scathing about it. They thought it was so amateur and funny. But I was really into it. And then I just thought to start making my own videos.

I was absolutely terrified, beyond terrified, of ruining my career. But it didn't affect my career in any adverse way. And thought YouTube, I learned so much about what people were struggling with, what they wanted to learn. All of that has really informed a lot of the decisions that I make now.
Career Advice
Early on, when I was assisting [makeup artist] Mary Greenwell, she gave everyone this talk. On how she'd put her family on the sideline to do her career, and that she had traveled nonstop, and that she'd never settled down or never paid attention to her personal life and that she regretted it. And I was always thinking about that, and I was careful to prioritize on an equal footing [my career and my family] and not get swept away by the constant traveling and the very transient lifestyle.
P.M. Routine
I've always been a big nighttime routine person. Cleansing is like meditation to me because you're getting rid of all of the annoying things that happened psychologically. You're getting rid of all the stuff out of your pores, all of the bad energy, anything that you want to get rid of. And if you massage your face while you're cleansing, it's so great—something I learned from my mom. In fact, she used to sit, watching the television, and still be massaging her face for ages. And she looks amazing now, so it obviously worked.
Bedside Beauty
I keep brow serum and lash serum next to my bed, because if you don't keep them next to the bed, you'd forget. The last thing I do every night is massage my feet. I don't know why, but I've gotten into this habit. I just find that really relaxing, and then my feet are really soft and feel really good when I wake up in the morning. So I have this really thick balm, which doesn't smell too nice, not the best thing actually for my poor husband.
Celebrity news, beauty, fashion advice, and fascinating features, delivered straight to your inbox!
Tatjana Freund is a Beauty Commerce Writer, covering makeup, skincare, and haircare products and trends. She's a fan of vodka tonics and creepy Wikipedia pages.