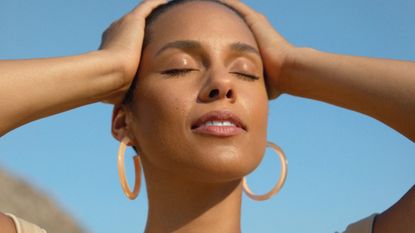 (Image credit: Keys Soulcare)
Creating a solid skincare routine is a great way to take care of yourself on the outside. But in our hectic lives, we often forget to care for ourselves on the inside, too. Maybe that's why it seems like there's such a big difference between a routine and a ritual. To help address that gap, iconic musician and self-love advocate Alicia Keys created Keys Soulcare, a line of beauty offerings that aim to take care of body and soul.
In addition to her illustrious music career, Keys has become a champion for natural beauty and body positivity, and an outspoken defender of cultivating mindful self-love. For Keys Soulcare, she worked with a board-certified dermatologist to formulate a line of skin and body offerings that reflects those messages. As a result, you can feel good about them: Each offering is cruelty-free, and uses clean, time-tested ingredients in thoughtfully minimalist packaging.
Keys Soulcare combines science and soul, using modern, science-tested ingredients alongside ancient beauty rituals to create something that nourishes all of you. Take their Harmony Mask with Manuka Honey, which contains activated charcoal to purify the skin, New Zealand-sourced Manuka honey (a centuries-old remedy of the Maori people) to draw in moisture, and golden foil (said to be used nightly by Cleopatra) for added radiance. Underneath those skin-loving ingredients is the gentle, soothing scent of sandalwood, to encourage stillness.
And Keys Soulcare is connecting an inclusive, global community of lightworkers—people of all genders, races, ages, and sizes who embrace the idea that taking care of ourselves means focusing on the physical, emotional, mental, and spiritual parts of ourselves, too. Lightworkers want to change the face of beauty by nurturing what's inside so that it can shine outward.
And this holiday season, Keys Soulcare has created three unique ways to bring loved ones into the lightworker community with travel-friendly, holistically curated gift sets. Each collection of three offerings addresses a different moment of self-care: The Skin Recharge Ritual cleanses and recharges the complexion, The Spa Ritual is a self-care day in a box with cleansing and hydration at its core, and the Soulcare Ritual combines three of the brand's most beloved offerings for whole-body revitalization. Not sure which one to get for your loved one? Keys Soulcare has created an interactive Gift-Finder Quiz to help narrow down the offerings that best complement their energy.
Shop the full Keys Soulcare collection here, and join the lightworker community by following Keys Soulcare on Instagram at @keyssoulcare.
Marie Claire email subscribers get intel on fashion and beauty trends, hot-off-the-press celebrity news, and more. Sign up here.