The 15 Best Concealers Ever, According to Marie Claire Editors and Makeup Artists
Dark spots and circles don't stand a chance.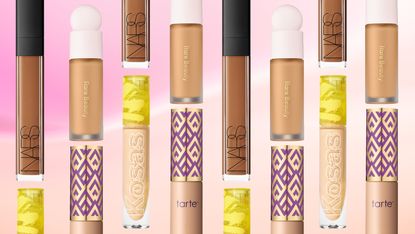 (Image credit: Future)
When it comes to makeup heroes, there's no beauty product that works harder than your favorite concealer. Any time we get an angry and annoying red pimple, we use the best acne-covering concealers to mimic a flawless complexion. And when we stay up way too late scrolling through TikToK, undereye concealers come to the rescue to hide our dark circles. The best concealers ever can cover acne, shadows, and other imperfections like a champ, never crease, are long-lasting, and waken your face just like a morning cup of coffee. But finding a concealer that hits on all of these points is easier said than done—right?
Wrong. We beauty lovers at Marie Claire have searched high and low to bring you this list of the best concealers on the market. Ahead, you'll find the tried-and-true concealers our team keeps well-stocked in our makeup bags. From drugstore concealers like the E.l.f. Camo Concealer to more luxurious finds like the Clé de Peau Beauté Concealer, these products are set to solve all of your complexion woes. We even picked the brains of pro makeup artists for their favorites, so you better believe this list has the best of the best.
What to Look For in Concealer
Of course, your definition of the "best" concealer really depends on your beauty needs. "Brands do a great job of really laying out what to expect from their formulas," pro makeup artist Ehlie Luna tells Marie Claire. "What you should look for depends on your skin type, concerns, and the look you're going for."
For example, if your under-eyes are dry, Luna says to make sure your concealer is a hydrating formula. Or, go with a full coverage concealer if hiding spots is your priority. As a last tip, Luna says, "When concealing around the face you may even want to opt for a cream concealer, while a liquid texture can work better under the eyes."
The Best Concealers
Meet the Expert