The 15 Best Dark Spot Correctors, According to Editors and Experts
Bright, even skin, coming right up.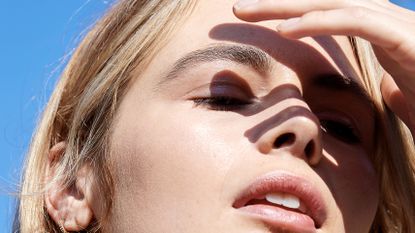 (Image credit: Getty Images/Plume Creative)
If you've ever spent a day in the sun or had to deal with an unwanted pimple, it's pretty likely you've had a dark spot to contend with. Welcome to the club! You're one of the millions and millions of people that have had dark spots: post-inflammatory hyperpigmentation, melasma, sun spots, age spots—you get the point. While these are not necessarily permanent and can fade over time with some lifestyle changes (read: stay out of the sun), there are an exorbitant number of the best dark spot correctors that can speed along the process.
"Skincare products can contain ingredients that work in a variety of ways to mitigate the skin producing a darker pigment," explains board-certified dermatologist at Schweiger Dermatology Group in New York City Dr. Nava Greenfield. Said ingredients range from hydroquinone, which is something you'll have to get from your dermatologist, and retinoids to over-the-counter options including everything from vitamin C to licorice root.
If you're not quite sure where to start, read ahead—and consult with your board-certified dermatologist. We've spent hours upon hours testing out highly-rated, industry favorites and have compiled a list of the best dark spot correctors out there. From dermatologist-recommended moisturizers and serums to editor-approved brightening serums and concentrates, these products will set you up for brighter, more even-toned skin in just about three months' time.
What Causes Dark Spots?
There's not one singular cause for dark spots, namely because there are so many different types of dark spots. "They can come from outside, extrinsic factors such as sun exposure or from internal factors such as hormones," explains Dr. Greenfield. "Sometimes, dark spots can even result from a combination of both."
A large portion of dark spots are going to be caused by inflammation. "Some dark spots are post-inflammatory hyperpigmentation. We commonly see this after acne, particularly acne that gets picked, but sometimes acne by itself is inflammatory enough to cause discoloration," explains board-certified dermatologist Dr. Hadley King.
The second major cause is sun exposure, aka the enemy to good skin. The sun, in tandem with hormonal changes and genetic predisposition, can bring about brown or gray-ish patches called melasma. Too much vitamin D can also bring about lentigines, or sun spots. "They're small, pigmented spots on the skin with a clearly defined edge, surrounded by normal-appearing skin," says Dr. King.
What to Look For in a Dark Spot Corrector
Let me put it this way: You have options—and a lot of 'em. There are so many topical agents that can help brighten skin, even out tone, and fade discoloration. Perhaps the strongest—and most classic—ingredient is something called hydroquinone, which is a lightening agent that can only be used under the care of a dermatologist given potential side effects, such as mercury exposure. If you're going the over-the-counter route, Dr. Greenfield recommends searching for an encapsulated algae complex, which "has demonstrated its ability to prevent the formation of dark spots." Dr. King also recommends seeking out "retinoids, arbutin, azelaic acid, kojic acid, vitamin C, phytic acid, tranexamic acid, and licorice root." Some focus on speeding up cellular turnover, while others will provide antioxidant protection and a brightening effect.
When Can I Expect Results?
Word from the wise: Give it time. "Use a product for at least three months before you look in the mirror, take before and after photos, and make the determination whether you feel this product has benefited your skin," says Dr. Greenfield. "Often, you will see a result sooner, but it may take up to three months. So, hang tight, the skin is slow at responding."
The Best Dark Spot Correctors
The Best Moisturizer Dark Spot Corrector
REN Overnight Glow Dark Spot Sleeping Cream
If you prefer a minimalist skincare routine, check off multiple boxes with a multi-tasking product. Get your hydration fix and dark spot correction with this powerful overnight cream, which just so happens to have an encapsulated algae complex as its main ingredient. "I love this product because it is deeply hydrating and not only treats dark spots but also brightens my skin," says Dr. Greenfield. "It is formulated for sensitive skin and is an over the counter product. It can be used nightly unlike hydroquinone, which has to be stopped after three months out of risk of side effects."
Pros: Derm-approved; Multi-tasking; Fast-acting
Cons: Strong scent
The Best Tonic Dark Spot Corrector
Mele Skincare Even Tone Post Cleanse Tonic
"This is a great choice for melanin-rich skin concerned about dark spots," says Dr. King. "It contains lactic acid to gently exfoliate and hydrate, and vitamin C to brighten." Because of the tag-team approach, you're going to get a multitude of benefits that go well beyond fading sun spots and hyperpigmentation. The increased cell turnover is going actually help reduce the appearance of fine lines and create a generally brighter, healthier, younger-looking complexion. Just use this twice a day and get ready for radiance.
Pros: Derm-approved; Great for darker skin tones; Multi-tasking
Cons: Slight scent; Tacky texture
The Best Vitamin C Dark Spot Corrector
Olay Vitamin C + Peptide 24 Brightening Serum
Both vitamin C and niacinamide are wildly powerful ingredients famed for their ability to brighten and fade dark spots. Now, while there are hundreds upon hundreds of options out there, this very affordable option happens to be one of Dr. King's all-time favorites. Because in addition to those two, very important ingredients, this serum also contains lactic acid, to help with exfoliation, and loads of peptides, which ensure the skin stays hydrated.
Pros: Derm-approved; Hydrating; Exfoliating properties
Cons: Contains fragrance
The Best Dark Spot Corrector for Inflammation
SkinBetter Science Even Tone Correcting Serum
"One of my favorite products for hyperpigmentation right now is SkinBetter Science's Even Tone Correcting Serum," says Dr. King. She explains that in addition to notable dark spot correcting ingredients like arbutin, sodium phytate, diglucosyl gallic acid, hexylresorcinol, acetyl glycyl beta-alanine, and kakadu plum extract, the serum also contains something called mugwort, or artemisia capillaris. "This is high in vitamin A and decreases redness, inflammation, and dullness," she points out. "I also like that they did a head-to-head study comparing Even Tone with hydroquinone and Even Tone performed as well as hydroquinone in their study."
Pros: Derm-approved; Good for inflammation
Cons: Expensive
The Best Retinal Dark Spot Corrector
Medik8 Crystal Retinal Stable Retinal Night Serum
Retinal is simply the gift that keeps on giving. Unlike your usual retinoids, this iteration is going to be non-irritating (!!!). We're talking no flakes, no dry patches, and no peeling. Plus, it's still going to provide the typical benefits associated with vitamin A. Most notably, it will increase cell turnover, which can help reduce acne, increase brightness, and fade dark spots and hyperpigmentation at a *much* faster rate.
Pros: Contains vitamin A; Non-irritating; Powerful
Cons: Retinal 20 might be too strong for some
The Best Dark Spot Corrector for Brown Patches
SkinCeuticals Discoloration Defense
While this derm-developed serum can certainly help with all different kinds of dark spots, it's especially helpful when it comes to combating brown patches or melasma. It's a non-hydroquinone brightening serum that leverages the three dark spot-reducing powerhouses: tranexemic acid, kojic acid, and niacinamide. Each has been shown to minimize the look of brown patches and discoloration, while simultaneously contributing to increased brightness. An added benefit? It's going to prevent new discoloration from popping up.
Pros: Good for melasma; Preventative
Cons: Expensive
The Best Dark Spot Corrector for Acne-Prone Skin
Goop GOOPGLOW Exfoliating Dark Spot Sleep Serum
If you're dealing with active acne and post-inflammatory hyperpigmentation from said acne, this serum can help—on both accounts. Thanks to a blend of lactic and glycolic acid, it has a gentle exfoliation factor that can get rid of the sticky dead skin cells responsible for clogging pores in the first place. Less acne means less new dark marks. And when it comes to the hyperpigmentation that's already there? The serum includes a handful of additional ingredients, like piperonly glucose, to fade existing pigmentation.
Pros: Good for acne; Exfoliating; Lightweight
Cons: Tingles upon application
The Best Dark Spot Corrector for Brightening Tone
Eadem Milk Marvel Dark Spot Serum
If you can snag a bottle of this serum before it sells out (again), don't hesitate: The milky formula—which has brightening ingredients like encapsulated vitamin C, niacinamide, and amber algae—fades spots in a flash, and is made specifically for darker skin tones. It's designed to lighten only areas with increased pigmentation rather than your complexion as a whole. The best part? Its milky texture leaves a gorgeous glow on the skin's surface.
Pros: Elegant texture; Good for dark skin tones
Cons: Some users say it's difficult to get product out of the dropper
The Best Dark Spot Corrector for Sun Damage
Biossance Squalane + 10% Vitamin C Dark Spot Serum
If you decided to spend your summer baking in the sun instead of under an umbrella (we're not here to judge, just don't do it again), scoop up Biossance's squalane and Vitamin C serum to save you from long-lasting sun damage. Because let's be honest, sun spots aint it. Thankfully, there's some white shiitake mushroom extract to save you. This unsuspecting ingredient is actually responsible for fading dark spots and stopping the creation of new ones. Just make sure to bring the liquid all the way down your chest—you'll thank us later.
Pros: Vegan; Helps with sun damage
Cons: Not great for oily or acne-prone skin
The Best Dark Spot Corrector for Antioxidant Correction
ISDIN Isdinceauticals Melaclear
An unlikely dark spot culprit? Pollution. So if you find yourself engaging in some city living, incorporating this derm-developed product into your routine isn't such a bad idea. It's going to neutralize free radicals and protect against environmental stress, while simultaneously giving your skin a little exfoliation action and a brightening boost. A few drops goes a pretty long way, so don't go using a whole dropper full of product. Be warned: This may make sensitive skin a pinch red—it's totally normal, but if redness persists consult with your derm.
Pros: Pollution protection; Exfoliating; Brightening
Cons: Some report sticky texture
The Best Arbutin Dark Spot Corrector
The Ordinary Alpha Arbutin 2% + AHA