The 8 Best Color Correctors, According to Experts and Editors
Cover dark circles, acne marks, and hyperpigmentation in a swipe.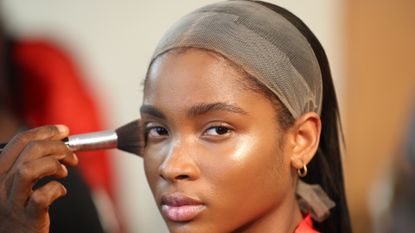 (Image credit: Getty Images)
Treat your face like paint by numbers. I know, it's weird advice. But hear me out: The second I started covering blue spots (read: my under eyes) with red color correctors and red tones (read: pimples and rosacea) with green color correctors, my makeup looked more even than ever before. "Color correctors are really used if there's any discoloration on someone's face—whether it's under eye bags, discoloration, rosacea, or if they have any acne scars," explains celebrity makeup artist Dani Parkes. You just apply a thin layer before your regular concealer and foundation. So sure: You may look like an art project at the get-go. But the even-toned payoff is well worth it.
The key to a seamless finish that doesn't peek through foundation boils down to the product you're using. You'll likely need a green, a red, and a peach to complete your kit, but the rest of the process is pretty foolproof. Just use a small amount of product on the area that needs to be camouflaged, let the product dry down (this is important, people!!), and then proceed as normal with your concealer.
To help you get started disguising your dark marks, spots, and under eyes, I've tried dozens of different color correctors—and tapped the pros for their favorites—to determine the eight best color correctors in existence.
What to Look For in a Color Corrector
The shade of color corrector you choose means everything. Different colors cancel out different hues in different skin tones," explains Parkes. "For example, green will cancel out redness, but red will cancel out purple, which is very common under the eyes." You'll also want a peachy tone on hand if you're trying to cancel out any blemishes or acne scars. Yellow is a good go-do if dullness is your concern, too.
The key to a good color corrector is finding one that feels lightweight. The last thing you want is to feel like you're adding an extra layer to your makeup routine. "You put color correctors directly on your face. Then, I'll apply concealer over top and foundation on top of that," says Parkes. Find a texture that feels weightless and doesn't leave a cakey residue behind.
The Best Color Correctors
The Best Color Corrector for Every Concern
Tarte Shape Tape Corrector
"I've been loving the Tarte color corrector. I've been using it on my clients and I think it's such a great product," says Parkes. "It's so lightweight and you don't feel like you're adding another layer onto your makeup." The best part about it though has to be the options. It's available in nine different shades, so you can truly find the perfect color for every skin tone and concern. In addition to three different peachy-red intensities for under-eye circles, you can scoop up a blue to counteract yellow tones, a yellow to balance dullness, a black hue to create intensity, and even a stark white for brightness.
Pros: Makeup artist-approved; Plenty of color options
Cons: A little heavy if you use too much product
The Best Color Corrector for a Weightless Finish
Charlotte Tilbury Magic Vanish Color Corrector
"This one is to die for. It is amazing," says Parkes. "You just need a little bit and it goes a long way. It helps far beyond most other color correctors. It doesn't feel like I'm adding a whole other layer of something to my skin." Instead, it feels weightless, looks airbrushed, and doesn't peak through foundation no matter how long you have it on your skin. And, (this is my favorite part), the formula also contains a special ingredient called flavonoids to actually reduce puffiness.
Pros: Multiple tones; Multi-benefit; Makeup-artist approved
Cons: Can be a bit drying if used without eye cream
The Best Color Corrector for Dark Spots
Live Tinted HueStick Creamy Color Corrector
It doesn't get more beginner friendly than this Live Tinted crayon. There's no need for a brush or a blender, all you have to do is draw directly onto your skin and diffuse the pigment with your fingers. Plus: It's twistable—no sharpener needed. As for efficacy? You can expect it to not only provide full coverage on any problem areas, but also improve your skin over time. Thanks to ingredients like hyaluronic acid, vitamin C, and squalane, dark spots will start to fade—it's a win-win.
Pros: Contains skincare ingredients; Easy to use
Cons: A bit too dark for fair skin
The Best Drugstore Color Corrector
NYX Professional Makeup Color Correcting Palette
A true classic, you can't go wrong with this NYX palette if you're looking to test the color correcting waters. It's one of the most affordable options on the market and it comes with a whole range of pigmentation-canceling shades. You can cocktail your perfect color corrector using the assortment of hues. If *really* dark circles are your concern, reach for a combo of both peaches. Acne scars? Try the yellow—and the purple. It might be a little bit of an experiment at first go, but rest assured this little guy will see you through to more even-toned skin.
Pros: Affordable; Assortment of shades
Cons: Not as full coverage as others
The Best Color Corrector for Dark Circles
NARS Radiant Creamy Color Corrector
NARS Radiant Creamy Concealer is my number one, holy grail, cannot live without an under-eye product. I genuinely didn't think I could love the under-eye concealer any more—until I paired it with this life-changing color corrector. Just a little bit (seriously, I just two teeny-tiny dots of product) instantly gets rid of my perpetually purple under-eye shadow and fills in those little fine lines that get caked with product. It's a miracle product if I ever tried one.
Pros: Fills in fine lines; Great for purple undertones
Cons: Might oxidize a bit during all day wear
The Best Color Corrector for Redness
Dr. Jart Cicapair Tiger Grass Color Correcting Treatment
As something with a pink undertone and rosacea, I'm well-versed in the world of redness. Unequivocally, this is *the* singular best product out there to bring your complexion back to baseline. I'm sure you've seen the viral videos that prove it's voodoo magic powers. If not, just know that your jaw will drop the second you rub this cream into your face. It quite literally removes every hint of redness within seconds. There's no need to put concealer or foundation on afterward—this is a go-to for no-makeup days.
Pros: Replaces foundation; Amazing for redness; Contains SPF
Cons: Can feel a bit thick
The Best Luxe Color Corrector
Cle de Peau Radiant Corrector for Eyes
For those that simply cannot be bothered to use both a color corrector and a concealer, allow me to introduce this Cle de Peau do-it-all. It technically falls into the concealer camp, but trust me when I say that it covers dark circles better than anything else out there. The formula is based on proprietary counterbalancing glow technology, which essentially gives the product color-canceling powers. Because of its illuminating finish, chances are you'll also want to use this to draw light to the high points of your face.
Pros: Streamlines the application process; Gorgeous texture
Cons: Not the best option for intense pigmentation; Expensive
The Best Color Corrector for Dullness
Makeup Forever Color Correcting Primers
With a grayness reducer, dullness eraser, fresh brightener, and redness corrector this makeup artist-approved range is exactly what you want on standby if you're doing a full face of makeup. Every single shade has a natural finish (so not too shiny and not too matte) and provides a full day of wear. You won't notice any creasing or added oil—your makeup will hold up hour after hour. My favorites of the bunch are the grayness reducer and dullness eraser, which bring life back into dark and fair skin tones respectively.
Pros: Finger-friendly application; Long-wear
Cons: Very fragranced
Meet the Makeup Artist