I Traveled Across the Globe to Find the Best Italian Beauty Brands
My biggest discovery: The country's beauty industry is booming.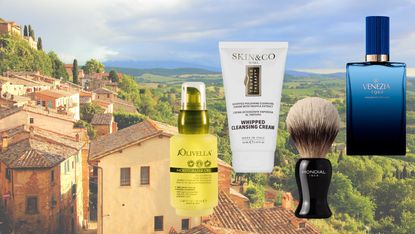 (Image credit: Future)
Every pocket of the globe has their own, special set of beauty secrets. There are the more popularized locales on the international beauty stage: Paris' laid back approach to hairstyling, Korea's multi-step skincare routines, even India's use of turmeric or hair oil. Italy, however, isn't a destination I typically associated with a rich beauty culture. In fact, I couldn't really tell you what the country's contribution was to the beauty world, save its manufacturing capabilities. But every destination is home to its own set of rituals, native ingredients, and approach to aesthetics. That in mind, I boarded a plane and set off to discover all the beauty that Italy has to offer.
I found myself on the world's largest truffle and olive oil fields in Umbria, home to Skin & Co Roma and Olivella respectively. I visited the oldest standing perfumery and barber shop in Florence. I even experienced the power of meditation-minded skincare application via Ya:Be at a wellness retreat nestled in the Italian countryside. What I learned: Italy's beauty identity is surprisingly rich—it's just slowly (but surely) making its way stateside.
Rather than being housed in large corporations, the country is home to family-run brands with generational knowledge. There's an appreciation for the land and an underlying dedication to the preservation of holistic ingredients. The beauty community is overarchingly more focused on perfecting and investing in their formulas rather than masking sub-par efficacy in fancy packaging or marketing ploys. But most notably: Italy makes a top-notch body oil.
While you might not be able to hop a flight to Italy in the here and now, a handful of the country's best brands can be experienced in the comfort of your own home. To get a little slice of Italy, scroll ahead to shop my favorite discoveries.
Olivella
There are very few things more breathtaking than the Del Papa family's olive oil groves. They've been dealing in the world of olive oil for three generations—chances are the extra virgin olive oil in your kitchen cabinet comes straight from their trees in Umbria. With sustainability at the forefront, they've been supplying some of the biggest conglomerates in the beauty space with the lipid and fatty acid byproducts from their olive oil production for years. Only recently however did they decide to create a line of their own—and it doesn't disappoint.
Olivella's star ingredient is—you guessed it—olive oil, which has deeply hydrating properties. Body care is where they thrive; I swear their body oil is genuinely the best body oil I've ever tried (and I've tried a lot). The brand's shower gel is a standout, as is their newly launched facial moisturizer. Everything is gentle, nourishing, and generally no-fuss. It's my best discovery to come out of the trip.
Skin & Co Roma
The Balestra family knows the truffle world better than anyone. In fact, they even figured out a way to farm truffles rather than forage for them, making them the largest USDA Organic-certified truffle farm in the world. Aside from their using the truffle as a garnish, which tastes, well, amazing, the family also figured out how to harness the unique anti-aging and antioxidant properties of the black winter truffle for use in skincare products.
With Oprah Winfrey as a close family friend and avid user of the products, you can be confident these items are the real deal. The Umbrian Truffle Hand Cream has been in my bag since I left the country, and the face oil and cleansing oil have truly changed my skin. And don't worry: The skincare doesn't smell like truffles—it's truly fragrance free.
Fillerina
Fillerina has a surprisingly big presence in the US already, but the brand's routes are Italian and Swiss. You can find them on mainstream retailers like Revolve and Dermstore (easy shopping!), but for those unfamiliar with the brand—here's the deal. They use a range of hyaluronic acid molecular weights to provide a filler-like effect without the need to puncture the skin. If you want to see the brand's patented powers in full effect, give their 7-day treatment a go. It's hard to believe how much these formulas can plump up fine lines and wrinkles until you see it for yourself.
Mondial 1908
The grooming and shaving company has been around for 115 years—and been passed down from Bagnoli generation to generation. Their flagship store is situated in the heart of Florence and visitors or locals can pop in and experience the art of shaving. The brand is renowned for their shaving brushes—every one is handmade by an artisan, but they've grown their offerings to include scented shaving creams, fragrances, and aftershaves. While they've been popular among pros for decades, they're only recently entering the US market. That said, I have full faith they're going to rise to the top of the luxury market. I brought my dad home a sample, and he can't get enough.
Ya Be
While the ritualization of skincare is popular stateside, it's a newish concept in Italy—and Ya Be is truly leading the charge. Their skincare routines come with accompanying mindful meditation to help you relax and reset with your routine. Perhaps my favorite item in the whole line is the brand's Lip Serum. Unlike similarly named products in the US, this isn't shiny or oily or sticky. It goes on matte and is truly a nourishing flat base for other products to be layered upon. They're products are all allergy-safe and vegan, too.
Acqua di Firenze
The little Florence-based shop is situated right on the "Street of Beautiful Women," and rest assured you'll feel like your most beautiful self the second you step into the colorful store. It's a beautiful blend of fragrance and art. The brand prides itself on embodying a specific piece of art or a historical moment in time via a unique blend of notes created by a master perfumer. Every bottle is embellished with an octagon-shaped logo, which is an ancient symbol of harmony and good luck. While paying a visit to the store is a once-in-a-lifetime experience, you can still experience the brand's energy at home—they ship worldwide.
HerbaTint
You've probably seen or heard of this Italian beauty brand—it's fairly popular on Amazon. Born out of the Italian appreciation for land and mother nature, herbalist Michele Albergo whipped up the inaugural product after seeing a need for a non-ammonia hair color option. Enter: The best natural alternative for chemical hair color, Herbatint takes the environment into account from start to finish—even their bottles are entirely recyclable.
Herbatint Permanent Haircolor Gel, 5N Light Chestnut, Alcohol Free, Vegan, 100% Grey Coverage - 4.56 oz
Venezia 1920
I'm pretty hard to please on the fragrance front, which is why I was so surprised when this niche