Editors handpick every product that we feature. We may earn commission from the links on this page.
12 Shampoos for Greasy, Oily Hair That Work Wonders
And won't leave your hair feeling like straw.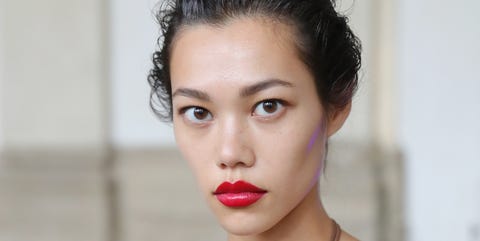 Vittorio Zunino Celotto
Getty Images
Greasy girls, I see you, because I am you. My hair is fine and I have a lot of it, which means that even one day after I shampoo it, I can already feel my scalp's natural oils settling and conspiring against me. And despite inundating my entire head with my go-to dry shampoos to keep my strands looking fresh for as long as possible, the grease just builds and builds. News flash: More than any other product, your shampoo is what makes the real difference in how your hair looks (and feels) in the days to come.
For me, the perfect shampoo imbues some volume and leaves my roots feeling squeaky clean without stripping my scalp and making it feel like I took a Brillo pad to it. That's the problem with using just any formula if you know you're more grease-prone than others: If the ingredients are too heavy, it can leave your hair flatter and more oily than it was to begin with. To keep your strands from this unpleasant fate, it's best to search out lightweight or clarifying shampoos that will detoxify your roots without irritating them. Thankfully, as the years have gone on, brands have gotten smarter when it comes to zapping oil and keeping your hair looking just-washed by including ingredients like micelles, vinegars, and clays in their products. Here, we've rounded up the very best options to keep your scalp serene and your strands squeaky clean.
1
The Coconut Cleanser
Oblivion Clarifying Shampoo
Clarifying shampoos are a must for us greasy girls, as they can cut through any oily-build up or product congestion (looking at you, dry shampoo). But don't worry about this one being too harsh—it's got coconut oil in it to keep your strands hydrated and minimize breakage.
2
The Clay Cleanser
Elvive Extraordinary Clay Rebalancing Shampoo
L'Oreal Paris
target.com
$4.89
Clay is a mainstay in skincare for its oil-absorbing abilities, and L'Oreal has taken its powers to the shower. Three different types of clays eradicate dirt and oil from the roots, leaving strands squeaky clean but still hydrated.
3
The Gentle Detox
Oil Control Shampoo with Nettle
Nettle is known to be calming for skin that needs a little more balance, and this formula gets technical, too: it helps regulate enzymes that control oil production with a compound called scopoletine, which means you can leave more time between washes.
4
The Floral Fix
Rosemary Mint Purifying Shampoo
This clarifying shampoo purifies the scalp using ingredients that are 96 percent natural, and it smells like an English herb garden.
5
The Skincare Copycat
Pro-V Blends Micellar Shampoo Cleansing Water
Pantene
walmart.com
$13.34
You know how micellar water sucks up all the unwanted gunk and makeup from your face and leaves your cotton pads black? Same idea here, but for your scalp. And it's bolstered with vitamins to nourish your strands while they're getting squeaky clean.
6
The Volumizer
Normalizing Shampoo
SACHAJUAN
Dermstore
$29.00
Ever notice your hair looks flatter the days go by? The extra oil in your hair might be weighing your roots down. The marine algae extract and antioxidants in this formula imbues strength, shine and volume to give your strands a much-needed boost.
7
The Retoucher
Cocomino Glossing Shampoo
Drunk Elephant
Sephora
$25.00
Extra oil can make the top few inches of your hair look both dull and greasy at the same time, but the coconut amino acid blend in this shampoo takes care of that: the foam-y lather gently cleanses, while the aminos add salon-levels of shine.
8
The Balancing Act
Serene Scalp Anti-Dandruff Shampoo
It might sounds counterintuitive to use a shampoo aimed at treating dry, flaky skin, but hear us out. This clarifying shampoo is infused with salicylic acid, which helps exfoliate the scalp and break-up build up that can result from excess oil sitting in one spot.
9
The Vinegar Fix
Balance Apple Cider Vinegar Sulfate-Free Shampoo
ACV is an MVP when it comes to cleansing a congested scalp, and it adds a glossy shine to boot.
10
The Weekly Wash
Refresh Purifying Shampoo
This baby is powerful, but it treats your hair as much as it cleanses it. Charcoal shakes loose all the stubborn grime and product build-up sticking to your scalp, while alpha keratin actually repairs damaged strands.
11
The Pretty Purifyer
Purifying Shampoo with Jujube Bark Extract
Christophe Robin
Dermstore
Who says detoxing your entire head can't be chic? Aside from looking aesthetically pleasing next to your razor, this option is filled with luxe ingredients like balancing jujube bark extract and moisturizing cherry flower extract.
12
The Italian Import
Solu Shampoo
Buckwheat extract is the build-up buster in Davines' clarifying formula. It smells like a dream, and the reviews speak for themselves.
This content is created and maintained by a third party, and imported onto this page to help users provide their email addresses. You may be able to find more information about this and similar content at piano.io