The Trendiest Hairstyle the Year You Were Born
Some we love, and some we wish we could forget...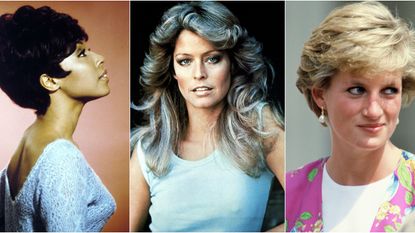 (Image credit: Getty Images)
They've changed so much over time (there was the iconic '20s bob—and who could forget the Farrah waves of the 1970s?). But more importantly, what was the most memorable look during your birth year?
1925: Brushed Out Waves
As soft and ethereal as the early films this style was worn for, brushed out waves gave actresses like Mary Pickford a feminine silhouette.
1926: Browband
A thin, sometimes jeweled piece of fabric worn around the forehead, this style was dubbed the "headache band" — not exactly an appealing accessory nickname, but it looks so chic!
1927: Blunt Bangs
The total opposite of the era's fluffier looks, blunt bangs (opens in new tab) framed the face (and thin '20s brows) in the most literal way possible.
1928: Bright Red Hair
Sure, films were in black and white, but when the public heard that movie star Clara Bow dyed her hair red, henna sales went through the roof.
1929: Eton Crop
One of the most famous wearers of the Eton crop, Josephine Baker rocked her stunning slicked-down style with a "kiss curl," a thin swirl of hair on her forehead intended to add a touch of femininity.
1930: Finger Waves
A style that is still as stunning nowadays as it was then, finger waves was a heavily-styled look (shown here on actress Alice Day) that gave softness to sharp, crisp bob haircuts (opens in new tab).
1931: Shingle Cut
Here, Louise Brooks shows off her thin eyebrows, bee-stung lips, and chic angular bob cut (opens in new tab) with swooping ends that was so popular during the '20s and '30s.
1932: Waves Pulled Low
Unlike the looser styles of the decade, many women, including Greta Garbo, preferred to pull their hair tight and low into a dramatic 'do (opens in new tab).
1933: Deep Side Part
A trend that has yet to go out of style, the deep side part was beloved by stars including Carole Lombard as well as millions of women alike. Check out our simple tutorial (opens in new tab) on how to get it yourself.
1934: Soft Sculpted Waves
Delicately shaped waves a la Marlene Dietrich took hold of trend lovers during the mid-1930s.
1935: Marcel Wave
Similar to finger waves, the Marcel wave was a highly styled wave worn by the likes of Jean Harlow, among many other actresses. Hairdresser Marcel Grateau is often credited for inventing the technique, which involved using hot curling tongs to give hair deep, defined waves.
1936: Pin Curls
Pin curls may have taken wearers a long time to properly accomplish (each piece is literally twirled into a circle to set the curl), but wow, were they worth it.
1937: Rolled and Tucked
Dorothy Lamour, among other actresses, touted a less curly style that had hair rolled into a neat silhouette.
1938: Updo with Flowers
Though she was known primarily for her iconic voice, Billie Holiday's stardom also popularized elegantly accenting hairstyles with flowers — specifically white gardenias.
1939: Curled Pigtails
Starring in her most famous role as Dorothy in 1938's wildly popular Wizard of Oz, Judy Garland helped popularize the curly pigtail look.
1940: Half-Updo
Vivien Leigh's famous portrayal of Scarlett O'Hara in Gone with the Wind featured a throwback Southern belle look with rolled-back hair.
1941: Snoods
Worn during World War II by women employed in factories, this headpiece, made of cloth or yarn, held women's hair away from their neck.
1942: Glam Pin Curls
Not content to keep things basic, stars like Betty Grable brought pin curls and finger waves to the next level with bold blonde hair, red lipstick (opens in new tab), and fun fashion.
1943: Peekaboo Bangs
With the femme fatale at the forefront of both fashion and cinema, stars like Veronica Lake (opens in new tab) ushered in sexy hairstyles that hid just one eye for an air of mystery.
1944: Soft Waves
Delicate curls and waves brought softness to thick bangs and long bobs (opens in new tab) like Barbara Stanwyck's.
1945: Victory Rolls
After the war, many women signaled their celebratory feelings with a voluminous style dubbed "victory curls" — a 'do that would become one of the era's most famous.
1946: Loose Curls
A softer curled style stayed popular throughout the era, with stars like Rita Hayworth maintaining a deep side part (opens in new tab) and full waves.
1947: Crown Braid
During the '40s, braided hairstyles (opens in new tab) rose to prominence, with stars like Billie Holiday donning crown braids and braided buns, occasionally weaving in pieces of fabric or hair in contrasting colors.
1948: Elegant Updos
As the result of an emphasis on mimicking actresses like Joan Fontaine and Lana Turner, stylish women opted for glamorous hairstyles (opens in new tab) like thick, polished chignons, sometimes accessorizing them with clips or pins.
1949: Brushed Out Waves
Linda Darnell and other famous starlets popularized soft waves without and harsh edges or heavy products.
1950: Chignon
The ever-styThe ever-stylish Grace Kelly donned elegant hairdos that influenced American women in the early '50s, prior to her marriage to Prince Rainier III of Monaco (opens in new tab) and subsequent retirement from acting.lish Grace Kelly donned elegant hairdos that influenced American women in the early '50s, prior to her marriage to Prince Rainier III of Monaco (opens in new tab) and subsequent retirement from acting.
1951: Pinup Bangs
With her sex appeal, outrageous personality, and iconic style, Bettie Page and her famous bangs (opens in new tab) influenced those who desired an edgier take on traditional looks.
1952: Italian Cut
Inspired by Italian actresses, starlets like Dorothy Dandridge rocked this chic, short cut (opens in new tab) (similar to a poodle pixie, a curly short cut) featuring sculpted locks and a rounded silhouette.
1953: Short Crop
Making the short cut (opens in new tab) more accessible to the masses was Audrey Hepburn, aka America's eternal sweetheart. After chopping her hair in 1953's Roman Holiday, women fell in love with the modern, easygoing style.
1954: Blonde Bombshell Hair
ThThe age of the blonde bombshell was ushered in by no other than Marilyn Monroe (opens in new tab), the most famous of them all.e age of the blonde bombshell was ushered in by no other than Marilyn Monroe (opens in new tab), the most famous of them all.
1955: Barrel Curls
Full, rounded curls brought a bouncy vibe to blonde bombshell locks (opens in new tab) like Jayne Mansfield's.
1956: Ponytails
At long last: The super simple style we all know and love, pushed into popularity by none other than French sex symbol Brigitte Bardot.
1957: Soft Full Curls
Soft, elegant styles marked the mid-'50s — though all that would soon change.
1958: French Pleat
A chic vertical roll of hair that keeps your locks out of your face, the French pleat was as perfect for career women nowadays as it was then.
1959: Flipped Out
Bringing a totally new silhouette to the era's style, stars like Sophia Loren (opens in new tab) popped a cute curl right at the end of the hair.
1960: Stacked Updo
Unlike the neat, polished updos of years prior, women opted for messier, imperfect styles to achieve a sexy look.
1961: Pageboy
A little softer and more flattering than the unfortunate '90s bowl cut (opens in new tab), actress Hayley Mills and other stars donned this round chop with smoothed-under tips.
1962: Bouffant
As one of the most influential figures in fashion, First Lady Jackie Kennedy Onassis (opens in new tab) popularized this voluminous style.
1963: The Beehive
Women saw thWomen saw the likes of the Ronettes and Brigitte Bardot piling hair atop their heads to reach as much height as possible.e likes of the Ronettes and Brigitte Bardot piling hair atop their heads to reach as much height as possible.
1964: The Bob
Ah, the bob. After initially popping up in the '20s, Vidal Sassoon reinvented it during the mid-'60s, making it chic again among stylish women.
1965: Five Point Cut
Taking the same bob a step further, Sassoon popularized the modern, geometric look on women including Mary Quant.
1966: Long and Straight
As hippies influenced mainstream style, women flocked to copy the ever-trendsetting Cher (opens in new tab) by wearing their hair long, straight, and silky.
1967: Short and Natural
While many black women wore wigs over their hair, Cicely Tyson famously went natural during her role (opens in new tab) on East Side/West Side, prompting women everywhere to cut their hair short in imitation of the actress' gorgeous look.
1968: Mop Top
Hey — the Beatles loved mop top styles, so why wouldn't women love 'em, too? Here, Julie Driscoll rocks a super-straight, shaped cut.
1969: Modern Bouffant
Starring in Julia, a role that made her the first black actress to have her own TV show, Diahann Carroll helped propel this chic, voluminous style to popularity.
1970: Long and Center-Parted
After 1970's Love Story starring Ali MacGraw and Ryan O'Neal became the hit of the year, women started rocking center-parted straight styles (opens in new tab).
1971: The Shag
After hairstylist Paul McGregor cut Jane Fonda's hair into this funky short-and-long style for the 1971 film Klute, women began asking their own hairdressers for this unisex look.
1972: Afro
As more black women began wearing their hair in natural styles (as opposed to relaxed or covered with a wig), Pam Grier and her voluminous curls became one of the decade's most iconic looks.
1973: Cornrows
Actress Cicely Tyson once again inspired a beauty trend by wearing her hair in cornrows for her role in Sounder, leading the braided style (opens in new tab) into popularity.
1974: Loose Waves
As one of the decade's most recognized models, Lauren Hutton's glamorous waves inspired many women to try flowing, loose locks (opens in new tab).
1975: Voluminous Curls
While some women preferred defined waves, many women desired a curlier, more voluminous style like that of supermodel Beverly Johnson.
1976: Wedge Haircut
Designed by Trevor Sorbie — a protégé of Vidal Sassoon himself! — the wedge style featured a triangular silhouette that cut off right around the ears. Olympic figure skater Dorothy Hamill helped popularize the style after winning the gold medal in 1976.
1977: Bleach Blonde
Bringing punky hairstyles into the mainstream, Blondie singer Debbie Harry rocked a shaggy, bleached look (opens in new tab).
1978: Farrah Waves
Farrah Fawcett and her unforgettable hair on Charlie's Angels (opens in new tab) inspired countless women to highlight their hair and blow it out into full, sweeping waves.
1979: Spiky Punk Hair
Musician Siouxsie Sioux and her goth-meets-punk style brought wispy, all-over-the-place hair into popularity.
1980: Edgy Shag
Jane Fonda may have put shag on the map, but Joan Jett's long, razored style made it a must-have for trendsetters and rock lovers everywhere.
1981: Topknot
Now a lazy day staple (opens in new tab) for women everywhere, actresses and models like Iman helped bring this style to the beauty sphere.
1982: Asymmetrical Updo
Admit it: If you grew up in the '80s, you wore this gloriously unbalanced hairstyle at least once.
1983: Girl-Next-Door Hair
Brooke Shields and other "All-American girl" types inspired women everywhere to grow their hair long and give it as much volume (opens in new tab) as possible.
1984: The Mullet
A notably dark time (opens in new tab) in our country's history, the Age of the Mullet lasted too long and affected too many. If you survived the '80s without getting this tragic cut, we commend you.
1985: Wrapped Up
The original Queen of Pop, Madonna's hair helped define the '80s — including this teased 'do (opens in new tab) wrapped up by a headscarf.
1986: Crimped
Another unfortunate trend of the '80s, crimped hair found its place in society and stuck around on and off throughout the 1990s.
1987: Red Ringlets
When Molly Ringwald showed up with her glorious mess of red curls, the world fell in love.
1988: Feathered Bangs
Among other stars, Sarah Jessica Parker rocked this incredibly '80s do, inspiring American women to follow suit by teasing their bangs and perming their locks.
1989: Gelled Curls
Continuing the trend of heavy product use, Julia Roberts and other celebs gelled their curls for a slick-down style.
1990: Regal Short Cut
Ever the trendsetter, Princess Diana influenced women of the world to go short with her famous crop created by hairstylist Sam McKnight (opens in new tab).
1991: Tumbling Updo
Glam supermodels including Cindy Crawford popularized over-the-top updos with face-framing pieces.
1992: Grunge Hair
As one of the biggest names in the early '90s grunge music scene, Courtney Love's messy bleached locks inspired tons of teens and twenty-somethings to try a wilder style.
1993: Box Braids
As a result of her style as the starring role in 1993's Poetic Justice, Janet Jackson inspired women to wear their hair in long box braids (opens in new tab).
1994: The Rachel
By now, we all know that Jennifer Aniston secretly hated the style (opens in new tab) that launched a thousand (or a million) haircuts: "The Rachel." Still, it's impossible not to feel nostalgic over the Friends star's famous cut.
1995: Butterfly Clips
Okay, so the '90s featured a few style mistakes (opens in new tab), not the least of which was the butterfly clip trend. Yikes!
1996: Wild Streaks
Leave it to the Spice Girls — especially daring member Geri Halliwell, a.k.a. Ginger Spice — to lead millions of girls to beg their moms and dads to let them get streaks in their hair of bright red, orange, pink, and other colors.
1997: Spiky Pixie
The '90s saw a chic, edgy style of pixie come into focus after Winona Ryder debuted her cool look in 1997.
1998: Pigtails
Why, oh why, did pigtails on adults come back? Two words, one name: Britney Spears.
1999: Two Front Strands
There may not be an official name for this style, but everyone in the '90s was guilty of it: Two tiny strands, just lingering at the front of the face.
2000: Face-Framing Highlights
Leaving behind the crazier styles of the '90s, the 2000s started to see more wearable colors and cuts like Beyonce's wavy, honey blonde (opens in new tab) hair.
Sam's enthusiasm for makeup is only rivaled by their love of all things relating to cats. In their spare time, they enjoy watching scary movies, putting avocado on everything, and seeing how many shades of the rainbow they can dye their hair before 30.