The Trendiest Hairstyle the Year You Were Born
Some we love, and some we wish we could forget...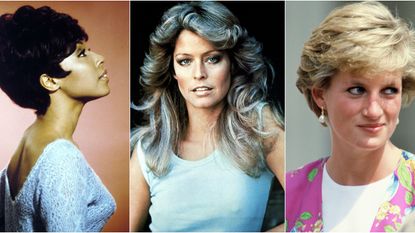 (Image credit: Getty Images)
They've changed so much over time (there was the iconic '20s bob—and who could forget the Farrah waves of the 1970s?). But more importantly, what was the most memorable look during your birth year?
1925: Brushed Out Waves
As soft and ethereal as the early films this style was worn for, brushed out waves gave actresses like Mary Pickford a feminine silhouette.
1926: Browband
A thin, sometimes jeweled piece of fabric worn around the forehead, this style was dubbed the "headache band" — not exactly an appealing accessory nickname, but it looks so chic!
1927: Blunt Bangs
The total opposite of the era's fluffier looks, blunt bangs framed the face (and thin '20s brows) in the most literal way possible.
1928: Bright Red Hair
Sure, films were in black and white, but when the public heard that movie star Clara Bow dyed her hair red, henna sales went through the roof.
1929: Eton Crop
One of the most famous wearers of the Eton crop, Josephine Baker rocked her stunning slicked-down style with a "kiss curl," a thin swirl of hair on her forehead intended to add a touch of femininity.
1930: Finger Waves
A style that is still as stunning nowadays as it was then, finger waves was a heavily-styled look (shown here on actress Alice Day) that gave softness to sharp, crisp bob haircuts.
1931: Shingle Cut
Here, Louise Brooks shows off her thin eyebrows, bee-stung lips, and chic angular bob cut with swooping ends that was so popular during the '20s and '30s.
1932: Waves Pulled Low
Unlike the looser styles of the decade, many women, including Greta Garbo, preferred to pull their hair tight and low into a dramatic 'do.
1933: Deep Side Part
A trend that has yet to go out of style, the deep side part was beloved by stars including Carole Lombard as well as millions of women alike. Check out our simple tutorial on how to get it yourself.
1934: Soft Sculpted Waves
Delicately shaped waves a la Marlene Dietrich took hold of trend lovers during the mid-1930s.
1935: Marcel Wave
Similar to finger waves, the Marcel wave was a highly styled wave worn by the likes of Jean Harlow, among many other actresses. Hairdresser Marcel Grateau is often credited for inventing the technique, which involved using hot curling tongs to give hair deep, defined waves.
1936: Pin Curls
Pin curls may have taken wearers a long time to properly accomplish (each piece is literally twirled into a circle to set the curl), but wow, were they worth it.
1937: Rolled and Tucked
Dorothy Lamour, among other actresses, touted a less curly style that had hair rolled into a neat silhouette.
1938: Updo with Flowers
Though she was known primarily for her iconic voice, Billie Holiday's stardom also popularized elegantly accenting hairstyles with flowers — specifically white gardenias.
1939: Curled Pigtails
Starring in her most famous role as Dorothy in 1938's wildly popular Wizard of Oz, Judy Garland helped popularize the curly pigtail look.
1940: Half-Updo
Vivien Leigh's famous portrayal of Scarlett O'Hara in Gone with the Wind featured a throwback Southern belle look with rolled-back hair.
1941: Snoods
Worn during World War II by women employed in factories, this headpiece, made of cloth or yarn, held women's hair away from their neck.
1942: Glam Pin Curls
Not content to keep things basic, stars like Betty Grable brought pin curls and finger waves to the next level with bold blonde hair, red lipstick, and fun fashion.
1943: Peekaboo Bangs
With the femme fatale at the forefront of both fashion and cinema, stars like Veronica Lake ushered in sexy hairstyles that hid just one eye for an air of mystery.
1944: Soft Waves
Delicate curls and waves brought softness to thick bangs and long bobs like Barbara Stanwyck's.
1945: Victory Rolls
After the war, many women signaled their celebratory feelings with a voluminous style dubbed "victory curls" — a 'do that would become one of the era's most famous.
1946: Loose Curls
A softer curled style stayed popular throughout the era, with stars like Rita Hayworth maintaining a deep side part and full waves.
1947: Crown Braid
During the '40s, braided hairstyles rose to prominence, with stars like Billie Holiday donning crown braids and braided buns, occasionally weaving in pieces of fabric or hair in contrasting colors.
1948: Elegant Updos
As the result of an emphasis on mimicking actresses like Joan Fontaine and Lana Turner, stylish women opted for glamorous hairstyles like thick, polished chignons, sometimes accessorizing them with clips or pins.
1949: Brushed Out Waves
Linda Darnell and other famous starlets popularized soft waves without and harsh edges or heavy products.
1950: Chignon
The ever-styThe ever-stylish Grace Kelly donned elegant hairdos that influenced American women in the early '50s, prior to her marriage to Prince Rainier III of Monaco and subsequent retirement from acting.lish Grace Kelly donned elegant hairdos that influenced American women in the early '50s, prior to her marriage to Prince Rainier III of Monaco and subsequent retirement from acting.
1951: Pinup Bangs
With her sex appeal, outrageous personality, and iconic style, Bettie Page and her famous bangs influenced those who desired an edgier take on traditional looks.
1952: Italian Cut
Inspired by Italian actresses, starlets like Dorothy Dandridge rocked this chic, short cut (similar to a poodle pixie, a curly short cut) featuring sculpted locks and a rounded silhouette.
1953: Short Crop
Making the short cut more accessible to the masses was Audrey Hepburn, aka America's eternal sweetheart. After chopping her hair in 1953's Roman Holiday, women fell in love with the modern, easygoing style.
1954: Blonde Bombshell Hair
ThThe age of the blonde bombshell was ushered in by no other than Marilyn Monroe, the most famous of them all.e age of the blonde bombshell was ushered in by no other than Marilyn Monroe, the most famous of them all.
1955: Barrel Curls
Full, rounded curls brought a bouncy vibe to blonde bombshell locks like Jayne Mansfield's.
1956: Ponytails
At long last: The super simple style we all know and love, pushed into popularity by none other than French sex symbol Brigitte Bardot.
1957: Soft Full Curls
Soft, elegant styles marked the mid-'50s — though all that would soon change.
1958: French Pleat
A chic vertical roll of hair that keeps your locks out of your face, the French pleat was as perfect for career women nowadays as it was then.
1959: Flipped Out
Bringing a totally new silhouette to the era's style, stars like Sophia Loren popped a cute curl right at the end of the hair.
1960: Stacked Updo
Unlike the neat, polished updos of years prior, women opted for messier, imperfect styles to achieve a sexy look.
1961: Pageboy