Great Lengths
In search of perfect hair days, one woman road tests Hollywood's latest craze: unbelievably natural-looking extensions.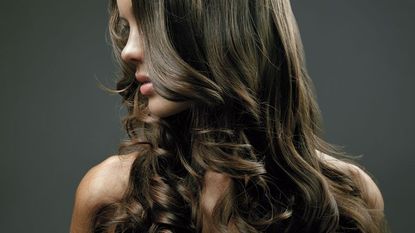 (Image credit: Archives)
Much like breast implants, most hair extensions look great from 10 feet away, but up close, it's obvious they're not real. We've all seen paparazzi shots of Britney Spears' sloppy ponytail revealing hair-plug-like knots or many a Real Housewife's ratty, mermaid layers, where you can practically smell the glue through the TV. But the fact is, ultra-luscious, thick hair — albeit fake — has become so ubiquitous among the rich and famous that it's hard to name a star who hasn't gone there. But if celebrities, with all the money and stylists in the world, still suffer stringy, broken extensions, is there any hope for the rest of us?
My own hair isn't exactly shampoo-commercial fabulous, and years of growing it out have yet to produce Gisele-like lengths. So adding inches in minutes was a pretty good offer from hairstylist Ryan Trygstad of NYC's Marie Robinson salon. The man knows fake hair — he's made hairpieces for Demi Moore, Gwyneth Paltrow, Naomi Watts, and Jessica Chastain. And he promised my new addition would be full and thick, hold a curl, not cause any damage, and be easy to put in and take out myself. Oh, and instead of the typical grueling six-hour session, it would require just five minutes in his chair.
Hair extensions are having a moment of innovation. Halo extensions — which are basically loops of clear fishing line with hair attached that you place on the crown of your head — have become a celeb secret weapon. Trygstad's TryBeautyFalls (from $475, an investment on par with a new pair of Louboutins) follows the same concept, but the system is bespoke — the hair is dyed and styled to match the client's own. Seeing my custom hairpiece on a wig head a few feet away, I could tell he'd nailed my strawberry-blonde shade (the product of an earlier consultation), which off-the-rack extensions make too Crayola red or too Barbie blonde. He fitted the fishing line to my head, and with the weight of the hair on it, I felt like I was wearing a tiny yarmulke. Then Trygstad used the pointy end of a teasing comb to pull my own hair up from beneath the loop and drop it over the top, completely erasing any evidence of cheating — even stroking the top of my head, I couldn't feel the superthin wire.
In 10 seconds, I'd gone from having wavy, normal-person hair to rocking season 6 Carrie Bradshaw hair. Not only was it bouncy, full, and 4 inches longer, it didn't resemble a weirdly long mullet the way traditional extensions can. Because it started an inch and a half above my ears, it made for natural, face-framing layers the whole way down. But I did need to test whether this sucker could hang with my spontaneous-dance-party personality. I mean, I could imagine few things more embarrassing than chasing my dog at the park and my wig flying off, or a new guy running his hand through my hair and taking a foot of it with him. So to test TryBeautyFalls' tenacity, I jumped out of Trygstad's chair and thrashed around, shaking my head every which way. The thing stayed perfectly put.
I felt a little creeped out when I thought about the fact that another woman's hair was touching my face, but I got over it as soon as I met friends for dinner and they couldn't stop talking about my great blowout. It's not something I plan on wearing every day, but I'm excited to break it out the next time I get dressed up or just want to change up my look. And that's the best part: I'm happy to know my hair can be red-carpet-level great for a night out, but that I can easily remove the extensions so that I don't have to deal with them when, say, I'm sweating in Spin class — another Hollywood trend I'm a sucker for.