26 Auburn Hair Colors That Aren't Your Average Red
Head-turning crimson hues, right this way.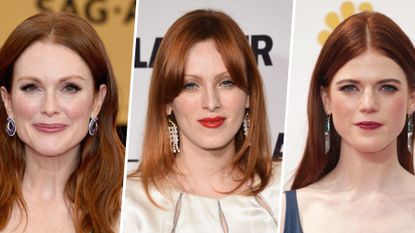 (Image credit: Getty Images ¦ Design by Bridget Burns)
From russet and copper to rust and cinnamon, these celebs are taking red to the next level.
1/27
Kirsten Dunst
This subtle shade of cinnamon red is great for brunettes looking for a color change.
2/27
Nicole Kidman
Kidman's hair evolution between different tones of red will always keep us watching, and this reddish color with light brown undertones is one for the books.
3/27
Florence Welch
Always a sight to behold, Florence Welch's pre-Raphaelite mermaid hair is iconic in its own right.
4/27
Tilda Swinton
Proof of how edgy auburn hair can look on shorter, pixie-ish lengths.
5/27
Jenna Malone
More red than brown, Malone goes the flame-haired route with a style that looks super pretty when it starts lightening at the ends.
6/27
Bryce Dallas Howard
A vampier, cooler shade of auburn like this is the perfect hue for winter and goes especially well with deep jewel tones.
7/27
Meghan Trainor
To keep it interesting, add some lighter highlights starting at the cheekbones for a gorgeous, multi-tonal style.
8/27
Julia Roberts
We love us some vintage Julia Roberts, seen here with gorgeous reddish locks amd hints of cool purples in the mix.
9/27
Ashlee Simpson
Speaking of throwbacks, here's Ashlee Simpson ditching the family blonde for a bold auburn color.
10/27
Isla Fisher
Fisher's shiny, deep color has us feeling some type of way.
11/27
Kate Mara
Mara's hue is predominantly brunette with *just* enough red to keep you guessing.
12/27
Julianne Moore
Hollywood's favorite redhead arrived at the SAG Awards one year with this radiant hue.
13/27
Kristen Stewart
Attention, salon risk takers! Kristen's russet color is perfect for those looking to make a statement.
14/27
Debra Messing
Debra Messing, AKA the OG of redheads, rocks a rusty hue.
15/27
Drew Barrymore
A dimensional, chocolatey reddish brown beautifully complements pale skin tones.
16/27
Emma Stone
Emma's shade of coppery brown is the perfect starting off point for those looking to gradually go red.
17/27
Amy Adams
We love the delicate light brown accent in Amy's red 'do.
18/27
Lana Del Rey
Lana's moody hair proves that auburn can be super edgy. (The gothic cape doesn't hurt either.)
19/27
Khloé Kardashian
Khloé ditches the classic brunette color of the Kardashian clan for a striking shade of caramel red.
20/27
Lily Collins
Lily shows us how to add some ombre highlights to dark brown hair for the summer.
21/27
Christina Hendricks
This bottle redhead's signature color is a rich blend of deep red and brown.
22/27
Rose Leslie
Rose rocks a fierce shade of red worthy of her GoT warrior wilding Ygritte.
23/27
Jessica Chastain
Jessica goes a deeper shade of red by kicking her color up a notch or two and adding some hints of chocolate-brown.
24/27
Karen Elson
Karen's pre-Raphaelite reddish hair is the perfect color of cinnamon to style with a deep red lip.
25/27
Lindsay Lohan
Though she now has a caramel-colored dye job, we'll always love OG Lindsay with a vibrant red head of hair.
26/27
Emma Stone
Emma keeps it simple on the red carpet with a flyaway-free ponytail, but lets her gorgeous auburn color do all the talking.
27/27