Is Your Makeup Aging You?
Cakey foundation and glitter -- get over it! Ning Chao learns insider tricks for looking forever young.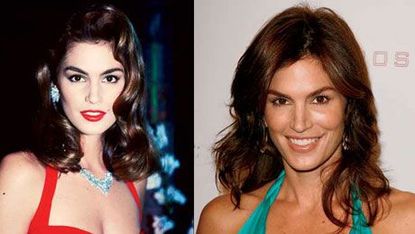 (Image credit: R. Platzer and J. Merritt)
My first glimpse of the inevitable came when I noticed my favorite shimmery blush creasing above my cheekbone. It was around my birthday (I had just turned 28) when the changes started: I soon began to see the freckles across my face as irreversible sun damage, the crinkles around my eyes as permanent — not just a side effect of smiling. I felt like Meg Ryan freaking out about turning 40 in When Harry Met Sally: "It's just sitting there like a big dead end," she cries. I know: I'm not even 30, but I already feel I'm going downhill.
I'm not alone, of course. Whether it's a new white hair or a brand-new wrinkle, the earliest signs of aging have a major impact on our self-confidence. "It's our biological wiring," says David Sarwer, Ph.D., associate professor of psychology at the University of Pennsylvania's Center for Human Appearance. "People want to look like they're viable romantic or sexual partners, and fertility is at its peak from the late teens to mid-20s." Extreme as it is to think of a late 20-something as being past her prime, there's every good reason to start tweaking one's makeup routine now, when it's less about fun experimentation (flaming-red lips for clubbing, sparkling cheeks for a date) and more a matter of correction and restoration. "Teenagers wear makeup to feel out their womanhood. When they're 13, they want to look 19," explains makeup artist Paul Starr, who works with both Lindsay Lohan and Michelle Pfeiffer. "But then one day things shift, and women want to look younger."
contestants and novice models are among those rare birds who intentionally age themselves with heavy foundation, smoky eyes, and clumpy mascara. "We had to look older," recalls the iconic model/actress Lauren Hutton. "We were wearing very expensive clothing that only older women could afford." But if you've reached the age — and mileage — when you're already taken seriously? Go for the tinted moisturizer.
"Unless you're underage and trying to sneak in to a party, why would you wear makeup that hides your youth?" asks Chanel makeup artist Angela Levin, who works with the ageless Nicole Kidman and Jennifer Aniston. Ironically, she adds, looking younger means ditching the makeup you used when you were actually young. "Now it's about choosing sheer textures and applying with a light touch."
"Too much powder can make a person look older, too," observes party photographer and Glamour Girls author Patrick McMullan, who has watched the world's most famous women grow up in front of his lens. "It's particularly hideous at the end of the night. Heroin chic [heavy black liner and powdery white skin] might have looked very cool on a 19- or 16-year-old model, but on a 30-year-old woman, it just looked worn out."
A dewy finish to the skin is more forgiving. "Cream formulas with moisture look softer and prettier," says Starr. He suggests spot concealer instead of allover coverups, and blotting papers for a shiny forehead, nose, and chin. Powder is a no-no, except for the eyes, where cream formulas can settle into the crease of the lids. Instead of black-rimmed eyes, a neutral shadow and dark-chocolate pencil enhance without drawing attention to fine lines.
Always approach shimmer with caution, warns Hutton, who started her own makeup line when she couldn't find products friendly to her over-40 complexion. "Formulas with shiny particles act like airport runway lights, illuminating every line, wrinkle, and pore," she says. "Best for the under-25 set." (Which reminds me of the pearly, light-diffusing lotion I recently slathered on around my eyes, making me look like a sleep-deprived possum.)
Be cautious, too, with contouring, which hollows out facial regions already losing their youthful plumpness. "There's a lot of volume loss with age," says NYC plastic surgeon Haideh Hirmand. Instead of shading, switch to highlighting. Using paler hues, accentuate under the brows for a mini lift, and dust a lighter blush along the cheekbone (carefully avoiding any crow's-feet under the eyes) to plump cheeks. "Between ages 25 and 35, women have lost their baby fat and have grown into their looks," Hirmand adds.
Let's hear it for grown-up faces and beauty's evolution. Says Starr: "Women want to look younger right around the time they start looking their best. They look amazing, but they miss it because they're focusing only on what's gone." Whether or not this is my "best" beauty period, wearing sheer makeup that shows me off is starting to make sense. Why cover up? I'm staying in this sweet spot as long as possible. I'll let you know how I feel at 35...
Want to find products that will take years off of your look?
Check out our beauty flipbook:

Makeup That Makes You Look Younger
Celebrity news, beauty, fashion advice, and fascinating features, delivered straight to your inbox!