The Best Eyeliner Looks, According to a Beauty Editor
Spread your wings... literally.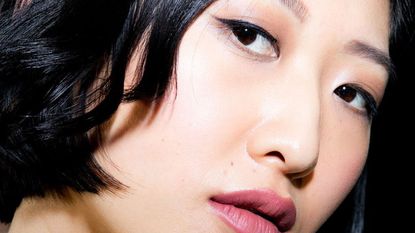 (Image credit: Getty/Rosdiana Ciaravolo)
Despite trying out thousands—literally, thousands—of makeup products over the course of my career as a beauty editor, I tend to gravitate towards a few key products. I'm a total lipstick devotee, and I can never pass up that signature thwip of opening a brand new tube of inky-fresh mascara. But if there's one product I would trade for all the others, it's a slick, pigmented liquid liner. While some of my favorite ladies in the industry tend to throw on a red lip for instant confidence, I swoop on an onyx cat eye when I need to feel confident enough to overthrow my enemies Outlander-style...you know, if I had to.
I've had a ton of practice when it comes to making eyeliner look creative and crisp, though, much like most editors at their respective outlets. Makeup artists are constantly giving us in-person tutorials and tips, so we're privy to some cool tricks that everyone can master: how to get the shape right the first time, how to personalize a wing for your face, and even what to pair your liner with to take the look up a notch. So to anyone who's uttered the phrase "I could never rock that," I'm here to tell you that you fucking can. And celebrity makeup artist Katie Jane Hughes, who's glammed up stars like Rosie Huntington-Whiteley and Ashley Graham, can vouch.
"Anyone can wear any kind of eyeliner. It just depends on where it goes on each person's eye," says Hughes, even when it comes to a more editorial look. Read on for some eye-opening inspo, and a few tips from Hughes herself.
The Femme Fatale
To achieve a classic, bold wing, consider your eye shape before starting. "If you've got very open lids to draw eyeliner on, you should start drawing on your liner in the inner corner and wing your way out, then thicken it as much as you want," suggests Hughes. "But if you've got a hooded eye, you should do the wing part first, and then work yourself into the inner corner. If you start the other way around with hooded lids or folded lids, you can end up with a bigger wing than what you're shooting for."
Heavy Metal
Shimmery silver adds instant flair to even the simplest look. Follow the crease from your inside corner, and end with a tiny, fun flourish.
The Zebra
Alternate swipes of black and white liquid liner starting at the inner corners, then polish off your animal kingdom-inspired creations with tiny black tips at the ends.
Red Hot
For maximum impact, pair a wide, scarlet wing with a matching pout.
Glam and Graphic
Layer bold, ink black liner over '80s-style blush to take your makeup game up an editorial notch.
Floating
A pop of pastel strategically placed can up even the simplest makeup look. Try starting from the center of the eye and working your way outwards in both directions just above the crease.
The Quick Flick
Sometimes, less is more, and this easy swipe of tangerine takes approximately two minutes to pull off.
Negative Space
This one is simpler than it looks: draw on the outline of your wings as you typically would, and then...leave it be!
Easy and Elegant
Sometimes, a sharp, subdued wing is just the ticket. Pair it with lengthening mascara and a nude lip for a natural yet elevated look.
The Black Swan
Bring your inner corners to a point to elongate the eyes and create a seductive gaze.
The Frame
Hey, it's maximalist for sure, but entirely worth the payoff. Keep Q-tips nearby to even out your thick lines as you go.
Big and Bold
Pair a brightly-hued wing up top with some smokey black liner on the bottom. Work it into your lash line, and then use a Q-tip or liner brush to smudge it out for a diffused look.
Celebrity news, beauty, fashion advice, and fascinating features, delivered straight to your inbox!
Taylore Glynn is the Beauty and Health Editor at Marie Claire, covering skincare, makeup, fragrance, wellness, and more. If you need her, she's probably roasting a chicken, flying solo at the movies, or drinking a bad Negroni at JFK.