23 Personalized Beauty Tips
Make the most of what you have with these simple makeup tips that play-up and downplay your best and not-so-loved features accordingly. A dab of concealer here or a touch of bronzer there can hide a multitude of sins—no surgery, sunglasses, or brown paper bags required.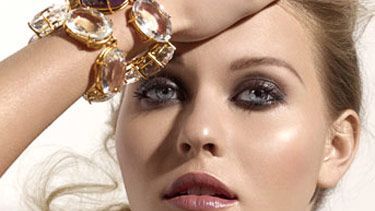 (Image credit: Don Flood)
LOVE YOUR LOOK!
NOSE SHAPE

• To downplay a prominent nose, Jerrod Blandino, CEO of Too Faced Cosmetics, suggests dabbing an eyeshadow brush into bronzer or taupe shadow: "Draw a straight, soft line down both sides of the nose. Add an upward swipe underneath the tip to make it look shorter."

Try: Victoria's Secret Beauty Rush Shadow in Bronzinger
• You can make a slightly crooked nose appear aligned by blending a dab of creamy highlighter down the bridge in a perfect straight line—it tricks the eye and reflects light away from the bend.

Try: MAC Strobe Cream
FACE SHAPE

• To make a round face appear more defined, dust bronzer down your temples, along your jaw line, and down your neck. Then, pop your cheekbones with bright blush.

Try: Neutrogena Healthy Skin Natural Radiance Bronzer
• If you have a narrow face and you'd like to make it seem more balanced, Tarte's makeup team suggests being generous with blush: "Apply it on the cheekbones and the apples of the cheeks."

Try: Clinique Powder Blush
• To minimize a large forehead, sweep an illuminating bronzer along your hairline, creating a shadow across the top of your face—remember to blend well! Also, try a dramatic lip (opens in new tab) to draw attention downward.

Try: Estée Lauder Bronzer Goddess Soft Shimmer Bronzer
• If you're looking for cheekbone definition without a stripy, 1980s effect, try sweeping your regular blush on the apples of the cheeks in a circular motion and dabbing a shimmery cream in a horizontal line above it, blending outward.

Try: Bobbi Brown Shimmer Cream
EYES

• Emphasize your eye color with complementary shades. "Blue eyes look brilliant in toasty suede tones, brown look rich when you wear slate or navy, and green eyes really pop with purple," says Blandino.

Try: L'Oréal Made for Me Shadows
• If your eyes are wide-set, play up the inner corners: Use a fine-tip pencil in black or plum and pull the liner all across the lash line, making sure not to go past the last lash. Try a mascara with a mini wand to coat even the smallest lashes.

Try: Tarte EmphasEyes pencil and Bottoms Up mascara
• To transform small eyes into sultry doe-eyes, Tarte's makeup team recommends lining the top, inner rim of the eye. "It brings attention to the eyes and creates the look of fuller lashes," says founder Maureen Kelly. Use a nude pencil along the bottom.

Try: Smashbox Cream Eyeliner, Paula Dorf Baby Eyes
• If you have Asian eyes, don't try to fake a crease—enjoy your natural almond shape! Try a diffused smoky eye that starts along the lashes and gradually fades. Finish it off with a sweep of black liquid liner (opens in new tab).

Try: Almay Liquid eyeliner
• Make downturned eyes appear more awake with a quick stroke of liner. Draw from the center of the lashes towards the outside of the eye and sweep up to create a slight cat-eye.

Try: Too Faced Cosmetics Liquid Eyeliner
• You can easily make too-close-together eyes seem more balanced by adding pale shimmer (opens in new tab) to the inside corners of the eyes, sweeping it towards the center of the eyelid. Focus mascara and liner on the outer half of your eyes.

Try: Maybelline Eyeshadow in Elegant Pearl
NEXT PAGE: -->
EYE CIRCLES AND PUFFINESS
• Whether those dark circles are genetic or from a sleepless night, you can make them disappear: Tap on a yellow-based concealer to cancel out bluish undertones and set it with loose powder in your regular shade.

Try: Sue Devitt Automatic Camouflage
• Hiding eye puffiness (opens in new tab)is all about optical illusion: Start with an eye cream that contains light-reflecting particles. Then, pat on an equally illuminating concealer. (Avoid powder—it traps light and makes the problem look worse.)

Try: Laura Mercier Flawless Skin Eye Serum, Givenchy Mister Light Corrective Pen
BROWS

• To make your beautiful, thick brows (opens in new tab) look more refined for a meeting or night out (sans tweezers), apply a white highlighter pencil along the brow bone, covering up stray hairs that may distract from your shape.

Try: Benefit High Brow Pencil
• If your brows are on the sparse side, fill them in with brow powder or matte eyeshadow. Tap a small, angled brush into the shadow—one shade lighter than your hair color—and draw short, upward strokes on top of your natural brow.

Try: Anastasia Brow Powder Duo
LASHES
• To make sparse lashes look fuller, dab an angled brush into cream liner and wiggle it between your lashes at the base; then, add volumizing mascara. For evening, attach a few clusters of false lashes (opens in new tab) towards the outer corners.

Try: L'Oreal HIP cream liner, Cover Girl Volume Exact Mascara
LIPS
• If you'd like your lips to look fuller, opt for a light, shimmery gloss and a dab of highlighter in your cupids bow. (Avoid the overdrawn pencil—it's an obvious giveaway that you're trying to fake something.)

Try: Stila Silk Shimmer Lipgloss
• If your lips don't have a lot of natural pigment, try a stain in a pinky-nude shade. Dab it all over, allowing it to set, and then apply your favorite gloss on top. While the gloss may fade, the stain will give you all-day color.

Try: Tarte 24/7 Lipsheer in Thursday
COMPLEXION
• To warm up a sallow complexion, start with a pink-based primer, focusing along your forehead and cheeks. Then, tap on a foundation or tinted moisturizer that matches your natural skintone (opens in new tab).

Try: Makeup Forever HD Primer
• For a ruddy complexion, Blandino recommends using an illuminating foundation through the center of the face. "Redness tends to concentrate on the cheeks and nose," he explains. Buff the edges out clean with a makeup sponge.

Try: Too Faced Magic Wand Foundation
• If your face is winter-pale while the rest of your body is tawny, you may need to even out: Apply a gradual self-tanner (opens in new tab) with SPF all over your face and down your neck. Then, dust on bronzer for immediate color.

Try: Jergens Daily Glow Face Daily Moisturizer SPF20
• Skip foundation to play up your natural moles and freckles. Just pat concealer under your eyes, around your nose, and wherever you may have a blemish. Dust on loose mineral powder for a bit of polish.

Try: Bare Escentuals Loose Powder