19 Tips from Estée Lauder Makeup Artists
If there's one thing we don't allow, it's beauty secrets being kept hush hush. We looked to three Estée Lauder makeup artists Suzanne Carr, Blanche LeBeau, and Tammy Slider, to divulge their most sacred tricks and techniques, from rescue elixirs to beauty tips passed down from their moms.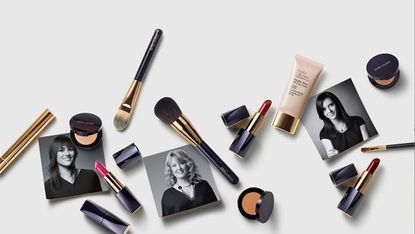 (Image credit: Archive)
Marie Claire newsletter
Celebrity news, beauty, fashion advice, and fascinating features, delivered straight to your inbox!
Thank you for signing up to . You will receive a verification email shortly.
There was a problem. Please refresh the page and try again.
Photo: Blanche LeBeau, Suzanne Carr, Tammy Slider; Courtesy of Estée Lauder
Get out the door in less than 5 minutes:
Never go a day without Estée Lauder Advanced Night Repair (opens in new tab). Consistent use will change your skin over time and leave it youthful, beautiful and makeup-ready. My morning beauty routine is minimal because of the great condition my skin is in as a result of using Advanced Night Repair.—Tammy Slider
Always have your emergency "mini makeup bag" with Double Wear All Day Glow BB Moisture Makeup SPF 30 (opens in new tab), Pure Color Envy Sculpting Lipstick in your favorite shade, Double Wear Stay-in-Place Eyeliner and your favorite mascara. Use these four staples and you'll look great in five minutes or less!—Blanche LeBeau
Beauty tip I learned from my mom:
The 80's were all about color. Instead of using a basic brown or black eyeliner, go for a colorful shade. Try a blue or deep berry to brighten the whites of your eyes for a more rested and fun look.—Tammy Slider
When my mother was growing up, sun-worshipping was the thing to do. That said, I learned what NOT to do! I started at an early age wearing a cream with an SPF every single day. I did, however pick up the red lip trend from my mom, who loved her crimson lipstick. She used to say, "Since I don't know how to do my eyes, I'm going to play up my lips. The darker the red the better!" And I second that.—Suzanne Carr
My mother taught me to wash my face twice a day. A fresh, clean face is a must.—Blanche LeBeau
Beauty tips most woman don't know:
To prevent concealer from settling into fine lines, work the formula with your fingertips first to warm it up. The warm touch will help the concealer go on smoothly.—Tammy Slider
Prep your eyelids with concealer (opens in new tab) for the perfect eyeshadow base using the above warming technique.—Tammy Slider
Line your lips after lipstick. It will make your lip color appear softer.—Tammy Slider
The most important time to treat your skin is at night. I don't go a single night without Advanced Night Repair (opens in new tab) to help repair and protect my skin against daily assaults like stress and pollution.—Suzanne Carr
Instead of a pencil eyeliner, use a pigmented eyeshadow (opens in new tab) as eyeliner with a liner brush.—Blanche LeBeau
When applying eye makeup, start with eye shadow, then eyeliner and finish with mascara (opens in new tab).—Blanche LeBeau
Never use bar soap to wash your face.—Blanche LeBeau
How to know which type of foundation/concealer/skincare is right for you:
First, determine what kind of skin you have – normal, oily or combination. This will help you pick a skincare regiment that is right for you. Next, determine what you want out of your concealer and foundation – Light, Medium or Full coverage. I always encourage the "feel right test." Try three formulas and finishes of foundation and concealers. Your skin will show you what looks best! Tip – you can receive a free skincare consultation and foundation sample at any Estée Lauder counter so you can take it home and try it before you buy it.—Tammy Slider
Good skincare is the most important part of a woman's beauty regimen. Healthy skin allows for the most ideal canvas for flawless foundation application. Cleanser (opens in new tab), serum, and eye cream (opens in new tab) are important products to help you achieve your best skin.—Suzanne Carr
After a good skincare lineup, a great foundation is imperative. When looking for the perfect foundation for you, it's important to first know your undertone (warm, cool or neutral). One of the ways to check is to look at the veins in your inner wrist. A cool undertone generally means more "bluish"-toned veins, while green means warmer. If you can't tell, you are neutral! The tried-and-true checkpoint of all is to be professionally matched by a foundation expert. Visit any Estée Lauder counter, where we foundation match with a free sample – for free!—Suzanne Carr
My favorite makeup trick for looking younger:
Red lips are fun, flirty, and bring out the carefree, youthful side in anyone. But selecting the perfect red lipstick (opens in new tab) for your skintone isn't always easy. Finding your undertone is the easiest way to choose the right red lipstick. Looking at the inside of your wrist, determine what color vein predominantly appears. If you see blue, you're cool. Choose a red lipstick leaning towards pink, red or blue. More green, choose yellow and coral tones. If it's too hard to tell, choose a 'neutral' red with a mix of warm and cool undertones.—Tammy Slider
My favorite age-defying makeup trick is our wildly popular 3 Minute Beauty (opens in new tab) Fatigue Fighter technique. All you need is a concealer brush, Advanced Night Repair Eye Serum or Gel and Double Wear Concealer. To start, drop a touch of Advanced Night Repair Eye product on the back of your hand and mix with concealer. Use the concealer brush to pick up the product and pat the mixture under the eye area. Instant hydration, brightness and youth!—Suzanne Carr
Fill in and shape your brows! Slightly bolder brows will make you look younger.—Blanche LeBeau
The correct order for applying makeup:


Apply face primer (opens in new tab) first, then a BB cream or foundation depending on preference, followed by concealer all around the eye area (top and bottom). Finish with an eyeshadow base on top of the eyelid. In this order, you will achieve the most natural-looking finish.—Blanche LeBeau