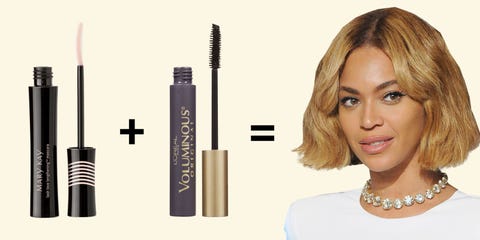 We've sat in enough makeup chairs in our day to know that makeup artists never settle for using just one mascara on their clients. So why should you when it comes to your own lashes? Here, a few tricks that prove two mascara brushes are better than one, no matter what kind of next-level fringe look you're going for.
In a recent interview in Allure, Beyoncé's makeup artist Sir John revealed that he uses a lengthening mascara as a primer, brushing it through from roots to ends, before adding fullness with a voluminous formula.

1. Mary Kay Lash Love Lengthening Mascara, $15; marykay.com.
2. L'Oreal Paris Voluminous Original Mascara, $5.59; target.com.
Another trick out of the ol' Sir John book—balancing out blacked-out upper lashes by using a brown lengthening mascara on the bottom. It's softer and more flattering up close.
1. M.A.C. Studio Sculpt Superblack Lash Mascara, $17; nordstrom.com.
2. Benefit Cosmetics They're Real! Lengthening & Volumizing Mascara, $24; sephora.com.
Per one of her recent #TuesdayTips posts on Instagram, makeup artist Gucci Westman tipped off followers on two different ways to approach color mascara. "When wearing color mascara start with a black mascara base, and then add the color on top for better contrast," she says. "For a cool, less dramatic look, you can also do just the very tips of the lashes with color."
1. Lancôme'Définicils' High Definition Mascara, $27.50; nordstrom.com.
2. Yves Saint Laurent Beaute Vinyl Couture Mascara in Purple, $29; neimanmarcus.com.
4
Fullness + Invisible Length
During a chat with Amy Nadine, the makeup artist behind Lauren Conrad's signature cat eye, she told us that she starts things off with a solid, fanned-out effect mascara, then uses Perricone MD's gel-like lengthening formula to add intensity.
1. Charlotte Tilbury'Full Fat Lashes' 5 Star Mascara, $29; nordstrom.com.
2. Perricone MD No Mascara Mascara, $30; sephora.com.
Benefit Cosmetics Makeup Master Jose Rivera is always one for a mascara cocktail and loves to curl and separate with a hooked brush, then extend the lashes with a lengthening formula.
1. Benefit Cosmetics Benefit Roller Lash Super-Curling & Lifting Mascara, $24; birchbox.com.
2. Benefit Cosmetics Benefit BADgal Lash Volumizing Mascara, $19; birchbox.com.