The 10 Best Tubing Mascaras of 2023
These little tubes have magical lengthening powers.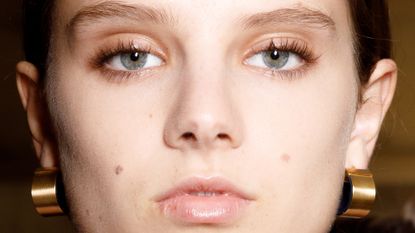 (Image credit: Getty Images)
Looking at yourself in the mirror to find that your mascara is a smeared mess can feel like the final nail in the coffin of a long, stressful day—trust me, I've been there. But what if I told you that there's a mascara formula out there that actually delivers on its promise to stay smudge-free? Even better: This type of mascara doesn't require makeup remover and tons of scrubbing to take off. It may sound like a pipe dream, but it's not. It's called tubing mascara, and it may just be the answer to all of your beauty woes.
Tubing mascara is made up of polymers that wrap around each individual lash, which is different from typical mascara made with oil or wax that coats the lash, explains pro makeup artist, Lauren O'Leary. She adds, "It creates a lengthening effect and is applied the same way you would apply a normal mascara, but is meant to not budge all day." Sounds too good to be true, but after testing a few myself, I can personally attest to the magical powers of tubing mascara.
To convince you, I've outlined all of the benefits of tubing mascara over standard and waterproof mascaras, courtesy of O'Leary. Then when you're ready to test the waters for yourself, I've provided exactly what to look for when shopping for tubing mascara, plus top-rated and a few editor- and pro-approved picks from the drugstore and beyond. Rest assured that all of the mascaras on this list are long-wearing, budge-proof, and lengthening as hell.
The Benefits of Tubing Mascara
Tubing mascaras use different ingredients than your run-of-the-mill mascara, and as such, they perform differently and have different benefits. All in all, it's important to consider your personal needs and goals when it comes to mascara, but here are a few benefits you can expect from tubing formulas:
Lengthening and defining: Because tubing mascara essentially wraps around each lash with tiny tubes, lashes are extended and seriously lengthened. O'Leary also explains that because the polymers coat each individual lash, lashes are noticeably more defined, too.
Easy to remove: The little tubes around your lashes are typically easier to remove and can come off with warm water alone, explains O'Leary. She adds this also makes tubing mascara a great option for those with sensitive eyes.
Long-wearing: Tubing mascara has some serious staying power, too. "Tubing mascara is longer lasting and doesn't come off until it's removed," O'Leary says. "It's not waterproof but does usually claim to be water resistant, meaning it's less likely to smudge or transfer until removed."
What to Look For in Tubing Mascara
While most tubing mascaras will generally label themselves as such, not all do so. It's best to take a look at the ingredients if you really want to be sure. If you see polymers such as glyceryl stearate, and propanediol or simply see the words "polymer" or "copolymer" in the ingredients list, then you've got a tubing mascara on your hands.
Everyone has a different effect they are going for when it comes to mascara, so it's important to consider the right brush shape and size for your personal goals. Typically, a denser and smaller brush will give you voluminous lashes, whereas a thinner, longer brush will result in lengthened and clump-free lashes. But don't be afraid to mix two mascaras to achieve the effect you want—it's actually O'Leary's favorite trick. "I feel like this helps the longevity of my mascara and helps to separate and define at the end of my mascara application," she says. "But you must do the tubing mascara after a normal mascara because tubing mascara dries quickly and is meant to be longer lasting, making it harder to apply more coats once it's applied."
The Best Tubing Mascaras
Best Overall Tubing Mascara
Kevyn Aucoin The Volume Mascara
For a tubing mascara that truly does it all, turn to this best-selling pick. Legendary makeup artist Kevyn Aucoin created this formula to not only provide serious length, but also to volumize. The brand's tubed technology wraps each lash to majorly extend and thicken. The formula is also infused with bold pigments for an extra dark look, plus jojoba oil to ensure lashes are soft and shiny. The long, skinny brush is yet another win as you're able to reach even the tiniest of hairs in your inner and outer lashline.
Pros: Lengthening; Volumizing; Highly pigmented; Long-wearing; Smudge-proof; Easy to remove.
Cons: Over $30; Formula is a bit thick
Best Budget Tubing Mascara
Essence Bye Bye Panda Eyes! Mascara
A great tubing mascara doesn't have to cost you more than a cup of coffee. If you don't believe me, you have to try Essence's Bye Bye Panda Eyes! Mascara. This $5 mascara works just as well to lengthen your lashes as the more expensive picks on this list. It also delivers the same long-lasting, smudge-proof results as other tubing mascaras, hence the name "Bye Bye Panda Eyes." Reviewers especially love how this mascara requires zero effort to remove.
Pros: Under $10; Lengthening; Long-wearing; Smudge-proof; Easy to remove.
Cons: May flake with wear; Takes a bit long to dry.
Best Clean Tubing Mascara
Thrive Causemetics Liquid Lash Extensions Mascara
If you're unsure about tubing mascara, maybe O'Leary's glowing review of this popular pick will convince you. "My favorite tubing mascara I have tried (and I've tried many ) is the Thrive Causemetics Liquid Lash extension mascara," she says. "What I love about this formula is that it is really black, separates the lashes really well, stays on long, and is easier to remove than my other mascaras." In short, this pick is everything you could want in a tubing mascara.
Pros: Pro-approved; Highly pigmented; Defines lashes; Easy to remove; Long-wearing; Available in three shades; Clean and vegan formula.
Cons: Formula is a bit thick.
Best Lengthening Tubing Mascara
Tarte Tartelette Tubing Mascara
This Tiktok-viral mascara was my first foray into the tubing variety, and boy was I impressed. Upon initial application, I immediately noticed how dark and glossy this mascara was. A little goes a long way here—it only took a few swipes for my lashes to look sky-high. I have short, stubby eyelashes too, so for my lashes to magically reach nearly to my brow bone is saying a lot. I was even more shocked to find that the effect lasted all day with zero smudging. After trying this mascara, I may just be a tubing convert.
Pros: Editor-approved; Highly pigmented; Lengthening; Defines lashes; A little goes a long way; Long-wearing; Smudge-proof; Volumizing; Easy to remove.
Cons: Takes a bit longer to dry.
Best Strengthening Tubing Mascara
Velour Lashes Pretty Big Deal Peptide & Tubing Mascara
If you want to double down on your eyelash growth serum, this is the mascara for you. It's chock full of lash-loving ingredients like castor oil, shea butter, peptides, and sodium hyaluronate to nourish, strengthen, and hydrate lashes. Over time you'll notice stronger and longer lashes and all you did was apply mascara. Meanwhile, this formula makes it easy to build up volume and stays clump-free, a notoriously hard trait to find in mascara.
Pros: Doubles as an eyelash growth serum; Lengthening; Clump-free; Easy to remove; Buildable volume.
Cons: Over $25; May flake with wear.
Best Volumizing Tubing Mascara
Caliray Come Hell or High Water Volumizing Tubing Mascara
This tubing mascara took home an Allure Best of Beauty award in 2022, so you know it's a winner. While most tubing mascaras deliver a lengthening effect, this one also volumizes and curls lashes thanks to its "baby teddy bear brush" built with wavy fibers that precisely coat every lash. We also love how this formula is infused with argan oil so lashes are conditioned with every use. We can't forget to mention that this formula is totally clean and vegan, as well.
Pros: Lengthening; Volumizing: Curling; Water-resistant; Clean and vegan formula; Easy to remove; Smudge-proof; Long-wearing.
Cons: May clump with too many coats.
Best Tubing Mascara for Sensitive Eyes
Merit Clean Lash Lengthening Tubing Mascara
For extra-sensitive eyes, a clean formula should be at the top of your priority list. Enter: Merit's Clean Lash Lengthening Tubing Mascara. As you might guess from the name, this mascara is made from completely clean ingredients, is vegan, cruelty-free, and even comes in recyclable packaging. Its formula is perfect for everyday wear—in just a swipe or two, lashes are defined and lengthened, resulting in that wide-awake look. Lashes also get a conditioning boost thanks to fatty acids and olive oil.
Pros: Lengthening; Long-wearing; Smudge-proof; Clean and vegan formula; Clump-free.
Cons: Over $25; Doesn't add much volume.
Best Buildable Tubing Mascara
MC's E-Commerce Editor Julia Marzovilla counts herself a fan of this MAC pick. "I love this mascara because not only does it not flake throughout the day, but it's actually designed to be layered up," she says. "I can attest to the fact that it never clumps and never leaves my lashes feeling flaky, dry, or spidery. It's great for a light lengthening look in the mornings and can be layered up for more voluminous drama at night." This pick is also another Allure Best of Beauty 2022 winner and uses a combo of wax and copolymers to deliver its clump-free, lengthening look.
Pros: Editor-approved; Lengthening; Clump-free; Buildable volume; Long-wearing; Defines lashes.
Cons: Over $25.
Best Splurgeworthy Tubing Mascara
blinc Original Tubing Mascara
Blinc claims their formula is the "original tube technology mascara," and while we can't confirm it's the first of its kind, we do know it seriously performs. While wearing this mascara, feel free to cry, work out, and even rub your eyes because this mascara isn't going anywhere. Its formula creates tiny water-resistant tubes that bind to your lashes, meaning it's got major staying power. If you prefer a more natural look, opt for the brown shade over black.
Pros: Long-wearing; Lengthening; Volumizing; Easy to remove; Smudge-proof; Available in two shades.
Cons: Over $25
Best Curling Tubing Mascara
Tower 28 MakeWaves Lengthening + Curling Clean Mascara
The brush on this tubing mascara may be the coolest, most innovative I've seen yet. It's made of three different bands that work to lengthen and define every single one of your lashes. Not only that but its curved shape, along with the brand's Aquaflex Technology, helps to lock in the curl, resulting in a wide-eyed look. As an added bonus, this mascara is formulated with castor oil so lashes are conditioned with every use and become stronger over time.
Pros: Lengthening; Curling; Defines lashes; Buildable volume; Long-wearing; Water-resistant; Ophthalmologist-tested; Clean and vegan formula.
Cons: May flake with wear.
Meet the Expert
Lauren is a New York City/Minneapolis based makeup artist, men's groomer, and beauty expert. She grew up in Minnesota but had her heart set on living in New York City since she was very young. As a lifelong artist, she was always on top of the latest beauty trends. Lauren specializes in beauty, editorial, celebrity, commercial/print, film & TV work. A few of her clients include Guess, Maybelline, Saks Fifth Ave, Samsung, Conde Nast, and celebrities Niki Taylor, Kaia Gerber, Joey Fatone, Shaq, Charlotte Mckinney, Hannah Brown, James Van der Beek, and more.
Celebrity news, beauty, fashion advice, and fascinating features, delivered straight to your inbox!