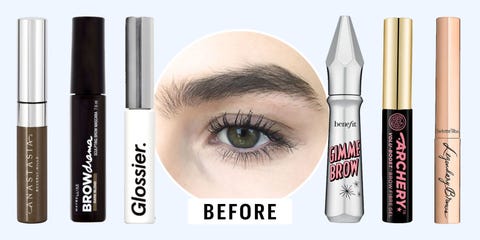 Most kids are born with delicate, wispy eyebrows, but I was born with a unibrow that only got bushier as I got older, requiring constant threading appointments to keep them from looking like the start of a Penny Dreadful werewolf transformation. (One brow salon even stopped charging me because it "felt like robbery").
[contentlinks align='left' textonly='false' numbered='false' headline='Related%20Stories' customtitles='9%20Brilliant%20Makeup%20Tips%20You%20Actually%20Haven\'t%20Heard%7CThe%207%20Under-$20%20Eyeshadow%20Palettes%20You%20Need%7CThe%20Latest%20Celebrity%20Hair%20Transformations' customimages='||' content='article.28518|gallery.4891|gallery.2383'] But thanks to the recent trend in big-as-hell eyebrows, my once-alienating "curse" is now my favorite part of my face. That said, they're still needy creatures that require daily taming—which is where brow gels come in. Unlike pencils and powders, which amp up sparse, tiny brows, gels pretty much just enhance your current situation without adding too much bulk or drama.
Of course, not all gels are created equal, and some formulas straight-up suck. So to cut through the noise, I tested the most popular gels on the market for the ultimate brow-gel showdown. Check out the rankings here.
Covergirl Easy Breezy Brow Shape + Define
I really wanted this one to be "easy breezy," but the thick, curved brush picked up too much gel, clumping my brow hairs together after the first swipe, and leaving little streaks on my brow bones. Still, I was pretty down with how dark the color payoff was—it gave me a super-bold, Cara Delevingne look. Just make sure to use a light hand and lightly dab off the tip first.
Covergirl Easy Breezy Brow Shape + Define in Rich Brown, $9
BUY IT: amazon.com.
Anastasia Beverly Hills Tinted Brow Gel
For such a chubby brush, you'd think it would give me some majorly amped-up brows, but the size actually made it difficult to hone in on feathery hairs, and the sheer formula barely made a dent in my already-dark brows. Still, I'd try this if you're a brow newb who wants a super-minimal finish.
Anastasia Beverly Hills Tinted Brow Gel in Espresso, $22
BUY IT: sephora.com.
Soap & Glory Archery Volu-Boost Brow Fibre Gel
The formula in this small-but-mighty tube is filled with tiny fibers that latch onto your hair to bulk up your brows with each swipe. For those with thin, sparse brows, this will be your holy grail, but, for me, the bulk veered toward X-rated when I kept brushing on more. Fair warning: Work quickly, because once this one sets, it's not budging.
Soap & Glory Archery Volu-Boost Brow Fibre Gel in Mocha Up Your Mind, $14
BUY IT: ulta.com.
Benefit Cosmetics Gimme Brow Volumizing Gel
It's hard to see on camera, but IRL, my brows looked 50-percent larger, which is a look I'm all about on a Saturday night, but maybe not for a no-makeup makeup day. To get an even bolder finish, first brush your brow hairs in the opposite direction (toward your nose), then brush them back to coat each side of the hair.
Benefit Cosmetics Gimme Brow Volumizing Gel in Deep, $24
BUY IT: amazon.com.
Charlotte Tilbury Legendary Brows
I'm in love with this applicator: It has a long, super-skinny spoolie, so I was able to brush the gel onto individual hairs and small sections of my brows, giving them a more natural, gradual-looking shade. The precision was 100, and it left a shine that rivaled a horse's mane.
Charlotte Tilbury Legendary Brows in Super Model, $23
BUY IT: nordstrom.com.
Runner-Up: Maybelline New York Brow Drama Sculpting Brow Mascara
The spiky, ball-shaped spoolie looks more like a Medieval flail than a brow brush, but I promise it's completely foolproof. Just wiggle the tip through through your brows, and the formula-loaded bristles will coat every single hair with just one swipe . Whether you're a first-time gel user or a master-level crafter, this is easily the best drugstore gel I've tried.
Maybelline New York Brow Drama Sculpting Brow Mascara in Deep Brown, $7
BUY IT: amazon.com.
Winner: Glossier Boy Brow
Winner winner, buy Emily Weiss dinner! This ultra-pigmented formula is a cult-favorite, and for good reason: The itty-bitty spoolie brushes on the perfect amount of buildable pigment and never stains the skin. Plus, it remains workable for a few full minutes, adds natural-looking volume, and it never once feels stiff. I applied this one Friday morning, danced my ass off until sunrise, and woke up for brunch to the exact same brows.
Glossier Boy Brow in Brown, $16
BUY IT: glossier.com.