Editors handpick every product that we feature. We may earn commission from the links on this page.
The 18 Best Eyelash Growth Serums to Elevate Your Lashes
Say goodbye to eyelash extensions.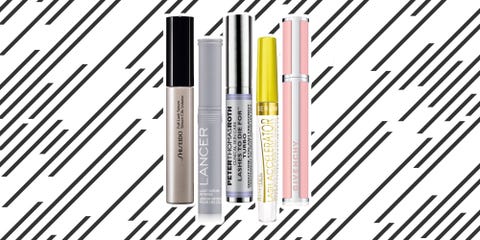 Design by Morgan McMullen
As someone who has approximately seven eyelashes that all point toward my chin, I can only dream of one day growing two broom heads from my lids that are so sturdy, so thick, that when I blink, there's a gust of wind. I'm not giving up yet. Sure, there are amazing mascaras out there, but sometimes—well, actually, all the time—your lashes are begging for some TLC. Eyelash extensions, falsies, makeup removers, and even some mascaras can all weaken lashes overtime. Thankfully, because we live in the 21st century, the beauty gods have blessed us with a kind of technology only money can buy: eyelash serums. Yes, you're probably familiar with the serums you love to apply all over your pretty face, but why not take it a step further and show your lashes some love?
Lots of people opt for eyelash extensions and falsies, and that's totally OK, but it's nice to let your own girls grow naturally every now and then. From eyelash serums you can use on both your lashes and brows, to formulas that serve as a primer and mascara, shop our favorites and reap all the beautiful benefits. Pro tip: If you're not seeing the results you want from these products, or if your eyelashes are particularly sparse, go to your derm and get a prescription for Latisse, a FDA-approved, professional-grade eyelash serum (but be warned: there are some side effects of Latisse).
This content is created and maintained by a third party, and imported onto this page to help users provide their email addresses. You may be able to find more information about this and similar content at piano.io