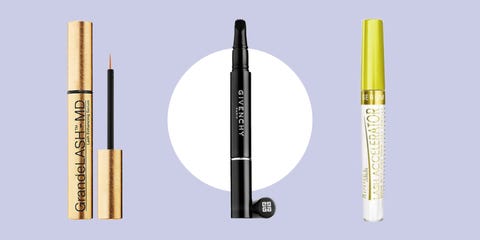 As someone who has approximately seven eyelashes that all point toward my chin, I can only dream of one day growing two broom heads from my lids that are so sturdy, so thick, that when I blink, there's a gust of wind. Some sort of transplant's probably required for that, but thanks to science and the following growth serums, I now have eight hairs. Shop our favorites below.
Scared of formula seeping into your eyes and causing a stye as you sleep? You should be! But the special applicator on this all-in-one serum, primer, and clear mascara takes care of that.
Givenchy, $32
BUY IT: neimanmarcus.com.
From the derm who nurses Hollywood's clearest-complected celebs comes this carefully concocted mix of polypeptides, biotin, and panthenol.
Lancer, $150
BUY IT: lancerskincare.com.
You buy your grape tomatoes organic [makes sign of the cross against pesticides], so why not your lash serum? This one's got a blend of medicinal herbs and conditioning soy proteins.
LashFood, $78
BUY IT: sephora.com.
An effective, affordable guy for dipping your toe into the world of lash growth.
No. 7, $10
BUY IT: target.com.
Layer this primer under mascara to boost thickness and curl. Then, after eight weeks, you won't even need the black stuff.
Diorshow, $29.50
BUY IT: sephora.com.
Another drugstore option that can run with the prescription-required crowd. Lightweight and works on brows too.
Rimmel, $8
BUY IT: walmart.com.
If you've been frowning trying to grow more than eight lashes, this amino-acid-packed potion is also meant to moisturize the delicate skin around your eyes.
Shiseido, $35
BUY IT: macys.com.
Boost volume and length while you add definition with this mascara.
By Terry, $48
BUY IT: barneys.com.
A dermatologist-recommended peptide formula.
Zoria, $110
BUY IT: ericksonlabs.com.