The 19 Best Eyelash Growth Serums to Elevate Your Lashes
Say goodbye to eyelash extensions.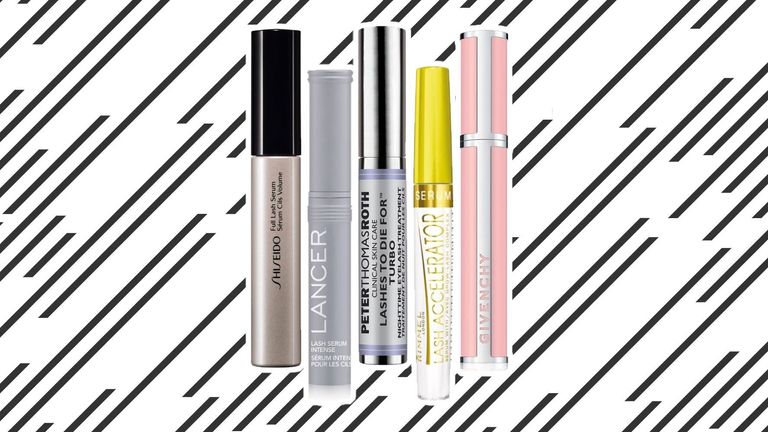 (Image credit: Design by Morgan McMullen)
As someone who has approximately seven eyelashes that all point toward my chin, I can only dream of one day growing two broom heads from my lids that are so sturdy, so thick, that when I blink, there's a gust of wind. I'm not giving up yet. Sure, there are amazing mascaras out there, but sometimes—well, actually, all the time—your lashes are begging for some TLC. Eyelash extensions, falsies, makeup removers, and even some mascaras can all weaken lashes overtime. Thankfully, because we live in the 21st century, the beauty gods have blessed us with a kind of technology only money can buy: eyelash serums.
Lash serums have become a tried-and-true for many seeking a doll-eyed look, but there is still so much uncertainty around these products. Kim Jaynes, the founder the brand Borboleta, says that the most important thing to look for before making a purchase is to study the ingredients and safety of a lash serum. "We're talking about a product that comes in close contact with your eyes, so obviously it has to be safe," says Jaynes. "Look for ingredients that have been tested both for efficacy and safety."
Lots of people opt for eyelash extensions and falsies, and that's totally OK, but it's nice to let your own girls grow naturally every now and then. From eyelash serums you can use on both your lashes and brows, to formulas that serve as a primer and mascara, shop our favorites and reap all the beautiful benefits. Pro tip: If you're not seeing the results you want from these products, or if your eyelashes are particularly sparse, go to your derm and get a prescription for Latisse, a FDA-approved, professional-grade eyelash serum (but be warned: there are some side effects of Latisse).
For non-believers, consistency is the key to seeing wow-worthy results: "Like with any beauty product, it all comes down to how good the formula is and how consistently you use it," says Jaynes. "With Borboleta Lash Serum, we've been blown away by the feedback from our lash fam. The biggest mistake people make is not using lash serum religiously. You really need to commit to using it every night."
Bianca Rodriguez is the Commerce Editor/Writer at Hearst Magazines Digital Media, where she covers fashion, beauty, home, and more. She likes long walks through shopping malls, a good book, and thinks a closet without platform sneakers is a travesty.