The 10 Best Facial Hair Removal Products of 2023
We spoke to dermatologists and beauty pros to find the very best.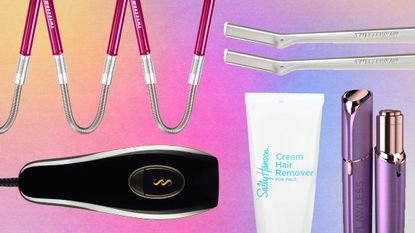 (Image credit: Future; Tweezerman; Sally Hansen; Silkn)
Growing hair anywhere on your body is a natural part of being a human. However, if you do choose—emphasis on choose—to remove unwanted hair on your face, you have every right to do so. In fact, there are painless products out there that are specifically designed to get rid of facial hair from the comfort of your home. Ahead, we spoke to dermatologists and experts about the very best facial hair removal devices and tools that get the job done. (A quick note before we jump in: Many of the devices on this list are best for temporary hair removal. For permanent hair removal, invest in an at-home laser hair removal device or treatment.)
But if you're not yet willing to make that investment and are looking for a temporary fix, then cancel that wax appointment, because we've got you covered. Whether you're looking for an at-home wax kit, dermaplaning device, epilator, razor, or hair trimmer, we've rounded up the products that actually work. Ahead, Dr. Rachel Nazarian of Schweiger Dermatology Group in New York City, Dara Levy, founder of DERMAFLASH, and Maria Desmarais, Co-Founder and Co-CEO of Athena Club, answer all of your questions about what to look for in a hair removal device, how the most popular types of devices work, as well as all of the risks that come along with them—and how to use to use them safely.
Removing Hair on Your Face
There are three main types of ways to remove hair from your face. You can physically remove your hair using tools like tweezers or razors, remove them using a chemical process like a hair removal cream, or zap them away using laser hair removal devices, IPL-type tools, or epilators.
Levy explains that epilators work by pulling "hair out at the root, as do threading and waxing, which can be painful and cause inflammation." Laser hair removal, on other hand, "works by damaging the hair follicle and preventing hair from growing back." Levy notes that both of those "methods can cause irritation and are not appropriate for all skin types. For example, not all are safe or effective for women with deeper skin tones."
Why Remove Facial Hair?
Again, there is no real reason why you have to to use a razor or any other kind of hair removal tool on your face. However, Levy says that "there are a variety of reasons why someone might want to use a facial hair removal device," before pointing out that "many women are uncomfortable with the look of peach fuzz on their faces." Peach fuzz, if you're unfamiliar, can be caused when "powder and foundation can get "stuck" in the hair, causing makeup to look cakey and unnatural," she says.
Does Facial Hair Removal Hurt?
Facial hair removal doesn't necessarily hurt—but it depends on the tool that you're using. Using tweezers to remove hair from your face, for instance, hurts less as you go but may take longer to remove all the hair from the desired area. When using an electronic hair removal device, Dr. Nazaarian says that "there is a mild heat and quick discomfort that follows each flash," but that "it's a very very mild pain that is incredibly tolerable."
Types of Facial Hair Removal Tools
Depending on your comfort level and how long you want your results to last, there are five main types of facial hair removal devices and products for you to know about and choose from.
Facial razors and tweezers
Wax strips
Hair removal creams
Small handheld devices
IPL devices
Ahead, experts break down how each technique works and recommend their favorite options that you can shop right now, from least high-tech to the most.
Facial Razors and Tweezers
Facial razors and tweezers are usually the entry point for hair removal on the face. Tweezers are a great way to remove hair from around your eyebrow area, for instance, because you can remove one hair at a time without running a massive risk of over-plucking. Single-blade facial razors, on the other hand, are great for removing peach fuzz from around your chin, upper lip, or face.
Wax Strips
Just like the ones you sometimes use to wax your legs, smaller facial wax strips remove facial hair with one easy (albeit painful) tug. Waxing removes hair at the root, and some strips promise results that can last weeks. (For in-depth information on how to use wax strips on other parts of your body, check out Marie Claire's guide.)
Hair Removal Creams
If you've ever used hair removal creams to remove the hair from your bikini line or on your legs, you probably have a general understanding of how they work. Essentially, they're thick creams that are applied in one smooth layer, left on for a few minutes, and then removed with warm water. Unlike the creams that you may use on your legs, facial hair removal creams are better suited for sensitive skin and generally cause less irritation. Plus, the two best hair removal creams below from Nair and Sally Hansen are designed with a fainter scent.
Small Handheld Devices and Trimmers
These top-of-the-line devices are made to be easy and convenient to use, no matter where you are. From an electric razor disguised to look like a lipstick in your handbag to a device from Dermaflash which uses sonic vibrations to smooth away hair and dead skin cells, these tools are the way to go if you're looking for something slightly more high-tech than a razor or a pair of tweezers.
IPL Devices
IPL devices use light to detect and remove pigment from the skin. With this in mind, IPL's technology can struggle to detect very light (think: red, very light blonde, or gray) hair. Additionally, IPL devices aren't always suitable for dark or deep skin tones.
Before we break down the products themselves, it's important to understand the terminology. Many of these devices use flashes of light to remove hair, as Levy explained above, But, how many flashes are actually necessary? "For just facial hair removal, the average amount of 300+ is more than enough," says Dr. Nazarian. "For full body, 900,000+ is typically more than sufficient, but many devices offer this high number of flashes to ensure you feel confident about never running out."
Ahead, Dr. Nazarian recommends two of her favorite devices.
What Should You Do Before Using a Hair Removal Device?
Just like with any specialized beauty tool, pre-care is the key to making sure that you get the best results out of your hair removal device. "It's important that the area is cleansed with a non-drying, unscented cleanser and shaven, before each treatment," says Dr. Nazarian, citing the Dove Sensitive Skin Beauty Bar as a favorite.
She also makes sure to say that your "hair should not protrude onto the skin, and just as importantly, you should avoid treating tanned or darker skinned areas which would increase risk of burning."
What Should You Do After Facial Hair Removal?
Once your hair has been removed, your skin can often become dry or irritated. Dr. Nazarian recommends applying products like "A calming moisturizer and barrier repair ointments" after you're finished, or using a "topical with glycerin or allantoin," before following with a "thin layer of Vaseline healing ointment" for extra protection. If you're someone who regularly struggles with or are prone to razor burn, Dr. Nazarian says that a "topical hydrocortisone cream can be helpful to calm irritation and can be applied for two-to-three days following the treatment."
Meet The Experts