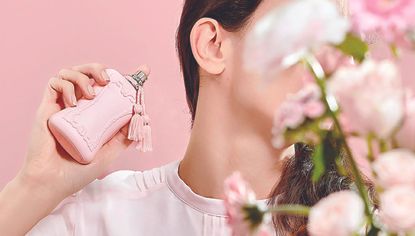 (Image credit: Parfums de Marly)
Marie Claire newsletter
Celebrity news, beauty, fashion advice, and fascinating features, delivered straight to your inbox!
Thank you for signing up to . You will receive a verification email shortly.
There was a problem. Please refresh the page and try again.
Much like cult-famous nail polish or iconic lipstick shades, beauty products have no shortage of fascinating origin stories. But arguably, the most enchanting accounts of all come from the complex and compelling world of fragrance, whose histories read like magical tales. Take Parfums de Marly, a contemporary niche fragrance house whose inspiration dates back to the 1700s — particularly that of the French royal court and noble style de vie.
Parfums de Marly has been around since 2009, marrying history and elegant, sophisticated perfumery. At the helm is founder and creative director Julien Sprecher, a Saint Germain-en-Laye native. "Perfume is a time capsule; It has the power to take us on a journey," he says. "I have always loved the 18th century where horses and perfumes were the pride and glory of France." The latter is a concise summary of the brand at its core, but you need to take a trip back to the bygone era to understand it fully.
For starters, Parfums de Marly was inspired by the former King of France, Louis XV — and his iconic weekend estate: the Château de Marly. Located on the outskirts of Paris at the edge of the royal park— and dubbed a pleasure palace— this is where the king held extravagant gatherings with a ~strictly~ limited entourage of royal court members and foreign dignitaries. He loved to entertain and famously declared: "I made Versailles for my court, Trianon for my family, and Marly for my friends."
Not only was the chateau associated with lavish extravaganzas, it also was known as the la cour parfumée, or "the perfumed court." As the story goes, every single day, the king requested that everything from fans to gloves to the grounds' fountains (believe it or not) was doused in fragrance.
Beyond his positively fervent affinity for fragrance, King Louis XV had another passion: equines. In 1743, he commissioned French sculptor Guillaume Coustou to create two Carrara marble-sculpted horses on the grounds of the château de Marly. (Unsurprisingly, those were adamantly spritzed with perfume, too.) For this reason, Sprecher declared the horse, which graces every men's fragrance bottle, the symbol of Parfums de Marly.
Today, you likely recognize the French perfumer's bottles. The womens' are elegantly curved to reflect the female form, topped with a distinctive luxe cap reminiscent of a jewel, floral moldings inspired by 18th century picture frames, and a tassel reminiscent of the elegant window curtain tiebacks and hanging upholsteries. The men's bottles are simple, sleek, and weighty, bearing the brand's logo on the front. The line is no stranger to luxury department stores and the vanities of dutiful fragrance aficionados. But despite its contemporary popularity amongst high-end perfume devotees, the brand captures the royalty and opulence of a bygone era.
Today, Parfums de Marly boasts 33 scents across a wide range of feminine and masculine fragrances born to mirror the art de vivre of the Château de Marly. Though vastly different in composition, they all share the common goal of — as Sprecher puts it, "reviving the splendor" of the 18th century, fusing the bold and the classic, evidenced by two popular scents below:
Haltane: Masculine Woody-Spicy
The newest addition to Parfums de Marly's lineup, Haltane — unveiled in 2021 — is a contemporary interpretation of your classic rich, woody fragrance. The green and gold bottle opens with fresh herbal notes of bergamot and clary sage, rounded out with middle notes of saffron and praline, and a base of precious woods that pay homage to the forests surrounding the Château de Marly.
Delina: Feminine Fruity-Floral
You've likely come across Delina on social media, distinctive because of its chic pastel pink bottle. Undeniably one of the hero fragrances in the Parfums de Marly lineup, Delina pays homage to the lush gardens of Versailles. Since its 2017 launch, thousands of reviewers have attested how amazing its projection, persistence, and refinement are. This is all thanks to its delightful balance of fruity notes (lychee and rhubarb), florals (Turkish rose and peony), and sensual notes (pear and musk). The scent is so sought-after that the brand came out with several iterations, available as a shower gel, rich body cream, and more.
Looking to the future, it's safe to say that the brand isn't showing signs of slowing down anytime soon. After all, "There are many more exciting developments for the brand," says Sprecher. We can only wait and see.