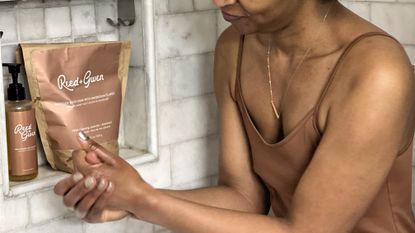 (Image credit: Deena Campbell)
I can count on one hand how many times I've used body oil and actually liked it. Regardless of the season, I usually opt for super thick creams or lightweight water-based lotions. There's no middle ground for me. Here's the thing: most body oils make me sweat, clog my pores, or worse, remind me of the days my mother doused my face with it before school on blustery cold days. Clearly mom didn't know most oils are comedogenic. Needless to say, when it comes to hydrating my skin, body oil is the big bad wolf of skincare.
But every once in a while a beauty brand launches a new body oil that makes me rethink my entire attitude. Enter Reed + Gwen Grounding Dry Body Oil, a non-greasy, fast-absorbing, dry body oil made of chamomile flower, moringa, and avocado oils. At first it sounded too good to be true—an oil that quickly absorbs and softens while locking in moisture? At best I usually get one of those benefits, not all three, and definitely not at the same time. Boy was I wrong.
The tl;dr: It's my new favorite oil and I'm obsessed. But really, it's stacked with avocado oil that's loaded with beta carotene, protein, lecithin, fatty acids, and vitamins A, D, and E—basically everything you could ever use to moisturize even the driest skin. Organic moringa seed oil also lies at the base of the oil and it helps minimize moisture loss, while soothing and calming skin. What I love most about this dry oil is that at first contact it feels like an oily serum, but when it dries seconds later, it feels like a warm hug. I love the way it sinks into my skin. My favorite time to apply it is after a shower, having the oil act as a top layer to lock in moisture, but I'm also guilty of sneaking a pump (or two) on my hands and slathering it all over my arms throughout the day.
A multi-benefit oil
In truth, this product is so much more than an effective dry oil, it also serves as my lip moisturizer, cuticle oil, frizz tamer for dry curls and, yes, even a stress reliever. The essential oil fragrance—with herbaceous notes of lavender, sage, cedar, citrus, and woods—smells incredibly good and instantly transports me to a destination spa. And trust me, when you're busy running behind two kids, anything that remotely resembles a spa gets my vote.
It's not formulated with allergens or harsh ingredients and the lack of synthetic perfumes also makes it an easy sell for me to put it on my kids when I run out of their go-to lotions and creams. I also love that the brand donates 1% of all revenue to support clean drinking water—now that's an initiative I can get behind!
Simply put, the driest, most sensitive skin is no match for this bad boy. And if baby-soft skin is what you're after, there's no reason to look further.