Becky Hammon, Woman, Is Up for an NBA Head Coaching Job
And no matter what the haters say, she's earned it.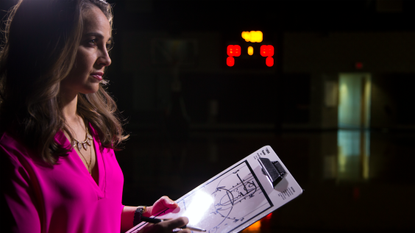 (Image credit: Getty Images)
Marie Claire Newsletter
Celebrity news, beauty, fashion advice, and fascinating features, delivered straight to your inbox!
Thank you for signing up to Marie Claire. You will receive a verification email shortly.
There was a problem. Please refresh the page and try again.
After spending the better part of the last decade covering professional sports as a journalist for ESPN, I had come to the conclusion that the Roman Catholic Church would hire a female priest before one of America's four major sports leagues would hire a woman as head coach.
Well, move over Pope Francis.
Last Friday, news leaked that the Milwaukee Bucks of the NBA will interview Becky Hammon for their head coaching vacancy, making her the first woman to be placed under formal consideration for a head coaching job in the league's seventy-two year history. Currently, the NBA has two full-time female assistant coaches: Hammon and Jenny Boucek of the Sacramento Kings. Meanwhile, MLB has never had a full-time female assistant coach. Once they had a woman throw batting practice during spring training. YAWN. The NFL and NHL can each count one full-time female assistant coach among their ranks.
But it's not as if Hammon's hat is in the ring for some #TimesUp-era publicity stunt. Hammon, 41, is a well-qualified basketball lifer, who has earned her shot at the top by shattering glass backboard after glass backboard during her meteoric rise.

The Russian-American hoopster grew up in Rapid City, South Dakota, and enjoyed storied playing careers at Colorado State University and in the WNBA as a point guard for the New York Liberty and later the San Antonio Stars. A six time WNBA all-star, she is considered to be one of the league's all-time greats. Over the course of her career, she scored 5,841 points—the eighth most in the sport's history.
In 2014 she became the first full-time female coach in NBA history when the San Antonio Spurs hired her to assist their future-Hall-of-Fame head coach, Gregg Popovich. When that season ended, the Spurs named her the head coach of their summer league team, making her the first woman to ever hold that position. Hammon led San Antonio to the summer league title.
Despite her stellar qualifications, Hammon is not considered a frontrunner to land the Milwaukee job. She is the same age as the youngest head coach in the NBA, the Cleveland Cavaliers' Tyronn Lue. The Bucks will be interviewing 10 or so candidates in the first round, many with prior head-coaching experience. And a common maxim among sports executives is that everybody wants to be the first to hire a woman head coach or general manager, but nobody wants to be the first to fire one. (Because of the pressure to win and the hundreds of millions of dollars at stake, coaching is a brutal profession when it comes to job stability; only five (out of 30) NBA head coaches have held that position with the same team since 2012. Should Hammon get a head coaching job, the nature of the business means the likelihood of her getting fired at some point is quite high. And, whether her termination is justified or not, accusations of discrimination could follow.)
Still, when I read the newsbreak that Hammon was being seriously considered for the job, even my own cynicism couldn't stop my eyes from welling up with tears. Millions of women in this country love sports, and not just to impress some guy in their lives. (The NFL even bragged last year that 45 percent of its viewers are female.) And since women are just as smart as men, it stands to reason that there is a super-intelligent lady out there with a mind for basketball, who is willing to work her ass off, who can also manage the skills and the moods and the egos of a dozen dudes at once, and that that woman would make for a better head coach than the worst male head coach in the league. Women are better at multi-tasking anyway! I am sorry. It's just science.

My elation turned to nausea when Hammon's name began to trend on Twitter. The first comment under this blessed news was from some faceless dude who wrote—swear to God—that the Bucks should hire her to be their team chef. It had a lot of likes. The Internet has always been a cesspool, but our current "f*ck your feelings" political environment has emboldened ignorant people to say out loud what they've been thinking for so long: that women do not belong in sports. And if black men are going to kneel to peacefully protest police violence against unarmed men and women of color, then they don't belong in sports either. The news that Hammon—a woman!—is being seriously considered to helm an NBA franchise—with male players!—is devastating to their world view.
Rather than get mad at the trolls, I felt disappointed in myself for venturing under their bridge. As a female sports reporter, I learned years ago that Reading The Comments under any story of mine is as useful as gouging out my own eyeballs with a rusted paperclip. Constructive criticism is always welcome, even when it stings. But I find it funny that those who whine the loudest about people "making it all about gender" are almost always the ones telling me I have no business in a men's locker room. Maybe they're mad because they want my job? Maybe they're concerned I will see an errant penis and go weak in the knees?
These same people who don't want me in locker rooms don't want Hammon there either. Some attempt to hide their own low opinion of women behind the guise of concern: "What it the players don't respect her?" they ask.

Well let's clear that up by finding out what Spurs players—who are coached by Hammon every day—have to say.

"She could coach any team," San Antonio forward Davis Bertans told USA Today in February. "When she's here, and she's talking while we're playing, we don't look at her as if she's a man or a woman; it doesn't matter to us."
"She has the charisma to [be an NBA head coach one day]," Spurs guard Tony Parker, a six-time NBA all-star, told the same newspaper. "She's confident, she knows what she's doing, and she's got a big knowledge of basketball."
"She's good. She's a good coach," added guard Bryn Forbes, a second-year pro. "Everybody respects her, and that's the biggest thing. If they respect you and believe in you, that's all that matters at the end of the day, man or woman."
"Becky can do anything she wants," said Gregg Popovich, the man who hired her. "I just know how gifted she is, and she's earned the respect of everybody in our program, from top to bottom. She's a valued assistant, somebody that I depend on. I really respect her knowledge and her way of doing things. She's a natural."

So it's settled then. I look forward to Hammon earning the title of NBA head coach in the near future, and becoming one of our great basketball overlords. Even better will be all the little girls who go to games or see her on television and think that maybe, just maybe, when they grow up they could work at the top level of sports like Hammon, too.
ALSO BY MOLLY KNIGHT
Celebrity news, beauty, fashion advice, and fascinating features, delivered straight to your inbox!
Molly Knight wrote about baseball for ESPN the Magazine for eight seasons. Her work has also appeared in The New York Times Magazine, Glamour, SELF, Vanity Fair, Baseball Prospectus, and Variety. Her first book, The Best Team Money Can Buy: The Los Angeles Dodgers Wild Struggle to Build a Baseball Powerhouse, was a New York Times Bestseller.