NFL Cheerleaders Shamed for Being Too Sexy—and Not Having Sex at All
In two recent complaints, dancers describe a suffocating culture of discrimination and harassment.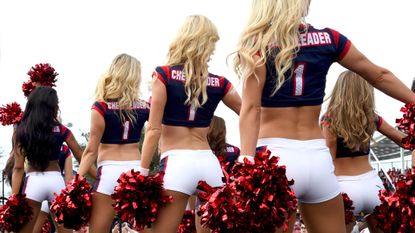 (Image credit: Getty Images)
Marie Claire Newsletter
Celebrity news, beauty, fashion advice, and fascinating features, delivered straight to your inbox!
Thank you for signing up to Marie Claire. You will receive a verification email shortly.
There was a problem. Please refresh the page and try again.
They are thought of by millions to hold the most glamorous job in sports. Their toned bodies earn them coveted spots on the sidelines of this country's most popular sport, and their perfect smiles light up television screens across the U.S. every Sunday from August to February. But according to complaints filed last month, and reviewed by MarieClaire.com, the work life of NFL cheerleaders is anything but glamorous. Instead, it's defined by gender discrimination, religious discrimination, and a limited ability to profit off their experiences.
The complaints, filed by Florida-based attorney Sara Blackwell on behalf of former Dolphins cheerleader Kristan Ware and former Saints cheerleader Bailey Davis, paint a picture of a bleak environment in which cheerleaders are subject to inconsistent, draconian rules policing their personal lives and social media accounts, and offered little in the way of protection from over-excited—and often just plain gross—admirers.
In her complaint to the EEOC, Davis alleges that the Saints human resources department called her into a meeting in January to discuss rumors that she'd been socializing with players at an event away from the field. Like many of their NFL counterparts, the Saintsations cheer squad must adhere to a strict policy preventing dancers from fraternizing with football players.
Davis denies hanging out with Saints at the party. But when she mentioned to HR that she had received Instagram messages from players during her three years as a Saintsation, she was asked how it was possible that players had found her on the site. Though she maintains she never responded to messages, Davis says she agreed to make her Instagram account private. After the meeting, Davis says the Saints instructed all cheerleaders to do the same.
Later that month, Davis posted a picture on her account posing in a lacy one-piece black bodysuit. She says one of her superiors texted her to say she had exhibited very poor judgment, and told her that the image made her look guilty of the rumors regarding fraternization and that her "dirty face" made the image even more inappropriate. Davis says she was then fired.
Ware's allegations are particularly disturbing. According to her complaint before the Florida Commission on Human Relations, during a team bus ride, the Dolphins cheerleaders played a game in which they listed songs on their "sex playlists;" when Ware said she didn't have one, her superiors found out that she was a virgin who, because of her religious beliefs, was waiting until marriage to have sex.
A few months after the bus game—and two days after she posted about an image of her recent baptism on Instagram—Ware, a co-captain, she says she was called into a meeting with her bosses, standard for all returning cheerleaders planning to audition to earn a spot on next year's squad. During the meeting, a superior said to Ware, "let's talk about your virginity." For reasons Ware says she still doesn't understand, her superior said "as far as we're concerned, you've taken something that was once-upon-a-time pure and beautiful and you've made it dirty." Another superior added that while she thought it was "still beautiful," Ware needed to stop talking about it.
Ware says that throughout the summer of 2016 she was subjected to harassment from her superiors about her virgin status, including being made to pose in a bikini holding fruit and "play with them like they were a man's balls." On another occasion, Ware says the same superior commented on an outfit she was wearing by remarking, "I hope you don't wear that...when you meet Tim Tebow. That wouldn't be too pure of you."
From July to September of 2016 she developed severe depression and began to have panic attacks. Ware says that she wanted to seek counseling, but did not have health insurance and couldn't afford it. When she reported the harassment to HR, the insults only became worse. She quit the squad in April 2017.
[pullquote align='center']"I hope you don't wear that when you meet Tim Tebow. That wouldn't be too pure of you."[/pullquote]
Both Ware and Davis are seeking unspecified monetary damages from each team and the NFL. But in a twist that is potentially more embarrassing to the league than the harassment these women are alleging, Blackwell sent a letter to the league's office last week stating she would settle the complaints for a single dollar if the sport's commissioner, Roger Goodell, would sit with the women for a four-hour "good faith" meeting. The purpose: to discuss ways to improve the working environment for cheerleaders and dancers. Davis' and Ware's experiences of harassment are just two examples of the ludicrous and discriminatory cultural norms typical of NFL squads—as detailed in a New York Times investigative report last month—including weigh-ins and rules about tampon use.
"The problem is these women are always told 'there are a million girls like you who would kill to be in your shoes. You're not special,'" says Blackwell. "NFL cheerleaders live in fear of speaking up because they don't want to lose their jobs."
Blackwell gave Goodell ten days to respond to her letter. That deadline is May 4.
Should Goodell grant Blackwell and her clients their conclave, Blackwell says she will present the commissioner with a detailed list of proposed rules and regulations to support and protect NFL cheerleaders on every team. Three of the biggest changes she would like to see include:
1. Ending the rule that says cheerleaders are not allowed to fraternize with players. Male football players are allowed to speak to whomever they like, Blackwell says, but in the past cheerleaders have been reprimanded for simply attending the same off-site social event as a player, even in cases when it was inadvertent and the parties did not interact.
2. Teams providing support and protection for cheerleaders when warranted. Blackwell says it is not uncommon for cheerleaders to be asked to sell and sign calendars to tailgaters before games. In these situations, the women are often left to fend off the advances of drunk fans themselves. "And if they are groped, they are taught to diffuse the situation by laughing and saying, 'oh, whoops your hand must have slipped,'" says Blackwell. "They are told they can never be mean."
3. Institute the same social media rules for cheerleaders and players. NFL cheerleaders make minimum wage, but are told that the job will provide a huge boost toward lucrative modeling or dance careers. While the jobs are high-profile, Blackwell argues that it's difficult for these women to get other work when many are not permitted to disclose they are NFL cheerleaders on their social media accounts, let alone post photos of themselves on the job. Teams list cheerleaders using only their first names in promotional material—supposedly to protect their privacy, but Blackwell isn't buying it. "They just pretend it's for their safety," she says. "It's really about control. How can you capitalize on any money-making opportunities if no one can look you up to contact you?" Blackwell says these women are not asking for a raise on their paltry salaries, just the ability to earn a living wage by marketing themselves the way other Americans are free to do.
In September 2016, Ware says in her complaint, the Dolphins told their cheer squad's captain, co-captain, and a select few others that they could change their personal Instagram accounts to Dolphin accounts—under certain conditions. The women were only permitted to talk about fashion, fitness, and cheerleading. Religion was forbidden, even though Dolphins players pray on the 50 yard line before games. In her complaint, Ware says that the team's starting quarterback, Ryan Tannehill, is known for his faith, and that if players can talk about Jesus, then cheerleaders should be allowed to without fear of retaliation.
Blackwell says it's been difficult for these women to speak up, in part because of past public perception that, because cheerleaders wear skimpy attire to work, they can't complain about being treated poorly. But in a #TimesUp World, these hard-working women shouldn't be left out of new efforts to protect employees from workplace harassment just because they wear crop tops and short skirts to do their jobs. "I understand that they are entertainers and that sex sells," says Blackwell. "But these women have every expectation of a professional environment."
When reached for comment, the NFL agreed. "The NFL and all NFL member clubs support fair employment practices," said the league's vice president of communications, Brian McCarthy. "Everyone who works in the NFL, including cheerleaders, has the right to work in a positive and respectful environment that is free from any and all forms of harassment and discrimination and fully complies with state and federal laws. Our office will work with our clubs in sharing best practices and employment-related processes that will support club cheerleading squads within an appropriate and supportive workplace."
McCarthy declined to comment on Blackwell's request to meet with Goodell.
RELATED STORY
Celebrity news, beauty, fashion advice, and fascinating features, delivered straight to your inbox!
Molly Knight wrote about baseball for ESPN the Magazine for eight seasons. Her work has also appeared in The New York Times Magazine, Glamour, SELF, Vanity Fair, Baseball Prospectus, and Variety. Her first book, The Best Team Money Can Buy: The Los Angeles Dodgers Wild Struggle to Build a Baseball Powerhouse, was a New York Times Bestseller.