I'm a Working Mom—How Do I Not Feel Guilty?
Our resident psychiatrist Samantha Boardman says being a career-minded woman can actually be better for your kids.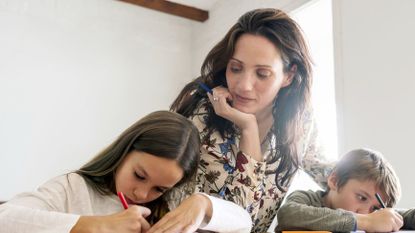 (Image credit: BONNIN STUDIO)
Q: I have built a rewarding career, but feel conflicted about not being home more with my grade-school-age kids. Help?
I meet so many working moms wracked with guilt. Self-doubt, disapproval from others, and worry that work is interfering with their children's well-being leave them feeling inadequate and guilt-ridden. While I don't have a magic wand to do away with all of that, the results of the study, "Learning From Mum: Cross-National Evidence Linking Maternal Employment and Adult Children's Outcomes," led by Harvard Business School professor Kathleen McGinn, might help you feel better about heading to the office. McGinn and her team found that having a career has a positive—not negative—impact on children. Daughters raised by employed mothers perform better in their careers, are more likely to hold supervisory positions, and earn more money than those raised by stay-at-home mothers. A working mom sets a good example for sons, too. As adults, those sons pitch in more with their own kids and have more egalitarian attitudes in the workplace.
What about happiness? The study found that adult children of working mothers reported being just as happy as the adult children of mothers who didn't work. Not only do these kids grow up to be high achievers, they are psychologically healthy, too. Contrary to the fear that children of working mothers are at risk, the results of the study reveal quite the opposite.
Dr. Samantha Boardman is a clinical instructor in psychiatry and an assistant attending psychiatrist at Weil Cornell Medical College in New York and the the founder of positivepercription.com.
A version of this story appeared in the November 2018 issue of Marie Claire.
RELATED STORY
Celebrity news, beauty, fashion advice, and fascinating features, delivered straight to your inbox!