5 Pieces of Career Advice You've Never Heard Before
The panelists at Create & Cultivate's Brooklyn event, Cleo Wade included, had powerful words of advice for young working women.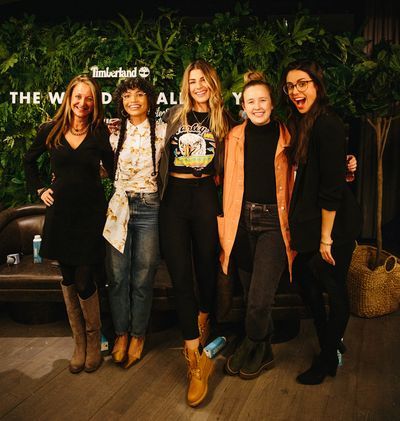 (Image credit: Timberland)
No matter if you're at the top of the pecking order or midway through your first year of work, you've probably had a day (or four) where you've desperately felt in need of some stellar advice from someone who gets it.

That sincere, honest desire for connection and real-talk from working women is what inspired last month's "The World Is Calling You" pop-up event hosted by footwear and apparel brand Timberland and Create & Cultivate, a nationwide conference and online platform focused on helping professional millennial women grow in their careers.
The event brought Timberland's newest campaign—a call for women to step outside their comfort zones and break barriers—to life, enlisting a group of notable women to inspire and challenge those in attendance to do the same. Timberland practices what it preaches too: The brand recently celebrated the 25th anniversary of its employee community service program, which has clocked in over one million hours of giving back.
We tagged along and soaked up all the genius words of wisdom from the panelists, including keynote speaker Cleo Wade. Here, the gems that were too good not to share.
Black-and-white thinking rarely helps. Photographer Tory Rust reminded us all to stop looking at ourselves and our skillsets so simply. Reconsider what you'd always thought of as a weakness (like being stubborn) and reframe it to call out the good (you really, really get passionate about the details and are willing to fight for them).
It's a flip-the-script moment that gets you to see things from a different angle, potentially discovering something you hadn't noticed about yourself before.
Worrying over never having done something before can hold us back way more than it should—and keep us from finding out where we're meant to be. Political journalist Liz Plank had no idea she'd wind up becoming a blogger and columnist until she said yes to an out-of-the-blue request. "It wasn't perfect, but it did something," she said.
The next time someone asks you if you're game for something—like giving a presentation at an upcoming conference or taking the lead on a project—ban yourself from thinking, "Hmmm, but I've never done anything like that before." You're smart, you're capable, and you can figure it out.
Keynote speaker Cleo Wade kicked her off her talk by saying she was nervous—and always is when she has to speak in public. So, how does she get through it? By repeating a mantra every time before stepping in front of a crowd, reminding herself that it's impossible to mess up when you're telling your own story.
It's the 21st century version of "To thine own self be true." There's no point in trying to pose at work or pretend you're someone you're not. Let your natural personality, interests, and passions shine through and you'll be rewarded.
From taking a new job to speaking out about something that doesn't feel right at your current one, there are plenty of opportunities in your work life to feel fear. Fitness influencer Jera Foster-Fell knows better than anyone that facing a scary change head-on can be vital for future big successes (within the last year she took the plunge to leave a steady gig to pursue building her own brand.)
If we let fear rule our day-to-day, we'd hardly step outside the front door, much less pursue a ground-shaking, engage-with-the-world career. Next time you feel afraid, give yourself a moment, then remember it's natural to feel trepidation and push through.
Your goals are your goals, and no one else's feelings or motives should be allowed to change them or make you second guess yourself. "Goal-jacking" was the term Wade came up with to describe the negative sensation of having someone else's desires trump your own.
The surest way to avoid having your aims fade into the background is to keep them front and center. Actually write down your professional goals and keep them somewhere you can easily reference.
Celebrity news, beauty, fashion advice, and fascinating features, delivered straight to your inbox!
Leah Melby Clinton is a writer, editor, and serious shopper who loves discovering new labels, detailing the best ways to build a wardrobe, and interviewing interesting people.