I Went to the Harvard of Santa Schools to Become Mrs. Claus
Always one with the Christmas Spirit, I attended the Charles W. Howard Santa Claus School, considered the Harvard of Santa schools in order to become Mrs. Claus.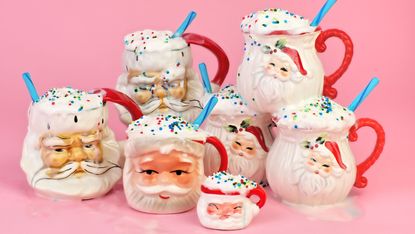 (Image credit: Juj Winn)
Last year, I dressed up as Mrs. Claus for a tree lighting in Upper Manhattan. I was so excited that I didn't mind the cold. I felt giddy when children approached me, and although the adults knew I was just a neighbor in a red coat and striped skirt, even they seemed to want me to be real. "We know you do all the work," a mother whispered in my ear, right where my wig exploded into platinum blonde ringlets.
I've always had built-in receptors for the Christmas spirit: At my job at a community center, carols and cocoa raced through my nervous system, often influencing my choice of red and green accessories. Transforming into the queen of the North Pole, ready to bring some joy to the world, felt natural.
The logical next step? Becoming an official Mrs. Claus. In March, I applied for a $250 scholarship from the International Brotherhood of Real Bearded Santas to attend Charles W. Howard Santa Claus School, the oldest and most prestigious Christmas college in the world. I struggled with my essay. I hadn't worked with a Santa yet, so I was what's called an "independent Claus" with no idea how to get gigs. As a former musical theater dancer now in my mid-40s, I wanted my version to be glamorous while still portraying her excellent home-management skills. For example, I imagine Mrs. C dons an apron in the kitchen but never at formal events when she should wear a gown.
There were other things to consider, too: At 5'10'', I'm too robust to play a short sidekick, like Robin to Batman. Besides, I hated the idea of Santa on top of a parade float with me waving from the ground like the maid—yet I wouldn't dream of stepping on my sweetheart's dreams as he flew high in the midnight sky. Basically, with Mrs. Claus as with my personal life, I sought a mutually beneficial partnership.
I sent off my application with recommendations from a community leader and a respected Mrs. Claus (the "Sisterhood," as Mrs. Cs collectively refer to themselves is fiercely supportive both online and in real life). Not long after I found out I got it.
Six months later, in October, I traveled to CWH Santa Claus School in Midland, Michigan. Home to the Dow Chemical Company, Midland (as the name suggests) is in the center of the state's mitten shape, between the thumb and pointer finger. As I drove my rental car through the flat rural landscape, I joked with my unexpected passenger, a bearded fellow named Bill that I met in the Saginaw airport. We were both staying at the Sleep Inn, which had been converted—like much of the town's Wackerly Street—into a temporary "Christmas Strip" of hotels and eateries for the duration of the annual three-day training. Shirlene's Cuisine, a charming greasy spoon, welcomed us with a light-up sign depicting a sleigh.
On the first frosty morning of classes, I entered Sleep Inn's buffet outnumbered by men 5 to 15. The majority of the guys were "real-beards," which means their bleached-white whiskers give them an air of authenticity. Though real-beards are the current rage among event planners, it requires serious commitment, resembling St. Nick 365 days of the year—and acting like him (that means, for example, they shouldn't be caught swearing or drinking in public). The "designer beards," meanwhile, are social chameleons who peel off their fuzz after each gig. Among mortals, they're like Clark Kents, discreetly solving problems while masking their superpowers behind a clean shave.
"Merry Christmas!" I shouted to my brothers and sisters in red. They echoed back, adding a series of ho-ho-hos. As I poured myself a cup of coffee, I overheard various dialects originating everywhere from the deep South to dark, wintry Canada. I especially enjoyed chatting with Peter, a massive Dane with a grin-shaped mustache. "You can't learn to be Santa—it's here," he explained, pointing to his kettle-sized chest.

People decide to become Clauses for a lot of reasons, I soon discovered. Both men and women at the training were motivated to attend by empty nests, divorce, or spousal death that nearly destroyed their holiday spirit. Becoming a Claus themselves was one way to try to feel that magic again.
It represented a second chance for me, too: Raised in a Methodist household in Indiana, I once envisioned myself as a wife and mother, but neither of those things happened for me. I learned to live alone, but I still hoped for "surprises"—the kind Santa promised when I visited him at the mall in the 1970s. Whenever I thought of myself as that ecstatic little girl on Christmas morning, I felt nothing but warmth for my parents and my younger self. I wanted to surrender to that same joy again, Mrs. Claus as my guide.
The training took place in Midland's performing arts center, large enough to accommodate 250 of my new Christmas cousins. Of these classmates, only 50 students were female.
When the school's directors, Tom and Holly (her real name) Valent, strode out together on stage, applause soared through the crimson and green auditorium. In their opening remarks, they explained to us that the school was founded by a Macy's Thanksgiving Day Parade Santa in the late 1930s, and that over the next three days, we would touch on all of the entrepreneurial aspects of Kringle-dom. But mostly, they said, we would really focus on getting to "the heart of Santa"—a human-made symbol of inexhaustible generosity that, with luck, would help us tap into our own goodness. Our model was St. Nicholas, the fourth-century Christian known for giving in secret.
Then it was time for class. A beautician led an entire lecture on facial hair whitening and styling. When she discussed the difference between direct heat (a curling iron) and indirect heat (a round brush and a hairdryer), real-beards asked many questions about their delicate whiskers. A wig master, meanwhile, described how she fitted men and women for glorious bursts of artificial white curls. (A good set of designer head or facial hair can cost between $1,000 to $2,000.) I coveted the Mrs. Claus wig with its soft hairline and natural-looking bun, but this early in my career I would stick with a pompadour and the two perky wigs my grandma gave me.
Other courses included accounting, marketing, and makeup application. The lawyer talk was an eye-opener: In some states, I learned, Santas are mandatory reporters of potential abuse. In other situations, they can be sued for defamation of character. For example, if a Santa incorrectly accuses a parent of inappropriate behavior, based only on what the little one tells him during their short time together, that actor is putting himself at risk for a lawsuit. Even with the best intentions, he may not know the full story and can harm a guardian's reputation.

When kids ask for the impossible—jobs for unemployed guardians or reconciliation between moms and dads—these Kringles dig deep. No bad situation is ever a child's fault. Mr. and Mrs. Claus love every child, but some gifts just don't fit under the tree. Would it be alright to write down their names in a special book, so that they were always near in thought? (A few of my classmates told me they pray over these journals and keep them for years.)
In the Mrs. Claus break-away session, Holly Valent suggested we hold hands with our misters. I winced at first, detecting sexism, but then I learned this could also be a child's only glimpse of men and women getting along. I learned that Mrs. C also goes to events by herself, a notion that thrilled me. In fact, Mrs. Claus is whatever you make her—she can be any size or color, she can be alone or side-by-side with Santa, and if she rides motorcycle that's fine, too.
In all of my career years, I had never felt such genuine encouragement from other women. Away from the stimulus of the main group, I soaked up the undivided attention of nurturing grandmothers who offered some safe advice: As women, our every decision would be controversial, they said, whether we chose to wear aprons or ditch the wigs in favor of our own hair. But if we stayed true to ourselves and our reflection of the character, we would always find substance.
During the singing lesson in the auditorium, I was the first volunteer to lead "Jingle Bells." The hundreds of seasoned Clauses appreciated my enthusiasm and asked if I'd seen the 2017 British department store ad with Mrs. Claus as a helicopter pilot. (I had.) "We need commercials like that here," several men told me, referring to portrayals of women who take charge and refuse to shy from the spotlight. I was so grateful for their words I thought I would cry.
Later, I stayed up too late in the hotel lounge socializing with other Clauses over cocoa and cookies. Conversation turned toward romance and the power of fantasy: In some marriages, both partners become Mr. and Mrs. C. In others, one hears the northern call while the other supports from the sidelines. "I'm in the Mrs. Claus dating service," a gorgeous retiree proclaimed in front of her spouse, who was not in the biz. "I'm happily married, but I've been matched with at least 13 Santas."

Sadly, I had to catch a plane back to New York before the graduation ceremony, though a real-beard told me he worked for the UPS and could personally see to the delivery of my diploma. Although I declined his sweet offer, I was blown away by the message.
While the news cycle was dominated by headlines about toxic masculinity this year, I felt refreshed among the merry men at Santa school. Not only were these guys strengthening themselves through the spirit of St. Nicholas, they practiced kindness as if the world depended on it—and it does.
I'm a Claus now, part of a family line that goes back centuries. In New York, where Santa often overshadows his wife, it's not always easy to get work, but my Mrs. C is unflappable. A few times a week, I venture out as her to interact with people. On these excursions, I'm especially close to the Christmas spirit that captivated me as a kid and I can nearly feel the wind from the North Pole through my curly hair—even when I'm just on a crowded subway train.

For more celebrity news, beauty and fashion advice, savvy political commentary, and fascinating features, sign up for the Marie Claire newsletter.
RELATED STORY
Celebrity news, beauty, fashion advice, and fascinating features, delivered straight to your inbox!