Sarah Michelle Gellar's Second Act? Disrupting the Food Industry
How the star battled venture-capital sexism to make the (big, scary) leap from the screen to the test kitchen.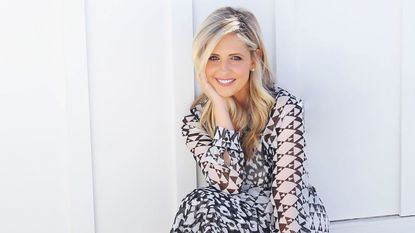 (Image credit: Danielle Kosann)
Marie Claire Newsletter
Celebrity news, beauty, fashion advice, and fascinating features, delivered straight to your inbox!
Thank you for signing up to Marie Claire. You will receive a verification email shortly.
There was a problem. Please refresh the page and try again.
When I arrive at Foodstirs' headquarters in late March, everything about it screams startup. The Santa Monica live/work space has a kitchen in one corner, a small den in the other, a balcony to soak in California's warm rays, and a high-ceilinged room where the bulk of the team sits around a table littered with laptops and Foodstirs swag. But unlike other startups—where the air can taste stale from frantic all-nighters and Postmates deliveries—the Foodstirs office smells delicious.
"Cookie?" offers the organic baking company's co-founder and chief brand officer, Sarah Michelle Gellar. Yes, that Sarah Michelle Gellar—the vampire-slaying feminist hero of your youth. She has a frenetic, contagious energy: her co-founders are on spring break with their families, her nanny went on maternity leave that morning, and she's heading out of town for a massive book tour in a few days. "Poor, Freddie," she says. Yes, that Freddie—Freddie Prinze Jr., the turn-of-the-century heartthrob whose Tiger Beat posters wallpapered your middle-school locker. He'll be on parent duty while Gellar hits the road to promote her new cookbook, Stirring Up Fun with Food, with her Foodstirs CEO and co-founder Galit Laibow. "Freddie and Brian [Laibow's husband] will be figuring it out together," Gellar says.
Figuring it out together has been Gellar and Laibow's motto since launching their company two years ago. The pair got to know each other when Laibow had a public relations firm, repping clients like Jessica Alba and Rosario Dawson. Eventually, their older daughters ended up at the same school and became obsessed with cooking shows. In 2014, Gellar and Laibow decided to recreate a Food Network-style experience for their kids during a play date. "We went on Pinterest—at the time I called it 'The Pinterest' because I didn't know what it was," Gellar recalls. "I was like, 'Okay, I'm intimidated. I can't do any of that.'"
Once they settled on something to make (neither remembers the specific recipe, but they know it involved a pre-made mix), Laibow headed to the grocery store. All of the baking mixes she found there were filled with ingredients she couldn't pronounce, and there wasn't a single organic mix under a zillion dollars. She eventually gave up, picked a regular old box mix, and spent a memorable afternoon cooking with Gellar and the girls. "We had the best day. There was no television. There were no phones. We just created," Gellar says. That's when a lightbulb went off for Laibow: Why not start a project-based organic home baking company?
"I really wanted something convenient that could be delivered to your door," Laibow says. "Like an art project, but you get to eat it." Gellar loved the idea and immediately wanted in, but Laibow said no. "It wasn't personal, but my vision was to build an iconic brand that can live forever," she explains. "I started my career as a celebrity publicist, so I know it's easy for a celeb to say, 'Great, I'll get you press, I'll tweet about it, and then I'm gone.'"
Plus, Gellar had a full-time job. She was working on The Crazy Ones, a CBS sitcom starring Robin Williams, and thought she was set for at least the next decade: "It was the ultimate job for me. It was not on my shoulders. It was Robin's show," she explains. "I only worked a couple hours a day. I had never had that experience. I thought that was it. I really did." But The Crazy Ones ended up being cancelled after one season, which was followed, three months later, by Williams' tragic death. "Robin was that ultimate dad figure to me," Gellar says of the co-star she'd grown extremely close to while filming the show. "I love that man."
Gellar was in a bad headspace after Williams' death, and decided to rethink her priorities. "I just wanted to do more. I wanted to be more," she explains. "I wanted to be present in my kids' lives because you realize how short life is." So, she went knocking on Laibow's door again—this time with more fervor and determination. "Galit saw how serious I was. She realized I wasn't going to go take a show and leave her, or just put my name on the project and not be here for the day-to-day."
Foodstirs officially launched in October 2015 with Pinterest-style kits for sale online—but customers and retailers alike quickly requested their patented organic mixes. "We were like, 'Uh oh, this is getting bigger,'" recalls Gellar.
That's when they brought in Greg Fleishman, who'd spent over two decades in major marketing and general management roles at Kashi, Kellogg, and Coca-Cola before starting Purely Righteous Brands—a consultancy for "green space"companies including Cascadian Farms and Annie's. He met Gellar and Laibow at an industry event in 2015, and joined the company as co-founder and chief operating officer shortly after. "The idea of remaking a $4.7 billion category that needed it badly was attractive," says Fleishman. "And, as a father of two young daughters, it fell close to home. After meeting Galit and Sarah, I knew there could be magic. Both are the very rare combination of visionary, strategic, highly creative, and with a scrappy, relentless work ethic."
Thanks to their combined efforts, Foodstirs has now raised $5 million, and plans to have its eight quick-scratch mixes—which sell for $5.99 per box—in 4,000 storefronts (including Whole Foods, Gelsons, and Fresh Market) by fall.
The Sunday before I met with Gellar, she'd spent eight hours at an L.A. Costco. Laibow and Fleishman had spent similar amounts of time at Costcos in San Juan Capistrano and Laguna Niguel. The trio were overseeing Foodstirs' launch in the behemoth warehouse club chain, an experience that was a far cry from Gellar's days on-set. I ask if she's more exhausted now than when she was acting. "Oh, are you kidding? Where's my trailer, where I would sit with my full fireplace?" she jokes. "Actors only have two things you have to do: hit your mark and say the words. Someone picks you up, does your hair and make-up, dresses you, shaves you, cleans you, whatever. All you have to do is stand there, then go back to your trailer. I'm a lot more tired now."
Though her new gig does require some primping. Anyone with a wifi connection saw Gellar promoting her new book on talk show after talk show the past two weeks. But the daily challenges Foodstirs presents are often less glam than those Gellar and Laibow encountered in Hollywood.
Like on launch day in 2015, when a Foodstirs demo onRachael Ray caused an influx of web traffic and the site crashed. The company had outsourced its web development, so Gellar and Laibow took panicked turns calling their contractors in India to get the site back up and running. Another challenge? Neither Gellar nor Laibow have any experience in the food industry. ("Besides eating," Gellar interjects. "I was very experienced in eating.") Google became their best friend, where they looked up everything from how to code their marketing emails to ingredients like biodynamic sugar—which happens to be four times the price of organic sugar. This particular search insired Gellar and Laibow to hop on the phone and barter. "We called Sugarland, Texas, where it's from. I said, 'Hi, I'm Sarah Michelle Gellar and you might know me from Buffy the Vampire Slayer. I'm doing this business and I really want to use your product. I can bring awareness.' So we struck a deal with them."
But not all negotiations went so smoothly. Their first fundraising meeting "did not go well," and then they were hit with the well-reported sexism rampant in the venture capital and private equity industries. "In the beginning, I can't tell you how many potential investors said, 'But you're moms,' or, 'Who's going to run your company?'" Gellar recalls. "People thought it would be so easy for us to raise money and it wasn't."
They continued refining their messaging, eventually landing investments from Beechwood Capital and Cambridge Companies SPG. "The 'no's just made us work that much harder," says Laibow. "We're gonna make them sorry they didn't invest."
Nowadays, Fleishman, Gellar, and Laibow make all major decisions together, but they divide their day-to-day roles based on their strengths: Fleishman focuses on sales and operations; Laibow handles the company's big-picture vision, talent management, finances, and fundraising; and Gellar focuses on Foodstirs' marketing materials, including the company's voice and design. She also dabbles in product innovation (once every two weeks, Gellar spends an afternoon testing new recipes with Foodstirs' resident chef, Aubrey Krystek). Of course, there's been a bit of trial and error with the kits: A cupcake cone kit, launched about a year ago, was inspired by Gellar's childhood, but the organic cones often broke during shipping. It was quickly retired, but Gellar hopes to one day sell the cupcake cone kits in retail locations.
Hiring and firing employees has been another learning curve for Gellar. One of Foodstirs' co-founders, Gia Russo Levine, voluntarily stepped down in 2016, but Gellar and Laibow have had to let go of a few employees. "Every time we've had to let someone go or it doesn't work, I am heartbroken. It doesn't matter how many times somebody from a bigger company tells me that this is just the way it goes," says Gellar. "But startups are 24/7, it's no joke. It's worse than a newborn."
That's why the Foodstirs team is already working hard to create a community-focused culture—if there's a holiday, count on an adorably-decorated party at Foodstirs HQ. The week I met with Gellar, she had just taken Krystek out for a two-hour lunch to celebrate her birthday. And the live/work space has a washer and dryer, which means it's not uncommon to see a Foodstirs employee doing their laundry during work hours.
Foodstirs and its co-founders have no plans to slow down. By the end of the year, Laibow says they want national distribution for all their products. In the next five, they hope that at least one million pantries will be stocked with Foodstirs products and they may expand into new categories like kitchen tools. "When you think of a tissue, you think of Kleenex. The end game is that when you think of anything baking, Foodstirs is what comes to mind," says Gellar. "I would love to be able to make it accessible."
In the near term, Gellar is focused on rainbows; the company's latest kits feature multi-colored cake pops and pancakes. "Look, an all-natural unicorn," Gellar says to me, showing off a small package of iridescent crystals. "Have you ever seen that before? I'm sure it's like $30, so eventually I would like to manufacture these things."
That sort of ambition has quieted many of Foodstirs' greatest critics. "I love that I'm not seeing as many headlines like 'Buffy Bakes' anymore," says Gellar. "In the beginning, it was gimmicky. But now, we're two years into this and we're getting major traction. I don't have to prove myself in the same way."
So, will Gellar ever return to the large or small screens? She still does voice work for cartoon series Robot Chicken and Star Wars Rebels, but don't expect to see her in a major role anytime soon: "If you want to be on camera 24/7, do that. You can't do that and run a business."
That said, she credits her Hollywood roots, and subsequent fan base, with giving her the confidence to take this latest leap. "I was known for playing a character that was about female empowerment—whether it was Buffy or Kathryn [from]. Kathryn was a different kind of empowerment, but still empowerment on its own," Gellar says. "I am just so surprised by the support we've received from women. This is our second act—Galit and I took a risk and are doing something we've never done before. And the rewards are incredible."
Celebrity news, beauty, fashion advice, and fascinating features, delivered straight to your inbox!