Tina Brown on 10 Years of Women in the World
"We have to remember what's happening in other places."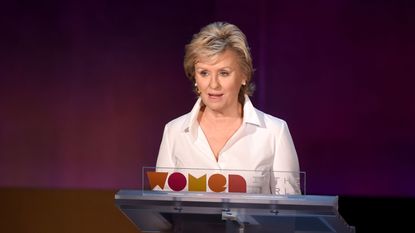 (Image credit: Getty Images)
There are few people on earth for whom the descriptor "gamechanger" is accurate, but Tina Brown is most certainly one of them. From 1979 t0 2001, Brown worked as editor-in-chief of the some of the most prominent magazines in journalism: Tatler, Vanity Fair, and The New Yorker, and in 2008 Brown launched the digital news site The Daily Beast. She's also the author of the 2007 biography of Princess Diana, The Diana Chronicles. And she accomplished all that before starting what is perhaps her most impactful venture to date: the Women in the World summit, which is celebrating its tenth anniversary right now.

For the unfamiliar, Women in the World is an annual gathering at New York City's Lincoln Center, where activists, celebrities, leaders, and folks on the forefront of real change come together to share their stories and try to create solutions to some of the world's biggest issues. Previous years have featured panels with Madeleine Albright, Zainab Salbi, Meryl Streep, Chef Dominique Crenn, and Malala Yousafzai. Brown has a knack for choosing topics and participants at exactly the right moment. Hillary Clinton made her first public appearance following her 2016 election loss at the summit, and Gretchen Carlson shared her tale of workplace harassment at Fox News on the Women in the World stage—six months before the Harvey Weinstein story broke and the #MeToo movement took off.
The 2019 summit, which is taking place this week, will have appearances and panels with notables such as Priyanka Chopra Jonas, Stacey Abrams, Anna Wintour, and Brie Larson, with Oprah Winfrey delivering the keynote address. But, as always, the gathering is about more than just boldfaced names: This year's summit features activists Madeleine Habib, an Australian sea captain who rescues migrants from the Mediterranean, and Dr. Fozia Alvi, a Bangladeshi doctor who was so moved by the suffering of Rohingya people that she left her family in Calgary, Canada, to treat the refugees in Myanmar. (And men, too! Bryan Cranston and Alex Gibney are on this year's list of panelists and moderators.)
I had the opportunity to sit down with Brown on the eve of the anniversary summit to discuss 10 years of Women in the World—and I walked away with much more than that. Meeting a woman like Tina Brown can be somewhat intimidating, but the power and strength she's exudes is actually engaging on a very personal level. As she showed me around Women in the World's buzzing home base in Manhattan, she made sure to acknowledge each person she works with and share how they were an integral part of making the summit happen year after year. Brown is friendly and engaging, and she appears to take an active and personal interest in everyone she meets with—it's no wonder she changed the game for modern journalism.
On How the Summit Comes Together
"Sometimes there's an issue we really want to talk about, we always go looking for the person with the best voice on it. Sometimes it's like, Oh my God, we just have this incredible person, and we just want to put them on the stage. What excuse can we make to have them in there?" Brown tells me. "And the third thing is sort of breaking news, happenstance, people who are admired. Sometimes something breaks and we just really want to have a person there... Immediately when Lori Lightfoot won it was like, 'What's her phone number!? Is it too late?'"
On Women in the World's Impact
"There's a sense that we bring the unknown world alive to people, that they haven't really thought about it before. And that's very consciousness-raising," Brown says.
She shared stories about women who found the publicity and awareness of an appearance at the Women in the World summit to have a huge effect on their world. She told me about Topeka Sam, a formerly incarcerated female drug dealer who turned her life around and founded Hope House, a shelter for women to receive help and a pathway after leaving prison. "Her whole life has changed. She's got an amazing board now at Hope House. That makes us feel great."

Brown is very happy to provide a stepping stone for people, and a platform. "By spotlighting people like that, we really change their worlds and their lives. It's really amazing what happens on our stage."
On Producing a Different Sort of Summit
Brown explained to me that she doesn't want WITW to be your stereotypical conference involving "three guys and a glass of water between two ferns." This year's summit features poetry and dance performances.
"It may sound like this is very heavy stuff, but there's also multi-panels which are addressing issues like how to get your kids off their screens; we have a great discussion about women's financial health. That was a very great conversation last year, which we're going to add to this year, which I think people are gonna really like, actually."
Brown's Advice for Young Women in the Workplace
"Find your own company, start your own things. We've spent so much time talking about making life work in corporate structures, it's never going to work. Let's work on getting the money, and doing our own stuff."
Brown's Advice to Women Who Want to Make a Difference
"What [the summit] does is it really awakens a lot of dormant activism in people. Many times you'll hear people saying as they leave the theater, 'Well what can I do? Like, oh my God, this woman, she had nothing and she started a g--damn revolution in Liberia, and I'm sitting here just moaning about why the pool won't get fixed.' I mean, it's like it's a kind of big wake-up call sometimes," she says. Women in the World puts rarely-seen topics on people's radar—and forces those people to take a look at the world around them and ignites them to take action.

"Become engaged in the problems of other people, quite honestly. The way to conquer your own life experiences is to engage with the life experiences of another person," she says. "We're busy, self-involved sometimes in the US. We're very absorbed with our slights and our umbrage, but there are women who are actually in prison because they were just driving activists, you know? In Iran, that lawyer recently...for being an activist...was sentenced to 37 years and lashing every month. Can you imagine, 37 years? We have her lawyer, and so she knows her very well, and she's gonna speak about her. Because we have to remember what's happening in other places."
We have to remember what's happening in other places. It's kind of simple, isn't it.
For more stories like this, including celebrity news, beauty and fashion advice, savvy political commentary, and fascinating features, sign up for the Marie Claire newsletter.
Celebrity news, beauty, fashion advice, and fascinating features, delivered straight to your inbox!
Amanda Mitchell is a writer and podcaster with bylines at Marie Claire, OprahMag, Allure, Byrdie, Stylecaster, Bon Appetit, and more. Her work exists at the apex of beauty, pop culture, and absurdity. A human Funfetti cake, she watches too much television, and her favorite season is awards season. You can read more of her work at amandaelizabethmitchell.com or follow her on Instagram and Twitter @lochnessmanda.