For Chicagoans, the Future Is Lori Lightfoot
She would be the first gay person and first black woman to run the U.S.'s third largest city.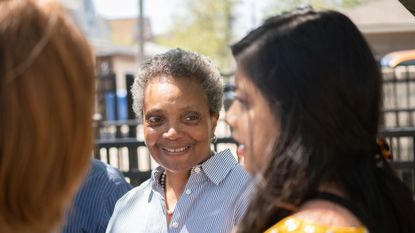 (Image credit: Lightfoot for Chicago)
Marie Claire Newsletter
Celebrity news, beauty, fashion advice, and fascinating features, delivered straight to your inbox!
Thank you for signing up to Marie Claire. You will receive a verification email shortly.
There was a problem. Please refresh the page and try again.
Lori Lightfoot will bring winds of change to Chicago. The 55-year-old recently announced her bid for mayor of the city—one of nine candidates who have declared they will run against incumbent Rahm Emanuel, President Obama's former chief of staff. If elected, Lightfoot will be the first African American woman and the first openly gay person to hold the position.
She's hoping to usher in "a progressive era in city government" and to get rid of the us vs. them narrative that has dominated life in Chicago recently. "I think of being the mayor of a big city with so many incredible things happening—but also so many challenges and opportunities—as really being kind of the chief advocate for the people," Lightfoot told MarieClaire.com in an exclusive interview.
A line from Shakespeare's Midsummer Night's Dream seems to best describe the candidate: "And though she be but little, she is fierce." The 5-foot-1 lawyer has gained somewhat of a reputation in Chicago for going against and criticizing some of the toughest people in Chicago, including the Fraternity Order of Police and Mayor Emanuel, who was, until recently, Lightfoot's boss.
Lightfoot rose to prominence in the Windy City in 2015, one year after the tragic killing of Laquan McDonald, a black man shot 16 times by white police officer Jason Van Dyke. After a video was released showing a discrepancy between the officer's description of that night and what actually happened, protests ensued, calling for Emanuel's resignation. It was suggested that his attorneys and top aids knew about the discrepancy.
The Police Accountability Task Force was created, and Lightfoot appointed co-chair. She was also made president of the Chicago Police Board, an independent civilian body created to decide disciplinary matters involving police officers. In laymen's terms, Lightfoot and her team had to figure out how an officer like Van Dyke—who had at least 20 citizen complaints filed against him since 2001— was able to continue to work as an active duty officer.
A report was produced, showing proof of systemic racism and a lack of accountability within the Chicago Police Department. Police Superintedent Garry McCarthy was fired. But Lightfoot and the report were met with push-back. All three of the officers Lightfoot recommended to replace McCarthy were discounted; Emmanuel appointed someone who hadn't even applied.
The lifetime public servant didn't take this rejection lightly. On Monday, May 7, Lightfoot officially resigned from her position as Police Board President and three days later announced her bid to run for mayor against her former boss.
But Lightfoot's professional experience—impressive as it is, with additional positions as a litigator and as the Assistant U.S. Attorney in the Criminal Division in the Northern District of Illinois—isn't the only factor that qualifies her. What sets her apart is her lived experience as a black woman from a poor family.
The youngest of four kids, Lightfoot grew up in a highly segregated town in Ohio. Her father lost his hearing when she was young, making it difficult for him to provide financially for the family. She recalls how watching her father struggle to support her family, and her mother's work as a house cleaner and later in mental health institutions and nursing homes had a profound impact on her. "I learned early on about the real meaning of equity and inclusion, and that when those guiding principles are not met, they can have devastating effects on individuals, families, and communities," she says.
Her personal experience with poverty helps Lightfoot understand what communities in Chicago need in a way that the current administration doesn't seem to. One example: A $95 million dollar police academy is being built in one of the poorest neighborhoods, West Garfield Park. Meanwhile, that community and others like it feel they are being ignored while schools continue to close, homicide rates rise, and mental health programs are slashed.
Chicago is the third largest city in the United States, and one of the most segregated. Poorer neighborhoods are predominantly African American, while the richest are white. According to a March 2017 study, nearly half of Chicagoans are considered low-income or living in poverty. And where there is poverty, there is violence—especially gun violence. "When I hear stories about the number of kids that have been lost to violence, where families grow up teaching kids 'duck and cover' long before they learn their ABC's or their colors, I know there is something profoundly wrong in our city." Lightfoot says that many of the concerns of violence come from income inequality and a lack of resources.
"It's not really isolated to one neighborhood—people are feeling unsafe everywhere. We can't solve that problem if we don't make the right kind of investment in our neighborhoods," she says. "Violence is a symptom. It's like the volcano eruption in Hawaii: Beneath the surface there is all sorts of activity going on and we have to get at the root cause of the violence, which is lack of opportunity, lack of economic investment in unstable neighborhoods. But those are fixable problems if we're willing to roll up our sleeves and dig down deep."
Lightfoot's passion is palpable as she talks about the support and resources necessary for law enforcement to be successful. "A critical piece of their success is respectful engagement with the community, and doing everything that we can to bridge that divide. We would be kidding ourselves if we said that that's an easy task—particularly in communities of color. The relationship with the police has really been fraught throughout our whole history."
She's also aware that there's a lack of trust in government. She acknowledges that the lack of economic opportunity and frustration with bureaucracy (among other factors), "that brought us the result of the November 2016 presidential election are still pretty profound across the country and certainly are growing here in Chicago."
Her solution: to meet people where they are. "We have to demonstrate that we see them, that we hear them, that we are listening."
As I sit in a cafe near the Harold Washington Library (named after Chicago's first African American mayor), Lightfoot describes her view from the 43rd floor of a high-rise on South Wacker near the Chicago River. She takes a pause, "I want to make sure that the prosperity that we see happening in the loop, in the downtown area really spreads to the neighborhoods—both literally and figuratively. I don't want to have whole swaths of our population continue to be left behind and feeling like they have no hope."
Two weeks ago, Lightfoot announced her campaign had raised $243,000 dollars—the highest of any of the other mayoral challengers. Meanwhile, Emanuel has already raised more than $7 million. Lightfoot understands this campaign is going to be a long road but is prepared to fight for what she thinks is right. "I've been lucky and I recognize that, but I haven't lost sight of that girl I was."
Her wife, Amy Eshleman, a towering white woman with a short pixie cut, is supportive of Lightfoot's political endeavors. They are both heavily invested in their hometown. Eshleman has spent most of her career working for the city of Chicago libraries and has created impactful city-wide initiatives, such as the One Book One Chicago literacy program and the Chicago Library's YouMedia lab, a design space for high schoolers to focus on STEAM and technology.
The two have a 10-year-old daughter. "We love being here," says Lightfoot, a staunch advocate for the city of Chicago. She is often seen wearing her blue University of Michigan hat with her high school pin fastened to it (she has an affinity for hats). As our conversation comes to an end, she tells me that she and her wife are very lucky and have been allowed many opportunities, but they both want to make sure that they "don't paper over the challenges those opportunities have given them." They want to "dig down deep into opportunities for others who may not have the same kind of advantages that they have been able to leverage."
Communication, listening and outreach—it's a simple platform, but one already resonating with citizens in the Windy City. Emanuel may be considered a "pitbull politician," but he seems to have some serious competition from this petite, no-nonsense gay black female litigator. "The Future Is Female" shirts have become almost cliché this election cycle, but perhaps in Chicago, it's true.
RELATED STORY
Celebrity news, beauty, fashion advice, and fascinating features, delivered straight to your inbox!