Spotlighting 3 Power Women in the Home Market
They're changing how we think of and shop for a place to live.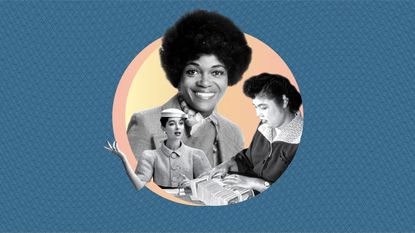 (Image credit: Alice Morgan)
Much of real estate remains a boys' club. While women have long made up the majority of real estate agents and brokers, they only make up a tiny fraction of those who serve in leadership-level positions within the greater industry. But that's changing. Today, more and more women are not just stepping up, but leading the charge and changing the home market in the process. From the woman who is making the already-beloved-by-millennials Zillow even more beloved (even if you're not actively looking to buy, who among us hasn't Zillowed a particularly Instagrammable Airbnb?), to the CEO who's bringing some of the first truly smart homes to the masses, to the Philly entrepreneur who decided to get into real estate investing and inspired thousands of others to join her in the process, these bosses are changing where—and how—we live.
---
Aimee Johnson: Chief Marketing Officer at Zillow
In April 2018, Zillow upended its business model. The real estate company would continue aggregating the real estate listings that made homebuyers (and aspiring homebuyers) fall in love with it in the first place. But it would also be taking a more active role in the home-buying process with the launch fo Zillow Offers, a program that buys and sells homes directly. The new direction was part of the company's plan to build a seamless end-to-end experiences for homebuyers, and they tapped Aimee Johnson to help lead the way as Zillow's chief marketing officer. According to Johnson, 51, real estate professionals who want to be successful in today's smartphone- , smart home-driven era must prioritize the customer experience first and foremost. These are people with jobs and families, she tells Marie Claire, and "moving just happens to be something that's going on within a larger moment of their life."
Better understanding the experience customers have with a brand is something Johnson has built a career around. She spent a decade working on various brands under the Campbell's Soup umbrella, followed by 14 years at Starbucks where she would "sit in the stores and literally watch how people interacted with the baristas, watch how people interacted with their phones." Her goal was to pinpoint potential "friction points," as well as places to enhance the customer experience. So when she saw Zillow was evolving from a company known for its real estate listings to a service-driven model, she saw it as the perfect opportunity to continue the work she'd grown passionate about.
"I'll talk to some folks coming out of MBAs and they'll say 'Oh, my God, how did you engineer your career?'" says Johnson. "And I would say, 'Well, I said yes to lots of odd things.'"
If you're a first-time home buyer (millennials make up 63 percent of this group), Zillow provides everything from 3-D home tours to mortgages through its direct-financing program, Zillow Home Loans. If you're an experienced buyer, the company aims to make the process of moving easier with Zillow Offers; launched in 2018 and available in 21 U.S. markets, the program will buy your house (and later resell it) so you can move forward with purchasing a new home without the stress of juggling two mortgages. Overall transparency throughout the entire buying and selling process is another priority for the company.
"You can track your pizza," Johnson points out. "But you can't track your mortgage. There are lots of things customers are used to now with other companies that the real estate industry has not really picked up. Our ultimate vision is for our customers to open their Zillow app and see exactly where they are in the home transaction, like whether their mortgage is in underwriting or their earnest money made it to escrow."
---
Sce Pike: Founder and CEO at IOTAS Inc.
Like all of us, Sce Pike (pronounced "Say") was paying attention when companies like Nest and Apple started rolling out smart home devices. But her high hopes were quickly tempered when she tried some of the devices and realized the piecemeal approach the current market was taking left much to be desired.
"A smart thermostat does not make a smart home," says Pike, 44, "I wanted to create a truly smart home experience, not just the DIY stuff that was out there. Like, you walk in and it welcomes you home, tells you goodnight when you go to bed, wakes you up in the morning."
Her company IOTAS, which offers smart home solutions that allow residents to control everything from entry to lighting to temperature, might have never been were it not for the real estate developer who approached her in 2014. He saw smart home technology as a new amenity for renters, and asked her to put together a program for two buildings he was working on. That's when Pike realized the "cookie cutterness of apartments" could be the perfect way to "create a truly Smart Home experience," she says.
She was met with some initial resistance; more that 100 investors turned her down because, she says, she didn't fit the package of a "woman pitching a product made for women," but rather a "enterprise company designed for real estate," a market the tech industry was just getting into at the time. Still, she persisted. Today, IOTAS partners with brands like Honeywell, Nest, Google, and Amazon to provide the equipment, while Pike and her team build and monitor the operation systems that make for a cohesive smart home experience. To date, they've raised $17 million in funding, installed their systems in 91 buildings in 41 U.S. markets, and are currently looking to expand abroad into Canada. And, as the technology continues to evolve, Pike believes it could completely change our notion of home as one physical space.
"If you think about your mobile phone, it's not really the hardware," says Pike. "Because you can upgrade to another phone easily. All your settings, preferences, software, apps, music, all of your collections of your life are actually in the cloud. So I think what's truly exciting is, once these physical spaces get digitized, the impact it can have on your life and how you move from physical space to physical space. Like, being able to unlock every door universally instead of having a different FOB for your school, your apartment, a hotel. I think that's what's really cool."
---
Nicole Purvy: Entrepreneur, author, and founder of the Better Than Success Real Estate League
Real estate seems almost intentionally overwhelming. There are certain people who understand the language and the rules, and certain people who have been made to feel like they can't. That's why, three years ago, Nicole Purvy founded the Better Than Success Real Estate League in her native Philadelphia: to make investing in real estate more accessible to everyone.
"Real estate is a great way to build your wealth," says Purvy, 36. "It's something you can hand down to the kids. But in the past, it was seen as a boys' club. Now, women are looking for different ways to make money. And when I put these women that look like them on this platform, the response has been amazing. Women are waking up and realizing. 'Hey, I don't have to be a man to do real estate. I can do this as well.'"
When she started in 2016, Purvy had nearly 10 years of experience as a serial entrepreneur in marketing and finance, and a job on Wall Street before that. But she knew absolutely nothing about real estate. She decided she had to become a student to become a real estate master.
"I wanted to learn," she says. "I decided to bring in different speakers and said anyone who wants to learn with me, they can."
Just five people attended that first meeting, including Purvy and the local investor she recruited to speak. But word quickly spread and, by the following week, "we had people literally spilling out the door." Within a year, Purvy moved the weekly meetings from her 400 square foot office to a new 3,000 square foot space to accommodate their 400 paid members, who shell out $80 each month in exchange for admission to the club's weekly meetings, where the group discusses investment strategies, and deeply discounted access to the various other workshops, seminars, classes and events (like the recent Women in Real Estate Summit) held throughout the year. The Better Than Success Real Estate League is now the largest real estate investment club in Philly and, this fall, they started holding meetings in New York City. For those who are interested but can't make it to either location, the discussions can be streamed on the website ($40 after the first free one for nonmembers).
"I try to make sure we have diverse speakers come out so people know women can get out here and build up these portfolios," says Purvy. "One of our speakers [said] she's bringing in $50,000 a month just from her rental portfolio in addition to her regular job. So the outward is infinite."
Correction: An earlier version of this story incorrectly stated that Nicole Purvy started Better Than Success Real Estate League in 2017. She started it in 2016.
Celebrity news, beauty, fashion advice, and fascinating features, delivered straight to your inbox!
Ashley is a Brooklyn-based freelance writer and former longtime editor at Glamour and, before that, Page Six Magazine (#RIP). In addition to those publications, her work has appeared in/on Marie Claire, Cosmopolitan, Goodhousekeeping.com, Self, Refinery29, The Well, Boston.com, The New York Post, The New York Times, Mademan.com, and various other outlets.