The Coolest Jobs at NASA Are Held by Women, Naturally
Um, how do I become a rocketship driver?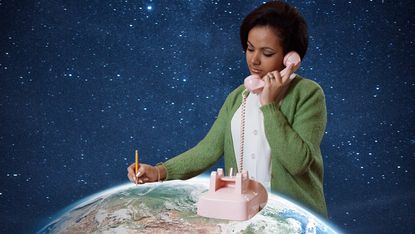 (Image credit: Morgan McMullen)
Marie Claire Newsletter
Celebrity news, beauty, fashion advice, and fascinating features, delivered straight to your inbox!
Thank you for signing up to Marie Claire. You will receive a verification email shortly.
There was a problem. Please refresh the page and try again.
It's not just the astronauts that get to have all the fun: NASA is home to some of the coolest jobs in the world and (no surprise here!) a lot of them are held by women. With so much on the space-horizon (including the Artemis program—which will send a man and woman to the moon in 2024—deep space exploration, and a future Mars mission), every employee and contractor, from the social media manager known as "The Voice of the Moon" to the woman who builds the astronauts' very meticulous menu, must work together to make it all happen.
Here, the women with the weirdest (in the best way) and coolest jobs at NASA.
---
Molly Wasser, 32
Official Job Title: Digital Media Lead for the Solar System Exploration Division
Unofficial Job Title: The Voice of the Moon
As the person behind the @NASAMoon Twitter account, Molly Wasser is responsible for crafting the orb's personal tweets. She describes the moon's voice as a little bit sassy with a touch of snark (example: On Valentine's Day the moon tweeted "My whole world revolves around you, @NASAEarth"). With a background in both science and communications (she went to school with dreams of becoming a Hollywood director, only to fall in love with space after taking an astronomy lab), Wasser is making science understandable to her 267,000 followers by acting as a "translator" between NASA scientists and the less technical among us. "The goal of my tweets," she says, "is actually to get people to look away from their phones. To look up."
On the moon's social media persona:
"I'd say the moon account is a little bit nostalgic, but also forward-thinking and appreciative of pop culture."
On the most savage thing the moon did on Twitter:
"During the solar eclipse, I blocked the @NASASun account. The total solar eclipse was a great day for the @NASAMoon account. We got around 22,000 followers that day."
On going viral:
"At NASA, we run an event called International Observe the Moon Night on September 26. We use #ObserveTheMoon and we encourage everyone, everywhere to observe the moon and post about it using the hashtag. We've seen a lot of pickup. And @NASAMoon went viral in India once: Many cultures have holidays around the moon, so I tweeted about a Hindu holiday known as Gamha Purnima, which is celebrated during the full moon. The next day there were articles in the Indian media about the NASA Moon account!"
On moving the moon to platforms like TikTok and Instagram:
"Not yet, but we're working on getting a Facebook page right now—so keep an eye out for that."
---
Breanne Stichler, 22
Official Job Title: Mechanical Engineer, Driver of NASA's Crawler-Transporter 2
Unofficial Job Title: Rocket Driver
Pimp My Ride has nothing on Breanne Stichler. The mechanical engineer is one of the nine people (and of that group, the only woman) to drive NASA's Crawler-Transporter 2—a 6.6-million-pound vehicle the size of a baseball infield. It carries NASA rockets (up to 18 million pounds!) from the Vehicle Assembly Building, where they are built and stored, to the launch pad for liftoff. The four-mile journey down the "crawler way" can take upwards of eight hours total, though the team of drivers switch on and off at checkpoints along the way. They operate it standing, so at 5'3" Stichler has to be a bit more cautious about her blind spots (there are windows and rear view mirrors on the cab). Otherwise, it's smooth cruising.
On the crazy-low speed she's driving:
"If we're carrying a rocket, we're going to go no quicker than 0.7 mph. If we're crossing a road, we'll go about 0.3 mph."
On (almost) crawler roadkill:
"It didn't happen while I was driving, but I was riding passenger when a wild hog ran across the crawler-way. We slowed down and just watched it to make sure it got out of the way."
On texting and driving:
"It's all about focusing on the road. You're not texting and driving. Usually there's someone else in the cab [where the drivers steer] with you as backup, even once you're certified."
On her driving playlist:
"There's not a radio in there. Sometimes our experienced drivers will play music on their phones, which are kept off to the side. But I don't usually do that. If I did, it would be country music. Or Panic! At the Disco."
---
Melissa Jones, 39
Official Job Title: Landing and Recovery Director
Unofficial Job Title: Return-to-Earth Specialist
As the director of landing and recovery at NASA, Melissa Jones is responsible for leading a team of 100 that retrieves capsules returning to Earth. Capsules—either manned or unmanned—catapult to the earth at 27,000 miles per hour before parachutes slow them down to 20 mph about 5 miles from the water's surface. If all goes according to plan, capsules land in the Pacific Ocean off the coast of San Diego, where Jones and her team (along with crew from the U.S. Air Force and Navy) are waiting (for anywhere from 8 to 25 days) on a large Naval ship to bring them back to land.
On emergency landings:
"An emergency landing is basically when the pods land somewhere that we were not expecting at a time that we are not expecting. There could be an event that would initiate an emergency or cause astronauts to abort the spacecraft and fall back to Earth. Those are all things we practice and plan for. We do training simulations to make sure that we can get them if there's a rescue or emergency. We'll have people playing crew members—maybe somebody's hurt, maybe nobody is hurt, maybe somebody is unconscious. Then, we'll sit down and identify all scenarios that we think that we will face and systematically figure out which ones are likely enough for us to test."
On how she stays calm:
"We respond to a lot of high-stress situations, so we practice a lot. Training helps with that. And when that doesn't help, I do kickboxing."
---
Sumara Thompson-King, 61
Official Job Title: General Counsel, National Aeronautics and Space Administration
Unofficial Job title: Space Lawyer
Sumara Thompson-King is NASA's chief legal officer, overseeing a team of attorneys responsible for all aspects of NASA's legal affairs worldwide—basically, like an in-house law firm. Though she was appointed to the role in 2014, Thompson-King has been at NASA for—wait for it—34 years, when she started in the office of Chief Counsel at NASA's Goddard Space Flight Center. Before taking the unknown leap into space law, she was a practicing attorney in Washington, D.C.
On one of the most meaningful cases she's worked on:
"When you work for the government like we do, the equipment and supplies belong to the government. After the Apollo crash, we had legislation pass that allows us to let the astronauts have some of those mementos."
On the weirdest cases she's worked on:
"The NASA brand is very famous, and people love to put NASA on things. But there are some things that you maybe don't want NASA's name on, as it's our intellectual property. There were some businesses near NASA that called themselves the NASA barber shop, and there were people who would think that was actually NASA running the barber shop and it wasn't. There are some communities where you can go and you can see the how they've modified their name after we talked with the owners."
On her most challenging work day:
"I was at home on a Saturday morning, on February 1, 2003, expecting to receive a message that the Columbia shuttle had landed safely, when calls began to come in informing to me that Columbia did not land on time. The only shuttle launch that I saw in person was that last mission for Columbia, STS-101. I did not realize how fast I was driving when I traveled to NASA headquarters to handle the immediate legal issues because I was crying all the way to the office. That was a hard day to lose our colleagues and our American heroes."
On the most exciting thing she's worked on:
"Before we put human beings on a commercial vehicle, we put cargo on a commercial vehicle. We have always taken cargo and astronauts to the International Space Station on a government-owned vehicle, and I was one of the lawyers who helped figure out how to develop a commercial operator rather than one by the government. We worked a lot with SpaceX and Elon Musk before many people knew what SpaceX was."
On how NASA has changed over the years:
"Agency leaders have understood that NASA's greatest asset is its workforce, and much effort has gone into attracting, retaining, and developing the dynamic and diverse workforce needed to support our important aeronautics and space exploration missions."
---
Charlie Blackwell-Thompson, 55
Official Job Title: Launch Director
Unofficial Job Title: Countdown Queen
You know how, in every space movie, a mysterious voice counts down from 10 in preparation for liftoff? For the first time ever, that is the voice of a woman (symbolically, speaking). As the first woman to ever hold the role, Launch Director Charlie Blackwell-Thompson is responsible for the planning and execution of all test launches for the Artemis program—and, eventually, the real deal, the one that will send a man and woman to the moon. No, she won't literally do the countdown on launch day (though she says someone does do that), because she'll be too busy leading and executing the entire launch plan. No pressure!
On what really goes down on launch day:
"For the Artemis launch, we'll be in the firing room. There are about 100 engineers in the room with monitor displays in front of them. We monitor launch criteria to decide if the launch is go or no-go."
On what the movies get wrong:
"When you're watching a TV show or movie, you see those last five minutes...the countdown to T-zero. A little-known secret is launch countdown actually spans a couple of days. For Artemis, it's about two days long. Once we get to T-zero, I won't be the person to personally count. We do have someone in the final minutes of countdown that are calling out the milestones, but, otherwise, it's perfectly quiet. In the last minutes of the countdown, you could hear a pin drop in the control center; the team is very focused."
On her morning-of-launch ritual:
"When I roll up in the control center parking lot on launch day, I get out of my car and look at the launch pad. In the early morning hours, it's all lit up. Against the night sky it really stands out. I like to look out at the pad and take a moment to think about what we're getting ready to do as a team."
---
Dr. Grace Douglas, 38
Official Job Title: Lead Scientist for NASA Advanced Food Technology Division
Unofficial Job Title: Space Menu Builder
In her role at NASA, Dr. Grace Douglas (she holds degrees in food science and a Ph.D. in Functional Genomics) helps research and develop food plans for the International Space Station, and she is working to put a food system in place for future Mars missions. Because astronauts may be on Mars for as long as two-and-a-half years, Douglas needs to create items that are shelf-stable for at least five years and meet stringent nutritional guidelines. Plus, she has to develop enough flavors and types of foods that astronauts can get their nutrition requirements in a variety of ways. No one, not even astronauts, wants to get their intake of vitamin C through a powder additive.
On how space food works:
"We use a pre-packaged food system on the ISS, so everything is shelf stable and lasts at least two years. It's quick and easy to use in microgravity. In spaceflight, all you have to do is add water and heat using a rehydration station on the ship. There's also a conduction food warmer in spaceflight, so astronauts can heat and rehydrate foods. We also have both freeze-dried foods and low moisture foods, like granola bars or dried fruit. Plus, we offer thermo-stabilized foods, which are like canned foods in a pouch. Think: canned tuna that lasts for years."
On the menu on board the ISS:
"Right now, there are about 200 different foods and beverages—which include meats, fruits and vegetables, fish, desserts, nuts, snacks, and coffee—on board the ISS. That sounds like a lot, but when you walk into a grocery store, there are at least 250 beverages before you even step through the front door. It's a challenge to get a variety."
On making space food that actually tastes good:
"We use a lot of spices—especially because we have to watch the sodium content. We do send some spicy foods, like a shrimp cocktail and spicy green beans."
On astronauts' favorite food:
"The most-used food is probably our shelf-stable tortilla because astronauts don't have bread to make sandwiches. They're in microgravity, so everything's floating around, but the tortillas are an easy containment method. If they're making breakfast tacos, for example, they can transfer food very slowly, and it should stay on the spoon until they wrap it up into the tortilla."
On what's forbidden:
"We do not send alcohol." So, no, astronauts cannot get drunk in space!
---
Aubrey Gemignani, 41
Official Job Title: NASA Photographer
Unofficial Job Title: Space Photographer
Aubrey Gemignani documents some of NASA's most historic liftoffs. Her love affair with photography has been lifelong—at age 12, she was gifted an old manual camera from her father, which led her to study photography in school and eventually pursue international photography before signing on with NASA six years ago. Now, she's responsible for everything from taking portraits of the newly-graduated class of astronauts to photographing split-second launches and landings in both the U.S. and in Kazakhstan.
On her most memorable subject:
"I got to photograph Katherine Johnson, who is the 'human computer' depicted in the film Hidden Figures [played by Taraji P. Henson]. I got to photograph her watching [the film] for the first time, which was really powerful for me."
On the most challenging subject to photograph:
"The launches in Kazakhstan are probably one of the most demanding tasks. We don't sleep for at least 24 hours, and we have to carry all of our equipment, which is around 140 pounds. My back is always destroyed after that."
On the coolest thing she's seen through her lens:
"It was definitely the total solar eclipse in Madras, Oregon, on August 21, 2017. We had to use the solar filters on the lens leading up to the total eclipse, but as soon as the sun was almost completely covered, we removed the filter and could view the eclipse through the lens."
On the intensity of a launch:
"Because light travels faster than sound, you actually see the rocket lifting before you hear it. Then, the sound wave hits you anywhere from 8 to 15 seconds after you see it, depending on what viewing site you're at. (We photograph from around three miles away for safety reasons.) At Wallops Flight Facility in Virginia, you can actually feel the sound waves in your body because we get to photograph slightly closer than normal, about 2.5 miles away."
On any unexpected photobombs:
"I feel bad for them, but sometimes the birds fly into frame when a rocket first launches. Even if the bird is actually far away, the loud sound really startles them. I definitely have some photographs where there are birds just taking off everywhere. You would think that they would get used to it after a while because launches happen pretty frequently."
---
Dr. Alexandra Whitmire, 45
Official Job Title: Scientist, NASA Human Research Program
Unofficial Job Title: Space Psychologist
Dr. Whitmire's research focuses on the potential side effects of space travel on astronauts' mental health, specifically in preparation for the long trip to Mars. Right now, astronauts are in what's called low orbit space—which means that they can FaceTime with family and friends. When astronauts travel to Mars, they won't have that luxury; the trip is too long and too deep into space. As of now, it will just be six people in a very small, isolated, and confined vehicle. Dr. Whitmire works to develop solutions for emotional obstacles that might arise in order to keep astronauts psychologically healthy.
On sending people to Antarctica to prep:
"When we think about the future Mars mission, we won't have that capability to connect astronauts to family with real time communication, so we try to study people in isolation and confinement. It's really tricky. There are teams that deploy to Antarctica and they stay in remote stations for up to a year, and we study the impact of solitary living on those populations. It's a very extreme and harsh environment. Sometimes those teams are made up of scientists; other times, we've had astronauts go to get experience. Christina Koch has spent some time in Antarctica. There's no perfect analog to what a Mars mission will be, but we try to simulate it."
On in-flight therapy:
"Now, astronauts can call psychologists if they need to. Since we will have a communications delay to Mars (meaning we won't be able to stream real-time therapy), we're looking into virtual therapy systems. We're testing some out and seeing that they are showing to be as effective. We haven't tested them with astronauts yet, but in healthy populations we've seen effectiveness."
On NASA's plan to boost astronaut moral on Mars:
"Occasionally, astronauts get sent care packages, including fresh fruit. We can't do that for Mars because it's too far, so we've been participating in research looking at the impact of a plant system instead. We're trying to understand if the plant dies in an environment like that, [what happens]. It's something we on Earth don't really think of because here it's easy to just grow a new one."
Celebrity news, beauty, fashion advice, and fascinating features, delivered straight to your inbox!
Megan DiTrolio is the editor of features and special projects at Marie Claire, where she oversees all career coverage and writes and edits stories on women's issues, politics, cultural trends, and more. In addition to editing feature stories, she programs Marie Claire's annual Power Trip conference and Marie Claire's Getting Down To Business Instagram Live franchise.