Quibi CEO Meg Whitman on Starting a Company During a Pandemic
The head of the new video-streaming service—which launched yesterday—shares how they are pivoting their business because of coronavirus (plus, offers us lessons from her impressive career).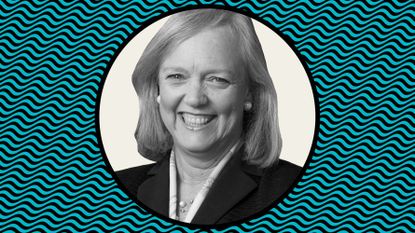 (Image credit: Courtesy / Morgan McMullen)
Meg Whitman might just be the most powerful woman in corporate America. She's helmed major companies (like eBay and HP), serves on numerous boards (including Procter & Gamble and Dropbox), and even made a splash in politics when she ran for governor of California in 2010. Her next chapter is equally as exciting: As the CEO of Quibi, a new short-form mobile video streaming service that launched April 6, Whitman continues to redefine what business innovation looks like. Here, she talks about her career evolution, the lessons she learned in past gigs, and what it's like to launch her latest venture during a global pandemic.
Marie Claire: You're the former CEO of HP and eBay. What lessons would you say you took from those experiences to build Quibi?
Meg Whitman: My number-one lesson from my career, which I brought to Quibi, is getting the right people in the right job, at the right time with the right attitude. As a leader, that's the most important thing you do, and for a startup, it's essential. You're setting the culture early, so that's super important.
Culture is the second thing. When I started at HP, I thought culture was important. By the time I left HP, I thought culture might be the only thing that actually matters in the long haul. We were very clear early on what our mission was and what our values were, and we've really tried to live them. Are we perfect? No. But we know what the destination point is.
The third is you have the right strategy and the right business plan. You have to really identify a customer need and create something that you think fills that need. It might be a need the customer doesn't even know they have.
MC: Quibi is short videos with a high production value. How did that idea come to be?
MW: My partner in this is Jeffrey Katzenberg. He's a founder and chairman of the company, and he and I've been friends for almost 30 years. We worked together back in the day—we fondly refer to it as the Jurassic Period. He's had this idea for a number of years, and then when I stepped down from HP, he called me. It's really Jeffrey's idea, and then we built on it. We wrote the business plan, and honed the content strategy, the technology strategy, the marketing strategy, the advertising strategy. We're very much partners in this.
MC: Were there moments where you and Jeffrey thought to pivot the direction of the company?
MW: We knew that we had to raise substantial capital. In order to do premium quality content, it costs real money. Originally, we thought that we might be on a variety of screens, like Roku TV, Apple TV, Xbox, and PlayStation, in additional to the phone. About three or four months in, we said, you know what, We think there is really an unmet consumer need from seven in the morning 'til seven at night, and on-the-go viewing is going to be super important. If that was the case, then the mobile phone was the device that we wanted to focus on, and that was a differentiator for us. That was an important decision.
Interestingly, we're launching into a very different environment. But what I'm seeing is people still have in-between moments during their day, like 10 minutes before their next Zoom call. If you're at home with children, trying to homeschool the them, work from home, cook dinner, clean the house, and you're like, I don't have time to engage in an hour-long show here. I'd love a Quibi.
MC: Was there a moment of doubt in that business plan, or have you remained steadfast in your mission?
MW: We're reasonably steadfast and convicted. Both Jeffrey and I have done things in our career that many people told us were impossible or unwise. When Jeffrey started DreamWorks, people said 'There's no way you're going to start another Hollywood studio.' When I went to eBay, no one had ever really heard of e-commerce. Whenever you do something new, there are lots of doubters—and by the way, that's normal and to be expected. We learn from our doubters. We've been pretty convicted from the beginning that this was a big idea, and it filled a need consumers wouldn't have necessarily identified. So we're not scared. We're focused and want to make this great, but we're not blind to feedback that we receive. Once we launch, we will have a lot of data to tell us what people are watching, how long are they watching, and how many Quibis a day are they are watching. We'll find out and adjust accordingly.
MC: How does startup culture compare to your other career experiences?
MW: Startups are different, and they are not for everybody. What I look for in people who want to come to a startup is flexibility, tolerance for ambiguity, and adaptability. That might be the reason that we've been able to adapt so fast to working from home [due to COVID-19]. You also need people who can envision what the end game will look like. In August of 2018, it was just Jeffery and me looking at one another. There was not a single piece of content that had been envisioned or commissioned. There was not a single line of code that had been written. You have to have people who are comfortable building from nothing. We got to build from scratch.
MC: What does it mean for Quibi to be launching in this unprecedented time of the coronavirus pandemic?
MW: We thought about whether it was the right thing to do to launch right now, and we ultimately decided that it was. Here's how we think about it: We are not physicians, we're not people who are trying to solve a problem in government, we're not manufacturers of masks and tests. We are entertainers and maybe, just maybe, we can bring a little joy, a little levity, a little smile to people in what has been a remarkably difficult time. We're launching with the 90 day free trial, even though we were originally going to launch with a 14 day free trial, because we thought that was the right thing to do.
MC: Has the pandemic impacted the development of content?
MW: The good news is we had a lot of shows completed, and post production can be done at home. We have enough content to get through the fall. We're in good shape. The challenge is our daily essentials—new programs like NBC Sports by ESPN. We've been working really closely with NBC, ESPN, polygon, TMZ, E!, and Telemundo. Some will be done from the studio, and some will be done from people's home. We're feeling pretty confident. I have to say, the entrepreneurial spirit and adaptability of our partners for those topical daily essentials has been fantastic.
MC: I can't wait to watch Survive. What Quibi shows have you binged?
MW: I love Survive. I think it's one of our best. Most Dangerous Game with Liam Hemsworth and Christoph Waltz is also terrific. I happen to love I Promise, which is the LeBron James documentary on his school in Akron, Ohio. It's lovely and heartwarming and yet very real about the challenges that these kids face. On the daily essential side, I love Rachel Hollis. I also quite like When The Street Lights Go On.
---
For more stories like this, including celebrity news, beauty and fashion advice, savvy political commentary, and fascinating features, sign up for the Marie Claire newsletter.
Related Stories
Megan DiTrolio is the editor of features and special projects at Marie Claire, where she oversees all career coverage and writes and edits stories on women's issues, politics, cultural trends, and more. In addition to editing feature stories, she programs Marie Claire's annual Power Trip conference and Marie Claire's Getting Down To Business Instagram Live franchise.