Stitch Fix's Katrina Lake Dishes Out Savvy Business Advice
The founder and CEO of the personal styling service shares what she learned as she built her billion-dollar company.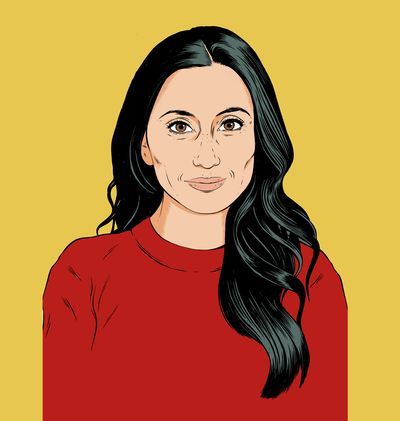 (Image credit: Louise Pomeroy)
Stitch Fix, founded in 2011 by Katrina Lake, has reinvented the retail space. In 2017, Lake became the youngest female CEO ever to take a company public, and since, the online personal styling service has continued to soar. Before COVID-19 seized headlines and shuttered businesses, we chatted with the founder about raising funding, finding mentorship, and more. Though the future of business generally, and fashion specifically, is sure to look different after this pandemic subsides, Lake's ability to innovate and pivot (see below!) proves she is more than ready to lead the way forward for budding female founders.
Marie Claire: We polled our readers, and 78 percent of them don't have a mentor. How do you choose one?
Katrina Lake: There's a misunderstanding that a mentor has to be someone in your direct career path or who has the job that you want. The best mentors are really going to be the ones who don't have a horse in the ring. Finding someone who has a bit less of a direct connection to your work and doesn't have any vested interest in your development path is really important. Those people are going to be the ones who can help you have the right conversations with your manager.
[pullquote align='center'] In the beginning, you don't have a business yet; all you have is yourself and your idea. [/pullquote]
MC: How do you navigate relationships when they blur the boundaries between work and personal life?
KL: My cofounder [Erin Flynn] and I parted ways really early in the business. It was one of the most painful things that I've been through. It was almost impossible for it not to feel like a divorce. The reality is that as a business evolves and changes, people's goals evolve and change. Those types of decisions are personally hard, but you have to consider what's right for the business.
MC: What's your advice for early-stage founders looking for funding?
KL: In the beginning, you don't have a business yet; all you have is yourself and your idea. You're not selling the business model, you're not selling the plan. You're selling you as an entrepreneur—and the probability that you're going to be successful. To sell yourself, it takes grit. It's hustle, it's energy, and it's the deep-seated belief that you have the solution to a problem. It's being willing to cold-call people, message them on LinkedIn, and meet with 10 people who are pretty hard to get to and make them think your idea is a good one. Those are all things that show an investor you're going to be a successful entrepreneur.
MC: How do you convince a venture capitalist—who may not be your target audience—of your vision?
KL: At the end of the day, venture capitalists are capitalists. If they see a path to making a lot of money, that is one lever to get them excited. It's a space that I tried to spend more time on. Stitch Fix has been profitable since 2014. We have great economics now, and we can map to great economics in the future. So it'll probably appeal to the capitalist element of venture capitalists. That was my strategy. My hope is that Stitch Fix can be an example that opens their minds to things that they were hesitant about that might actually just work.
MC: What would you say to people scared to change the direction of their company?
KL: Pivots should be grounded in insights and truth. Staying the same is the worst thing. Change creates growth; it creates disruption. Change is what allows you to take the next step.
This story originally appeared in the May 2020 issue of Marie Claire.
RELATED STORIES
Megan DiTrolio is the editor of features and special projects at Marie Claire, where she oversees all career coverage and writes and edits stories on women's issues, politics, cultural trends, and more. In addition to editing feature stories, she programs Marie Claire's annual Power Trip conference and Marie Claire's Getting Down To Business Instagram Live franchise.