Payal Kadakia Made ClassPass into the Decade's First Billion-Dollar Company
...while pregnant. The founder of the fitness empire shares her journey to unicorn-status, including all the bumps (baby and otherwise) along the way.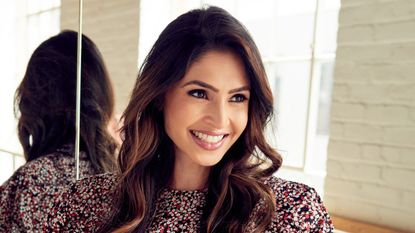 (Image credit: Courtesy of ClassPass)
Marie Claire Newsletter
Celebrity news, beauty, fashion advice, and fascinating features, delivered straight to your inbox!
Thank you for signing up to Marie Claire. You will receive a verification email shortly.
There was a problem. Please refresh the page and try again.
Payal Kadakia should host a masterclass on multitasking. We're on the phone in late January talking about her company ClassPass, the boutique fitness membership platform she launched in 2013, when she politely stops my line of questioning to warn me that she might yelp in pain at any moment. "I'm having a few contractions as we speak," the 36-year-old soon-to-be mom says. "I've been having them for a few days and sometimes it's better to be distracted."
At the time of our interview, we're less than a month into 2020, but it's already been a big year for Kadakia. In addition to giving birth to her first child—a son she delivered just days after we spoke—ClassPass completed a round of Series E funding that catapulted the 7-year-old company to a $1 billion valuation, thus claiming the coveted title of first unicorn of the decade.
It's a monumental feat that few female founders have ever achieved, though the super tiny club of female unicorns is getting decidedly less tiny; according to CrunchBase, 2019 was a historic year for women-helmed unicorns, with 21 female-founded companies hitting the mark. "I'm really honored to be joining the cohort," says Kadakia. "Doing it as a woman of color, and pregnant—it's so important that we see people from different walks of life accomplish these great things."
Though a statistical increase, the amount raised is still shockingly low. In 2019, women got a grand total of 2.7 percent of venture capital dollars—about $3.5 billion total, less than male-led companies Juul and WeWork have raised singularly. It's hard enough to nab investment deals as a female founder, but approaching the conversation while visibly pregnant can introduce a new level of difficulty, triggering alarms to investors who fear a founder won't have the time or resources to grow the company. In a 2017 survey conduced by Fast Company and Inc, some female-founders reported feeling judged raising capital while pregnant.
Thankfully for Kadakia, she's been through the VC ringer before, and didn't feel the pressures that other pregnant founders might—or face the hurdles she herself jumped over when ClassPass was just launching. "When I was starting my company, it was about finding the right people," she says. "At the end of the day, you have to find people who understand that you're a woman, and [that pregnancy is] going to happen in your life. And are actually are excited for you. My investors are sending me gifts—they're beyond excited for my child."
The road to one billion hasn't been totally smooth, though. It was her side hustle in traditional Indian dance (she's been studying it since childhood) that helped her take the leap from corporate culture to the startup life. In 2011, she ditched her role as associate director of digital strategy and business development at Warner Music Group—and threw out her GMAT text book, abandoning plans to go to business school—to start a dance company, Sa Dance. She still oversees the company today. "I had this amazing dance career in the evenings and on weekends and then I would go and be an analyst during the day," she says. "I didn't want to be living two lives. Whenever that happens to you in your career, you need to question it."
She credits that gamble with giving her the confidence to take another risk just a month later: launching ClassPass. A day spent struggling to find a ballet class planted the seed for the idea of a fitness class search engine. It took Kadakia and her team about a year to build the app; when it launched, the model didn't quite click with consumers. It would take another year of rebuilding the platform, securing investors, and nabbing partnerships for the modern ClassPass to take shape: a membership platform in which users can attend a fixed number of fitness classes per month across a variety of studios. When ClassPass first launched, users could take 10 classes a month for $99—robbery, seeing as a single class at many of the offerings independently retail for nearly $40.
Since that first pivot, the company hasn't stopped iterating, sometimes, to its user's dismay. ClassPass launched their unlimited membership offering (just $180 per month) in the summer 2014, and it quickly becoming one the company's most popular offerings—and then one of their biggest headaches. The hype built fast and just as quickly, the situation became unsustainable for ClassPass. In an open letter about the situation in November 2016, Kadakia wrote: "For every class taken, we paid our studio partners. The more classes that were taken, the more we paid. As you can imagine, our business costs increased rapidly." ClassPass tried to hike the membership price to offset costs, but users balked. The company finally decided to do away with it all together.
"We started to realize we were rooting against our customer," Kadakia tells me now. "Every time someone went to class, it was bad for our bottom line." ClassPass was, in part, relying on a breakage model to make money—they cashed in every time a ClassPass user overslept and missed that 7 a.m. kickboxing class, forfeiting prepaid credits. "As a founder, at that point, I knew we had to change," she says.
The company pivoted again in 2018 to the credits model in place today: Instead of an allotted number of classes per month, users now pay for a set amount of credits to use as they choose. Classes—which used to be weighted equally—now are worth varying amounts, similar to surge pricing (a sleepy Wednesday afternoon yoga session, say, would be fewer credits than a hot Sunday morning spin class). According to Kadakia, the new system offers ClassPass users more flexibility and is more profitable for both ClassPass and their studio partners.
Somewhere along the way, Kadakia stepped down as CEO, taking on the role of executive chairman and handing the reigns to longtime business partner Fritz Lanman. For her, the decision meant getting out of the weeds and focusing on what matters most: her customers. "To me, a title doesn't mean anything," she says. "It's the work you do. I actually felt really constrained by the CEO title. I never started a company because I wanted to be a CEO. I started a company because I wanted to make impact in the world."
An impact would be an understatement. With a presence in nearly 30 counties (and plans to expand to more European cities this year), and a new corporate wellness division, ClassPass has become the way to workout. There are more than 5 million classes available each month and more than 30,000 partner studios and gyms to choose from.
But not all of ClassPass's partners are thrilled with the company's evolution. Since speaking with Kadakia, a VICE article that featured mostly anonymous former and current ClassPass studio partners was published, claiming that ClassPlass is "squeezing studios to the point of death" and that their current model is unsustainable and risks bankrupting business owners.
I emailed Kadakia for comment—and, continuing to multitask—she responded while on maternity leave. Here is her statement:
"Supporting our valued partners is and has always been core to our mission. I created this business years ago both to get more people moving and to support the blossoming boutique fitness industry. Over the years, we've improved upon our business model to better align studios' interests with those of our customers and ourselves. ClassPass only succeeds if our customers and partners also succeed.
Most studio partners find ClassPass to be an extremely positive marketing channel for their businesses. In fact, 95 percent of our 30,000 studio partners stay on our platform, and we hear from many studio owners who are incredibly happy with their ClassPass partnership. That said, we are continually working to improve our offering. There's always an opportunity to do an even better job as we seek to send more members to more studios and to support the growth of the industry at large."
Only the future will tell how ClassPass will address these concerns and further grow as a leader in the wellness space. But the company seems to have mastered the art of the pivot, and Kadakia seems ready for the challenge. "The idea of iterating," she says, "has always been a part of our DNA."
---
For more stories like this, including celebrity news, beauty and fashion advice, savvy political commentary, and fascinating features, sign up for the Marie Claire newsletter.
Related Story
Celebrity news, beauty, fashion advice, and fascinating features, delivered straight to your inbox!
Megan DiTrolio is the editor of features and special projects at Marie Claire, where she oversees all career coverage and writes and edits stories on women's issues, politics, cultural trends, and more. In addition to editing feature stories, she programs Marie Claire's annual Power Trip conference and Marie Claire's Getting Down To Business Instagram Live franchise.