How to Ace a Phone Interview and Make It Through to the Next Level
Most job interviews start with a phone call these days, so nailing them is crucial.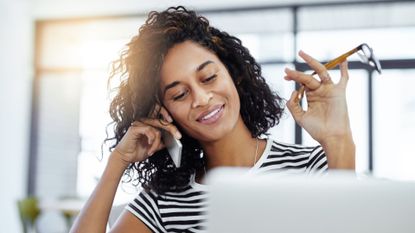 (Image credit: PeopleImages)
Every month, career coach Liz Bentley will be answering your candid questions about work, so you never have to stress about the office.
---
I have a phone interview coming up for a job I really want–do you have any tips? How do I show that I really want it even though it's not in-person?
The executives I coach are always looking for talent to boost the expertise on their teams, especially now with all the changes taking place in the marketplace. Since their time is valuable and the pool of people looking for jobs is vast, most interviews will start with a phone meeting. If that meeting goes well, it will likely lead to a Zoom call and eventually a meeting in person if appropriate. So getting through the phone interview is a crucial first step. We find that these meetings vary in intensity. Some are a quick meet-and-greets while others are a deep dive to see if you meet the criteria for the position.
Approach this phone meeting as if it is the most important meeting you will have for this job. And it is, because if you don't do well, you will not have another meeting or get the job. Here's how you can show up effectively and make a good enough impression to get to the next level.
1. Do your prep work.
When you schedule the meeting, make sure you ask how long it will last; that way you know how to prepare. Here are some tips to set you up for success:
Cover your bases. Do your homework by researching the company, the players, the competition, who you are meeting with, etc. Don't discount doing the groundwork if you know it will be a short call because you never know if the executive will decide that it's going well and give you more time. You need to do the typical work you would do to prepare for any type of interview so you are ready for anything.
Plan where you will take the call. Do the phone call in a place where you have good cell service, it is quiet, and you have the ability to focus. This is not a call to take when you are on the run.
Organize your answers. While you don't necessarily know what the questions will be, you should know what you want your interviewer to know about you. Make some bullet points on things you think will be relevant and interesting to the potential employer.

2. Master the art of a phone conversation.
As our lives continue to shift with so much uncertainty ahead, we have to adjust to living in a virtual world where one-on-one connections will be less common in person. People who can communicate effectively on all different types of platforms–including the phone–will achieve more success. Here are key ways to communicate well and get your personality to shine through over the phone.
Listen intently. Shut down your phone and alerts. Stay focused on the conversation and really hear what the person is saying, don't just be thinking about your reply. Think about the meaning of what they are saying so you can see what they are really looking for.
Don't interrupt, but get your points in. Be mindful of not interrupting as it comes off differently over the phone than in person. But don't miss the opportunity to get in your necessary points. You really need have your elevator pitch honed and articulated well so it can be concisely and relevantly delivered.
Smile when you talk. When you smile, people can feel it even through the phone. I always tell people to smile in interviews. When you smile, you will feel your body change, relax a little and become more engaging. No matter how intense the meeting may be, remember to smile at some point so that they can feel your energy.
3. Be strategic in your follow up.
When you write your thank you note, be sure to make yourself stand out in it. Avoid being generic and take the time to craft a message that picks up on the theme of the call. If it was just a short meet-and-greet, reiterate your interest in the position and concisely summarize what skills and expertise you would bring to the job based on the additional information you learned in the call. If the call was more in-depth, take the opportunity to expand on one or two items you found most intriguing. This will show you are truly interested in the position while also showcasing your communication style and way of thinking about opportunities and/or challenges the company/department is facing.
Our world is constantly shifting, and we really have no idea what the 'new normal' is going to be. There may not be interviews in person for a very long time so getting used to this style of connecting is really critical. Build good habits right now and keep practicing them for it will serve you well throughout your career.
Liz Bentley is the founder of Liz Bentley Associates, a consulting firm specializing in leadership development programs for individuals and companies. Drawing upon her background in psychology, previous experience in sales and management, and a lifetime of experience in competitive sports, Liz has a unique appreciation of mindset and the power it has to change patterns of behavior. Liz received her BA in Psychology from the University of Virginia and her coaching certification from New York University.