The Big Business of Activism
What happens when a social-justice movement grows so much, it must pivot to become an office-space-occupying, salary-paying, benefits-offering operation?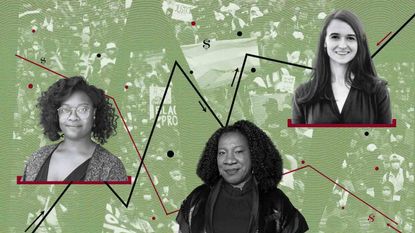 (Image credit: ILLUSTRATION BY MORGAN MCMULLEN. SMITH: LYNETTE CONDRA; BURKE: JOHN LAMPARSKI/GETTY IMAGES; GREENBERG: COURTESY OF INDIVISIBLE PROJECT; BACKGROUND IMAGE: MICHAEL M. SANTIAGO/AFP/GETTY IMAGES)
For Octavia Smith, the days following George Floyd's murder brought grief, fury, and transformation. Smith (who identifies as gender ambivalent and uses she and they pronouns interchangeably) is the board president of the Minnesota Freedom Fund, a four-year-old nonprofit that pays criminal bail and immigration bonds for those who can't afford them. At the time of Floyd's death, MFF was operated by two staffers and a rotating cast of volunteers on an annual budget of about $100,000. As protests spread, MFF mobilized, earmarking $10,000 to cover bail for arrested demonstrators.
But on the Wednesday after Floyd's murder, a staffer checked the donations and was shocked at the total: $8 million. Smith describes their initial response as "just puzzled. I thought, What is happening? How do they know [about us]?" By Thursday, following tweets by public figures including Kamala Harris that highlighted MFF's work, the organization had raised more than $20 million and posted messages urging people to send money elsewhere. But it kept coming in. By mid-June, the funds hit nearly $35 million. Suddenly, MFF wasn't an obscure shoestring operation; it was a deep-pocketed nonprofit, accountable to approximately one million highly engaged donors. MFF didn't have anywhere close to the staff needed to use the funds the way the group was legally required to—for paying cash bail, an arduous process requiring physically taking money to jail. In fact, MFF received backlash for spending just $200,000 (all it was able to) in about two weeks.
Smith, who'd been putting in four to five hours a month at MFF, took a leave from her full-time job. They began the hiring process for a new executive director and signed a strategic communications company to manage all of the interview requests—many of which Smith had handled previously, though it initially felt "cringe-worthy" to the self-described introvert.
Smith is one of the many activists turned organizational architects birthed from our politically and socially charged culture. In the past decade, a slew of new groups have sprung up organically after an issue, a call to action, or even a wonky spreadsheet has exploded on social media. To name a few: Black Lives Matter, the Women's March, #MeToo, March for Our Lives, Indivisible. Existing organizations like MFF have been thrust into new territory. For the people leading these organizations, this moment of transition can be jarring and challenging. What do you do when the social-justice movement you've been organizing becomes—sometimes literally overnight—a large and highly visible company with staff to pay, donors and social-media followers to answer to, and a 501(c)(3) tax status to uphold?
According to Rosemary Clark-Parsons, an expert in digital media and activism at the University of Pennsylvania, the rapid growth of organizations today is unprecedented. Whereas advocacy groups of the past would spend years meeting in church basements and hashing out their value statement before attempting an ambitious public event, the Women's March was masterminded in a weekend. Black Lives Matter evolved from a Facebook post to a viral hashtag and eventually an enormously powerful global movement. The original March for Our Lives protest against gun violence was announced online by several survivors of the Parkland shooting four days after it happened; the organization now has national reach. As Clark-Parsons puts it: "The event comes first; the organization comes after."
Tarana Burke had been doing the work for years, but fame was sudden. On October 15, 2017, she discovered that the "Me Too" phrase she coined in 2006 as a community organizer had turned into a viral social-media movement, reinvigorated by a #MeToo post from Alyssa Milano. Initially, she panicked. Then she went through a whirlwind year as the public face of the cause—one of Time magazine's people of the year, Michelle Williams's Golden Globes guest, an in-demand speaker and consultant for other advocacy groups. But around the time of Brett Kavanaugh's Supreme Court confirmation hearings, she realized that simply being visible wouldn't advance her goals. "Movement celebrity doesn't move the needle," she says. So she formed Me Too International, a global initiative to end sexual violence, hoping her new prominence and fundraising abilities might help her carry out the projects she'd been envisioning: campus initiatives at HBCUs, a survivor's network, leadership training. And yet even as she was living out this dream, she was attacked viciously online, she received death threats, and she had to move homes. Her stardom was a catalyst and a risk.

"The toughest thing for some of these leaders who are running major national organizations is that they started as activists," says Kat Calvin, founder of Spread the Vote. Now they're expected to succeed in completely new roles—essentially, running a business. "What they want to be doing is movement work and [to] be in the streets, but that's not the job."
When progressive advocacy group Indivisible decided to form a national organization out of a widely circulated Google Doc on congressional aides, Ezra Levin had to hire an outside consultant to convince his cofounder (and wife), Leah Greenberg, that she would be effective as co-executive director. "It was terrifying on every possible level," she says of the early months, during which she and Levin barely slept and each lost 20 pounds. "We hadn't set out to build an organization, so we were learning the skills associated with that"—all while leading rallies, keeping up with local chapters, and fighting off attacks from conservative media.
Some groups have brought on more experienced leaders to ease the transition. Time's Up hired Tina Tchen, Michelle Obama's former chief of staff. After the initial 2018 event, March for Our Lives formed an anti-gun-violence nonprofit and enlisted long-time activist and start-up whiz Alexis Confer as executive director.
Those at the top face some common challenges. For one, maintaining authenticity under pressure: How do you scale up while remaining true to the values that brought you to the work? Meanwhile, they're handling standard start-up-phase workplace issues: the high risk of burnout, the difficulty of creating professional structures for and by people who may not be structure-minded. "If you're called to this work, you tend to be a little antiestablishment, right? It can feel really hard to be that establishment," says Amanda Harrington, vice president of communications at Time's Up.
Yet many of these new or newly galvanized groups have thrived, balancing growth and accountability. For Confer, this has meant hiring—then supporting and mentoring—a very young staff. She estimates that two thirds of her employees are under 24, a deliberate choice to "keep the youth voice front and center in a non-tokenistic way." For Burke, it has meant keeping her focus squarely on Black women and femmes. Black Lives Matter has remained true to its origins as a grassroots, noncentralized team of local affiliates.
The untraditional career path—moving from organizing to leading a large organization—may be what makes these leaders so effective. Community mobilizing, long devalued work carried out by mostly young people and women of color, is finally getting its due as an incubator for executive-level skills: relationship building, cultural competency, gentle persuasion. This toolbox has long been dismissed as feminized "soft skills," as Smith puts it. Today it's seen more frequently as the asset it is.
The empowerment of these organizations and their captains has generated tremendous excitement among donors and for the leaders themselves. For Smith, MFF's rapid growth feels mind-blowing. "It's one thing when you're an individual; it's just me, Octavia, chilling on my stoop, imagining it," she says. "It's another when you have the resources and privilege to do something about it."
This story originally appears in the Winter 2020 issue of Marie Claire.
RELATED STORIES