Time's Up CEO Tina Tchen on the Harvey Weinstein Verdict and the Future of #MeToo
"Every now and then, you have a moment where transformational change can happen. I believe we are in one of those moments."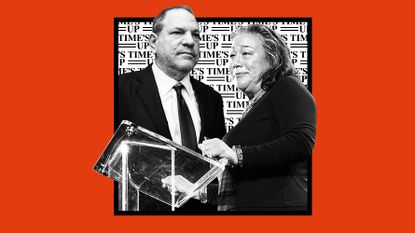 (Image credit: Getty / Morgan McMullen)
Marie Claire Newsletter
Celebrity news, beauty, fashion advice, and fascinating features, delivered straight to your inbox!
Thank you for signing up to Marie Claire. You will receive a verification email shortly.
There was a problem. Please refresh the page and try again.
On February 24th, a New York City jury delivered a long-awaited verdict: Disgraced former media-mogul Harvey Weinstein was found guilty of two felony sex crimes. The conviction was applauded nationwide for finally holding #MeToo's most notorious offender accountable, and bringing justice for plaintiffs Miriam Haley and Jessica Mann (and countless other survivors).
In the wake of the initial reports against Weinstein, Time's Up was organized by more than 300 women in the entertainment industry to protect women and non-binary people— in Hollywood and outside of it— from sexual abuse. In October 2019, Tina Tchen took the helm as Time's Up CEO. In her first magazine interview since the Weinstein verdict was reached, Tchen shares how the trial will shape the future of a movement that swept the nation.
Marie Claire: Harvey Weinstein was convicted on two of five charges—first-degree criminal sexual act and third-degree rape—and acquitted on others, including first-degree rape and predatory sexual assault. What was your reaction when you heard the verdict?
Tina Tchen: Predatory rape is always going to be a difficult charge to prove. According to RAINN, 995 of every 1,000 perpetrators go free. Usually perpetrators are never even charged, let alone brought to trial, let alone found guilty. The fact that Weinstein has been found guilty in the cases of [two] of the victims, even with all of the tropes that the defense tried to throw about keeping in touch with the perpetrator after an assault [as was the case with Jessica Mann] is a huge win.
MC: What were you feeling when the jury announced they had reached a verdict?
TT: We had been preparing for this for a while. Our North Star has always been to support the #SilenceBreakers and other survivors out there who were watching the trial. It was deeply personal for thousands of women across the country.
But we were anxious. We were anxious about the results given what usually happens in these cases. I have to say when the jury came through with guilty verdicts, we were pleased. It marks a key change in how we hope these cases will be looked at in the future. I know that District Attorney Cyrus Vance Jr. has said that the #MeToo and Time's Up [movements] have evolved his thinking about how to bring these [charges], because he didn't bring these cases to trial five years ago. Now he's successfully prosecuted this one.
MC: How do you think this trial will change the judicial process for cases that have historically been hard try?
TT: I think it will change. I will give the District Attorney's office credit for demonstrating that they can win, even in the circumstance where the survivor has an ongoing relationship with the perpetrator. There's a belief that unless an assailant is a complete stranger—like somebody who gets assaulted on the street by a person that they didn't know—that it's not actually sexual assault. The reality is that an overwhelming number of survivors of sexual assault know their perpetrator. Of course they have ongoing contact after the assault happens. That should not in any way diminish the fact that a crime has occurred.
MC: Weinstein faces additional charges in L.A. That trial is expected to include testimony from Ambra Battilana Gutierrez, a model who accused Weinstein of groping her in 2015, though DA Vance didn't charge him then. Do you think that would have played out differently today?
TT: I do. I hope that people have evolved their collective understanding of what sexual harassment and the abuse of power looks like. I think that's something that has shifted and is in the process of shifting.
MC: So much has changed in five years—but so much change is still needed.
TT: These are deeply rooted gender norms. These norms go back not just decades, but go back millennia—they are literally written into the Bible. They are transcending race and culture and religion and geography and time. But I do believe every now and then, you have a moment where transformational change can happen. It happens quickly and deeply. I believe we are in one of those moments.
We are doing very extensive work that is going to take years to get right. If we want to keep sexual harassment and sexual assault from happening, we can't just deal with the aftermath: We need to address things that occur every day, like uneven pay, lack of paid leave, promotional practices, and unconscious biases that diminish the value of workers who are women, who are LGBTQ, and people of color. The goal is to create fully inclusive, respectful, diverse workplaces where everyone feels safe.
MC: Do you feel that the media coverage of the trial impacted the conversation around #MeToo positively?
TT: I do. One of the things that we did at Time's Up was to work with experts who could talk about things like like being in touch with your perpetrator after an assault, and put those experts out there to the media so that reporters have a full understanding of those topics. I'm really grateful for those experts and the media who took a moment to get a deeper understanding of what was happening in the courtroom.
MC: Some people claim that #MeToo is a "media circus." How would you respond?
TT: I'm trying to come up with an appropriate phrase for print! There are people who are going to be threatened by [these conversations]. We need to keep pushing against that with information. This begins with the courage of survivors, not just in the Weinstein case, but the Bill Cosby case, the Russell Simmons case, the Donald Trump case—people who are coming forward to talk about what happened to them. It is the courage of the hotel workers, cooks, and farmworkers who are speaking out. We have a teenage plaintiff in the McDonald's case who is talking about what happened to her. This isn't a media circus, this is people's truth. It may be uncomfortable for us to confront, but if we are going to change we have to do better. Be better.
MC: How will the Weinstein verdict change Time's Up going forward?
TT: What's important about that verdict is that it validates the courage of the silence breakers, and it sends a message to other people who may be worried about coming forward. I hope it also sends a message to prosecutors, police officers, employers, and investigators. Yes, survivors might have sent emails with [their assailant] or had a follow-up meeting with them, but that doesn't mean a crime didn't occur. This particular verdict is very important in sending that message both to survivors and the people who are prosecuting claims.
MC: How have the goals of Time's Up shifted since its founding?
TT: Our mission is always to support survivors, but we want to also prevent [harassment and assault] from happening. That's where we are now. We need to holistically address the barriers that are keeping us from creating diverse, inclusive, safe and respectful workplaces. That means the agenda is much broader: We're talking about equal pay, paid leave, fair and promotional practices, diversity and inclusion practices from the C-suite to the shop floor.
MC: How will initiatives like Time's Up Impact Lab help target root problems?
TT: We've learned is that until silence breakers come forward, we have no idea the full dimensions of the problem. You can't solve a problem that you cannot see. We don't have research. We don't have the data that will tell us what will work. That's why I'm so excited about the Impact Lab, because we can finally build the data, evidence, and new tools to help companies and their employers to build better workplaces.
---
For more stories like this, including celebrity news, beauty and fashion advice, savvy political commentary, and fascinating features, sign up for the Marie Claire newsletter.
Related Story
Celebrity news, beauty, fashion advice, and fascinating features, delivered straight to your inbox!
Megan DiTrolio is the editor of features and special projects at Marie Claire, where she oversees all career coverage and writes and edits stories on women's issues, politics, cultural trends, and more. In addition to editing feature stories, she programs Marie Claire's annual Power Trip conference and Marie Claire's Getting Down To Business Instagram Live franchise.