Can Nextdoor Cure Loneliness?
The company's CEO Sarah Friar thinks yes. She shares how the hyper-local social networking platform is uniting communities across the country.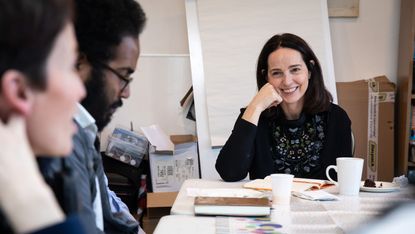 (Image credit: Tim Whitby)
Over the past year, nights out spent sharing small plates with friends turned into evenings in with takeout for one. Netflix binges replaced trips to the movie theater with coworkers, and awkward first dates became awkward first Zooms. As we stayed home to stop the spread of COVID-19, we faced another, invisible symptom of the pandemic head on—one that doesn't manifest physically, but can impact your health all the same: loneliness.
Loneliness and other pandemic-related factors have catalyzed a mental health crisis across the nation, contributing to depression and substance abuse. As we do everything the CDC (opens in new tab) advises to keep our bodies safe (wash your hands! wear a mask!) we must remember to protect our mental health as well. This includes combatting loneliness, an underlying issue that could have devastating consequences.
Nextdoor is trying to do just that, and its growing popularity is a testament its urgent relevance. The hyper-local social networking app connects people in the same community (common conversation themes include lost cats and restaurant recommendations) and saw massive growth (opens in new tab) as everyone sequestered in their homes and maybe for the first time realized that... yes, they have neighbors (who may play really, really loud house music). The platform, founded in 2010 and valued at a cool $2.1 billion, became a hub for community news and local entertainment during the pandemic, a virtual way to feel intimate connection with those down the block.
Sarah Friar, the company's CEO since 2018, navigated both her team though this growth and the league of users from 223,000 neighborhoods (opens in new tab) who flocked to the app in search of human connection. In an Instagram Live conversation with Marie Claire Editor in Chief Sally Holmes, Friar shared her thoughts on the power of community and why it's crucial for us to become a "we" society in a post-COVID world. Below, some key moments (but to watch the entire conversation, visit Marie Claire's IG TV). (opens in new tab)
On the Power of Knowing Your Neighbors:
People have an inner ring, which is comprised of their friends and their family. They connect with those people in person or online. Then, they have an outer ring, which is their professional environment; that's why you might go to a site like LinkedIn. But people have lost what's called the middle ring [people in your community]: The middle ring is incredibly important to our health. Our research shows (opens in new tab) that knowing six neighbors or more has a dramatic, statistically significant impact on your health; not just your mental health, but even your physical health.
The second thing our research told us was that if people did one small act of kindness (like saying hello or picking up someone's newspaper and throwing it up onto their porch), they felt dramatically less lonely. Big or small, a kindness has a big impact on your neighborhood and on you.
On Nextdoor's Role In Helping Distribute the Vaccine:
Recently, healthcare workers were getting vaccinated in my county and [vaccination sites] ended up having too many doses. If shots didn't go into people's arms, they went into the trash. So, [facilities] put a call out on Nextdoor, because it's hyperlocal—you couldn't do that on Twitter or Facebook because you'd have people driving hundreds of miles. It meant a lot of people over the age of 75 were able to get vaccinated faster than they expected, which takes their stress levels down and hopefully takes them out of a hospital.
On Leading Her Team Through Massive Growth:
There are two words I always use when I talk about how I help manage my team. Number one is transparency, and number two is empathy. When people start to work virtually or their stress levels are high, you need to over-communicate. I'm really big on transparency and getting the message out and just letting people know you've got them. The second word, empathy, is understanding the human. It's so vital right now that when you are having a one-on-one meeting with a teammate, you take those first five minutes, pause, and say, how are you actually doing?
On Building a Community Around Yourself:
[Part of it is] figuring out what replenishes you. Where do you get your energy from? I definitely get my energy from real life interactions with people. I helped co-found an organization called Ladies Who Launch, (opens in new tab) and it's focused on women who are starting, running, and growing their own businesses. [We offer a lot of] pure resources and education, because we recognize that women are very much missing that. I'm really proud that in in 2020, we raised a grant program and gave out $150,000 to 11 women all with different types of businesses. Mentoring and coaching has replenished me. Those women just bring me back to sanity. A lot of what they struggle with, I struggle with.
On Post-COVID Life:
We will get through this. I'm a huge optimist. There's no way I would be an entrepreneur if I wasn't the eternal optimist. We will get to the other side of this. The reason I came to Nextdoor was the sense of community. We know that the more this world tips towards hyper individualistic and becomes an "I" society, not a "we" society, it's not taking us to a good place.
There are so many moments across our lives now that create a loneliness. And yet, the [solution to that] might literally be in the apartment next door or the house across the road. These are often people who we have a lot in common with, but we've been afraid to go talk to. My hope with Nextdoor is that we find ways to make it easy to start connecting.
Megan DiTrolio is the editor of features and special projects at Marie Claire, where she oversees all career coverage and writes and edits stories on women's issues, politics, cultural trends, and more. In addition to editing feature stories, she programs Marie Claire's annual Power Trip conference and Marie Claire's Getting Down To Business Instagram Live franchise.