How to Get a New Job in a Virtual World
Your Zoom game has never been stronger.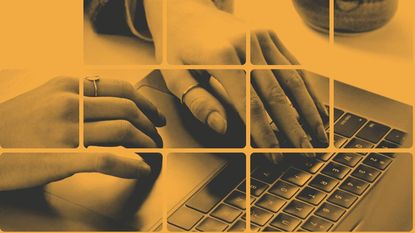 (Image credit: Stocksy ¦ Morgan McMullen)
After a year-and-a-half of working through a global health crisis, some employees' priorities have shifted when it comes to what they want out of an employer. Others have faced involuntary layoffs due to the economic challenges caused by the pandemic. Either way, it's a truth universally acknowledged: People are looking for new jobs.
An original Marie Claire x LinkedIn survey* found that half of the nearly 1,200 women and non-binary full-time U.S. workers surveyed searched for a new job at some point during the pandemic. What's more, 48 percent are considering or planning a career change within the next year, mostly because they need to make more money.
But what does the job search actually look like when in-person interviews are replaced with Zoom calls and a company's culture is practically indiscernible without setting foot inside an office? Marie Claire enlisted six leading career experts to help guide job seekers through today's virtual world, including how to prepare for a video interview, red flags to consider when a company discusses its culture, and how to negotiate salary and benefits in an employee-driven market.
Jump directly to the section you're interested in by clicking on one of the topics below:
---
How to Start the Job Search
Whether you're currently unemployed or simply ready for a change, looking for a new job can feel overwhelming—especially when it's not possible to network in person. At the beginning of your search, do these four things:
Reach out for informational meetings
Aside from the fact that many professionals have relocated, some people just might not feel comfortable having an IRL coffee meeting with COVID-19 variants circulating. Instead, try reaching out for an informational phone call (yes, a good ol' fashioned phone call!) to connect with people you've long admired in your industry. This helps take the pressure off of having to get ready for Zoom, too.
If you want to connect with someone regarding a specific role you're interested in and you don't have a relationship with that person already, LinkedIn career expert Catherine Fisher recommends prompting them with a few questions in the initial email or LinkedIn message so they know where your head is at.
"I would say, 'I'm reaching out to you because I'm interested in this role. I would love to spend 15 minutes with you and I have these three questions,'" explains Fisher. "You want to make it as easy [as possible] for that person to really help guide that conversation. What you don't want to do is just randomly reach out to people without a clear reason for wanting to be in touch with them. You want to be really intentional about what those questions are."
Be deliberate about where you apply
It may seem obvious, but it's important to identify the skills you have and how you could seamlessly transfer those skills into a different industry, if necessary. "Something that we're hearing a lot from recruiters is that they're seeing this influx of people applying for roles that really aren't a fit or multiple roles at the same company. If you're just seeing what sticks to the wall, you're not going to be successful," says Fisher. "Instead, you want to apply for the roles that your skills directly fit into so you can be prepared to articulate why you're a great fit."
Utilize LinkedIn's tools (...but actually)
If you haven't connected on LinkedIn with your former manager who left the company two years ago, the time is now! And if you see a job listing that isn't the right fit for you, share it! As Fisher notes, networking is a two-way street. There's a possibility that sharing the post can expand your reach even further on the platform and you never know whose eyes could land on your profile.
LinkedIn Tips for a Successful Job Search:
Do a skills inventory: Take a look at the roles you're really interested in, see what type of skills are listed, and make sure those skills are reflected on your LinkedIn profile.
Include a photo and fill out all of the fields on your profile: You're more likely to be searchable on the platform if you include a photo of yourself. You should also utilize the "about" section to talk about your career as a whole.
Use the connect vs. follow tool wisely: There's an opportunity to have people "follow" you rather than connect with you if they don't know you personally and vice versa. Use the "follow" tool if you want to share your thoughts more widely within your industry.
Stop accepting random people as connections: Make sure your LinkedIn network is filled with people you've actually connected with so your network is filled with people you trust. If you don't directly know somebody at a company you're interested in, you can tap into your second-degree and third-degree connections, then ask for introductions.
Be thoughtful with who and what you engage with: Recruiters can see what you've liked and commented on on the platform, so be mindful of how you're interacting with content on the site.
Set up LinkedIn job alerts: If you don't have time to scroll through job boards every day, add LinkedIn job alerts. You can choose to receive daily or weekly notifications about new openings in your current area or a state you're looking to relocate to.
Be prepared to explain gaps in your resume
By now, you're well aware that women have been disproportionately affected by the COVID-19 pandemic. The results from our Marie Claire x LinkedIn survey have further proven this: More than one-third of respondents revealed that they voluntarily left the workforce to care for children or loved ones or were laid off between March 2020 and today.
Laurie Ruettimann, HR consultant and author of Betting on You: How to Put Yourself First and (Finally) Take Control of Your Career, wants job seekers to be aware of the unfortunate reality of the current job market: There's still an old-school preference for candidates who have continued to work throughout the pandemic. During your interview, be ready to discuss any gaps to the hiring manager and relay how you grew during it.
You always want to be honest about the gap, meaning you shouldn't lie about your employment dates. "You never want to give an employer a reason to question you down the road or even fire you," says Ruettimann. "But if you can explain the gap a little bit differently or describe the gap as a gap where you were a caregiver, but you were also taking classes. There are a lot of really great resume coaches who talk about how to massage that gap so that you can convey what you learned from that experience."
---
How to Prepare for a Video Interview
Whether you love them or loathe them, video interviews are a standard part of the job process in 2021. You already know how important it is to prepare before an interview by tailoring your skills and accomplishments to the role you're applying for, perfecting your elevator pitch, and having specific questions ready for your interviewer. But now you also need to iron out the logistics of your upcoming video interview, like your background and audio settings. Marie Claire enlisted Zoom's head of global talent acquisition, Phil Haynes, who has spent thousands of hours on video meetings, to provide some Zoom hacks to nail your #aesthetic while remaining professional and glitch-free.
Launch a meeting before the interview
Ahead of your interview, launch a new meeting with yourself. Adjust your camera angle to eye-level, make sure you have a professional background, and test the lighting (natural light is ideal), before the actual meeting starts, then keep your computer in the same position for the interview. This process shouldn't take more than a few minutes.
Get familiar with the audio and video settings
The Zoom filter has been a saving grace for those of us who prefer the makeup-free lifestyle, but still want to look like we've slept more than five hours. If you want to give your appearance an extra boost, you can turn on the Zoom filter under the "Background & Filters" tab in settings. Additionally, under audio settings, you have the option to suppress background noise, like dogs barking or the doorbell ringing. The higher you set it, the less outside noise your fellow meeting attendees will hear.
Tailor the background of your computer screen to reduce any glare
If you wear glasses, in a new window on your computer, pull up a YouTube video that has about 20 hours of a black screen; this prevents a white glare from reflecting on your lenses. You shouldn't have this issue if your Zoom window is full-screen, but if you choose to minimize the Zoom screen to avoid staring at yourself, this will eliminate any distracting reflections on your face.
Choose a special background if your current background isn't ideal
Utilize Zoom's blurred background feature so the focus is on you—not any distractions behind you. If you prefer not to use this and don't have an ideal background (i.e. a messy room), take a picture of a friend or family member's Very Adult home office and save that as your background. Nobody has to know it's not your own home office! Just be mindful that as you move, especially if you lean down to pick up something, people can tell that you have a fake background.
Hide yourself on the screen
Instead of worrying about what you look like during the interview, focus your attention on the person in front of you by hiding yourself on the screen. Stanford communication professor Jeremy Bailenson, founding director of the university's Virtual Human Interaction Lab (VHIL), compared constant video chats to somebody following us around with a mirror all the time, which is unnatural. If you don't want to fully hide yourself, adjust the size of your screen to bring the interviewer closer to the top where your camera is located, giving the impression that you're making direct eye contact. This will replicate a more intimate, in-person situation.
Write your notes down on paper
While keeping notes side-by-side on screen seems like a great way to check them surreptitiously, it can actually be more distracting. Instead, use paper (good ol' fashioned paper!) and let your interviewer know you'll be looking down by saying something along the lines of, "I have some notes/questions prepared for you. I have them next to me so occasionally I'm going to glance down at them. I just want to let you know." Honesty and transparency is key.
---
How to Learn About Company Culture
No matter how great a job may seem, a company's culture will greatly impact your happiness, success, and growth within the role. Today, with in-person interviews practically nonexistent, it's difficult to know what the vibe of the office is (that is, if and when the company returns to one), or what steps the company is taking to improve its diversity, equity, and inclusion (DEI) efforts. Who's in charge of the budget? Where does the money go? What does the leadership team look like? Find out how to get the answers to these key questions and more, below.
Do your research before the interview
Google is your best friend. Jennifer R. Farmer, author of First and Only: A Black Woman's Guide to Thriving at Work and in Life, recommends researching the company before the interview to see if they've been mentioned in the news and why. Then do a social media search for the hiring manager and executives to see what they post and how they interact with people online. When it comes to determining who's actually in charge, many businesses list their executive team and/or board members on their website on the "About Us" page. Pay attention to the mix of genders, race/ethnicities, and ages of the company's leadership. For smaller organizations that list out their full team, pay particular attention to whether people of color are in leadership positions vs. assistant positions.
While you're on the company's website, check to see whether or not it has a diversity, equity, and inclusion page. How specific are the action items? Is there a vision statement? Do they have a chief diversity officer? These are key factors to look into before the interview—but Ruettimann advises job seekers to remain cautious about falling for a company's branding.
"Sometimes when we look to an organization to tell a story we say, 'Oh, they make a good statement' and we ask questions and we go in the interview and they tell us what we want to hear. Then we show up for the first day of work, and it's like, 'Oh yeah, those were lies,'" says Ruettimann. "Companies are very good at lying to us. That's what marketing is all about. So instead of letting a company lie to [you], do your investigation beforehand."
Ask questions early in the interview process
If an employer is taken aback by you asking specific questions about the company's culture, then you'll know the company probably isn't the right fit to begin with. "The best way to discern a company culture is to ask a lot of questions to different people," says Farmer. "Really listen to how the person responds."
Rather than saying, "What's the company culture like?," ask the recruiter or hiring manager the following questions; look for as much specificity as possible, especially with regards to how they envision DEI playing a bigger role in their organization:
Can you tell me about the work you have done to advance diversity?
Are you aware of your company's DEI goals?
Why has the company found that DEI is important?
Who is involved in the DEI work of your organization?
What volunteer opportunities does the company have available?
"If they're like, 'We have a DEI council. They're very active. They collaborate with leaders. They collaborate with managers. They helped to push certain initiatives. We also have representation metrics around race, gender, sexual orientation, and a number of other markers that the company is striving for during the next two to three to five years,' that's a thumbs up," explains Milka Milliance, consulting head of impact and implementation at Collective, a modern DEI company. "That's a sign that they are actually taking it seriously and they're doing some of the things they need to do to start making changes...at least in representation. But it doesn't end there."
Beware of red flags
When learning about a company's culture, especially its DEI initiatives, there are plenty of warning signs that a place isn't up to snuff. If and when they arise, don't ignore them. "Sometimes, as women and as people of color, we can see red flags and we can think oh, well, maybe I'll find a way to make it work or I'll just put my head down. That's idealistic, but it's not possible," explains Farmer. "If a company culture thinks less of women or they're hostile to Black people, it's going to be very difficult to thrive in that environment, regardless of how amazing you may be."
Here are some red flags to watch out for:
An interviewer says the company is on the right path, but not quite there yet.
"Whenever people start off with saying, 'We're not where we want to be, but we're heading in the right direction' that's always a [red] flag for me because it's not that hard to implement if you want to do it," says Farmer. "It's not hard to listen to other perspectives."
The representation is performative.
If the primary DEI effort a company showcases is highly-marketed diversity events like Pride, the representation is likely performative. Companies that are truly doing the work have equitable practices in place and explain how they're advancing those practices. That means going beyond hiring people to check off a box and instead enacting workplace policies that ensure people feel safe and have the ability to grow within the organization.
"Organizations decide we need more diversity, so they try to bring in more people of color, people of different sexual orientations, and more women. Then they haven't created an environment that's inclusive. They haven't put in practices that allow people to actually feel like it's safe in the environment," explains Milliance. "You can bring in more diversity, but if your environment's not inclusive, if you don't have equitable practices when it comes to how people are promoted, then you haven't done enough to really look at what is happening and where you're getting these big gaps as people transition from one role level to the next."
Equitable workplace practices and policies include but aren't limited to:
Recruiting applicants from a variety of backgrounds and locations
Using gender-inclusive language
Eliminating the gender wage gap
Executing a procedure for reporting sexual harassment in the workplace (this includes online harassment)
Implementing a paid leave policy that includes caregiving and pregnancy loss
Building a wheelchair-accessible office and granting disabled people the choice to work from home should they wish
Providing funding and support to employee resource groups
Partnering with BIPOC-owned businesses and organizations
Ensuring historically excluded individuals can speak up without fear of retribution and retaliation and contribute to decision-making within the organization
An interviewer has negative body language.
As Milliance notes, even through the screen, you can see people's body language and witness how they respond to tough questions. If you notice the recruiter or hiring manager seems surprised or annoyed, like gasping or raising their eyebrows at the questions you're asking, that's likely a red flag.
Your gut says something is off.
While talking to someone in an interview, oftentimes you can tell something's not right. "Maybe they say all the right things, maybe they use the catchphrases, but in your gut, there's something that doesn't feel right," says Farmer. "As women, especially Black women, we've been taught to discard that. But I encourage people to lean into it. Why is this person making me feel uneasy? Why did that comment raise a question in my head? Really sit with that versus running away [from] it."
---
How to Negotiate Salary and Benefits
As Ellevest's lead executive career coach Gala Jackson points out, there's a misconception that negotiating is just about numbers. A company should be offering you—and you should be negotiating for—a holistic package, which includes benefits like vacation time, sick leave, maternity leave, a relocation package, a signing bonus, and a stipend for remote work expenses. If a company has stated that you're a top candidate, they're going to want you on the team and you should feel confident advocating for yourself.
Below, find key tips for the negotiation process, which should be happening directly with an HR representative or a recruiter. (Although if you're interviewing with a small business, sometimes you'll be talking to your future supervisor who is acting as the HR agent.)
Determine your value
Before negotiating salary and benefits, Farmer recommends asking yourself a few questions: What is my relationship to money? How do I value myself? How have I done in negotiating in the past? What do I want to make? Oftentimes what's outlined in the job description is the floor in terms of your responsibilities, so factor that in.
"[I used to] start these conversations with what are my bills and how do I cover my bills versus thinking about the value that I would add to that organization. What is the salary that will make me feel comfortable? That will make me feel good?" says Farmer. "One of the worst things is to walk into an organization and to feel you're giving your all, but you're being underpaid and taken advantage of."
If you struggle advocating for yourself, enlist a friend or mentor to help
Third-party sites like Glassdoor can only get you so far when it comes to figuring out a position's average salary. It's important to actually speak with people in your industry. If you don't feel comfortable discussing the exact number with a friend or mentor, present it as a question: "I'm thinking about a position in this industry; what salary range I should expect for this?" If you know anyone directly inside the organization, ask them if they have information on what the previous person in this role earned, as well as information on pay equity across the organization.
Tip: Nonprofit organizations have to file a 990 tax form. The 990 will tell you who the highest paid employees are in the organization and what they make. If the position you're applying for is on there, you can find out what the person in the position previously made.
Make a list of non-negotiables
Before you begin the interview process, plot out a list of what's important to you in your next job. As you get further along in the interview process and you see that the company is interested in you, think about what you're willing to negotiate and what you're not, whether that's a hybrid work model or an adequate paid leave policy. Use the interviews as fact-finding opportunities: How has the company has handled COVID-19 the past year-and-a-half? Is there a concrete work-from-home policy in place?
Find out what location the company is basing your salary off of
With the proliferation of remote-first work and people moving away from major cities, companies are having conversations about whether or not to pay employees based off of where they live or where the company is headquartered. Make sure you know the answer when you receive your offer letter. Jackson recommends basing your proposed salary off of where the company is headquartered rather than where you live.
Don't work off a salary range
When negotiating your salary, state a firm figure. "When you give that number, be prepared to give some tangible examples of how you're going to be able to come in and hit the ground running and add immediate value to the role," Jackson suggests. "It's not enough to say, 'I feel like this is the number that I want to have.' Women use feminine language oftentimes like 'I feel, I believe.' You want to say, 'This is the number that I need, based on the value that I'm bringing to your organization, and here are some examples of what I'm going to need to be able to do [my job efficiently] when I come on board.'"
If you're worried that a company might rescind its offer if you ask to negotiate, then it probably isn't a place you want to work for in the first place. Make the ask and say, "These are the things that I'd like to discuss. I'm flexible on how we get there."
Tip: During the application process, pay attention to whether or not the salary requirements box is a required field. If it's not a required field, leave it blank.
Ask for a full list of benefits
When responding to an offer, be mindful about the language you use in your response, and ask for the full compensation package. "Sometimes when the offer comes we say, 'Oh my gosh, I'm so excited. This sounds great' and we can sell ourselves short," says Jackson. "So instead I say, 'Thank you for this offer. I look forward to reviewing it. Can you also include a full list of benefits, the total compensation package, so I can review everything together?' Getting that information upfront is important."
If you will begin the new job remotely, it's the company's responsibility to make sure you have a home office set up. That means providing equipment like a printer, contributing to wifi costs, and ensuring that when there are technology needs, the IT department is responsive. Additionally, it's important to ask about professional development opportunities and whether or not the company has a raise and bonus structure: Am I entitled to a raise after a year? Is the raise part of a formal evaluation process? How do you determine who gets a bonus? When is the bonus paid out? All of these answers will make it easier to negotiate not only before you enter the job, but once you're there.
Tip: Remote work isn't always as flexible as we think. Many times, companies can't hire employees in states where they're not incorporated, so pay attention to the employment and tax laws where the company is located. When in doubt, consult a tax or legal professional.
Keep in mind some companies are offering incentives to relocate
Our Marie Claire x LinkedIn survey results revealed almost one-quarter (22 percent) of women and non-binary full-time workers in the U.S. permanently moved to a new city or state during the pandemic. If you're thinking about relocating to a new state, remember that certain communities are offering financial incentives of up to $20,000 to move there and help boost the economy. Depending on where you're moving from, the cost of living may be better, as well as career growth opportunities.
---
How to Leave Your Current Job
Although you'll likely be quitting your job over a video call, the principles remain the same as if you were doing so in person.
When you're ready to move on from your current job, set up a meeting with your manager—and potentially their boss, too, depending on your relationship with them—letting them know you have something important to discuss. (Don't explicitly state that you're quitting until the meeting.) Afterwards, submit an official resignation letter. Two-weeks notice is standard, but this varies depending on your industry and role.
"You want to leave the job just as you started the job, so you want to quit gracefully. This is not the time to air your grievances or provide a laundry list of the wrongdoings," says Fisher. "You want to keep this professional, because this is part of your journey of maintaining and building relationships that will carry you for the rest of your career." You'll be able to give constructive feedback in your exit interview with HR.
Tip: As tempting as it may seem, don't tell your colleagues you're leaving before you tell your boss!
And while most everything else has gone virtual nowadays, one thing that's remained the same is how far a hand-written thank you note can go. Before you leave, send thank you notes to a handful of colleagues you want to stay in touch with. Include your personal contact information, so they know how to reach you moving forward. Now you're officially ready to start the next chapter in your career.
*This survey was conducted in July 2021 among a national sample of 1,132 women and non-binary full-time U.S. workers by CensusWide on behalf of Marie Claire and LinkedIn.
Related Story
---
Click here to read the full Future Issue
Celebrity news, beauty, fashion advice, and fascinating features, delivered straight to your inbox!
Rachel Epstein is a writer, editor, and content strategist based in New York City. Most recently, she was the Managing Editor at Coveteur, where she oversaw the site's day-to-day editorial operations. Previously, she was an editor at Marie Claire, where she wrote and edited culture, politics, and lifestyle stories ranging from op-eds to profiles to ambitious packages. She also launched and managed the site's virtual book club, #ReadWithMC. Offline, she's likely watching a Heat game or finding a new coffee shop.