Where Did All My Work Friends Go?
The pandemic has forced our work friendships to evolve. Will they ever be the same?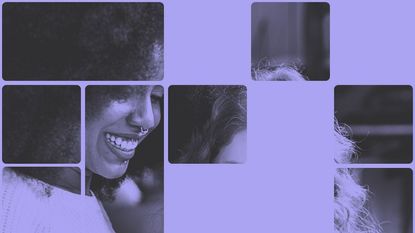 (Image credit: Morgan McMullen)
Marie Claire Newsletter
Celebrity news, beauty, fashion advice, and fascinating features, delivered straight to your inbox!
Thank you for signing up to Marie Claire. You will receive a verification email shortly.
There was a problem. Please refresh the page and try again.
As I finished wrapping up an assignment, I glanced at the clock on my laptop—2:59 p.m.—and felt a twinge of nostalgia. I thought about Bridget who sat across from me in the office—our desks separated by a panel that rose slightly above our shoulders—and the nod we'd give each other signaling it was time for our daily 3 p.m. coffee break. We'd use the walk around the corner to the coffee shop to reenergize, but mainly to catch up on office gossip, and well, life. Now, as my lukewarm coffee sits on my parent's dining room table, where I've been working from the past 18 months, I pull up my Gchat history with Bridget and notice I haven't spoken to her in three weeks. Three weeks. I realize that, like so many former office employees, my work friends seem to have disappeared.
Blame it on The Great Resignation (how could you leave me behind?!) or the isolation of working from home (still very much a privilege), but friendships among colleagues—and, frankly, friendships in general—have not been the same since March 2020. In the early days, when everyone thought this would "all be over soon," weekly Zoom happy hours offered hope that teams could replicate the feeling of being together in an office; white-collar workers were encouraged to take a break from 10-hour workdays to just...talk.
Instead, as we've increasingly turned off our cameras and put ourselves on mute, the main goal of each workday has become getting our shit done, then closing our laptops. Interrupting our seemingly never-ending to-do lists to sidebar about what we did over the weekend or what we think about Olivia Rodrigo's album has become, quite frankly, exhausting. Because of this, our relationships with our coworkers are suffering. Or, at the very least, evolving.
Technology has unquestionably granted us more opportunities than ever to stay connected—and some say that they've become friendlier with their colleagues as a result of the pandemic—but what are the depths of those connections? Can they ever replace the bathroom vent sessions after a presentation goes awry or the cubicle visits to laugh at a funny meme together? As companies continue to push back return-to-office dates and employees relocate to take advantage of the flexibility of remote work, the prospect of building relationships in person—the foundation of, well, humanity—is slim.
According to a Marie Claire x LinkedIn survey, during the pandemic, about a quarter of women and non-binary respondents moved to a new city or state, where they worked remotely. In addition to the loss of in-person connections with colleagues, these transplants might also be grappling with making friends who live in their new zip code.
Arielle S., a 26-year-old sales and marketing executive, recently relocated from Florida to North Carolina. While she stayed at the same company, she transitioned from a hybrid model to remote full-time. As she attempts to make new friends, she notes that it's been difficult not to have work friends around as a cushion until she finds "her people." But her work friendships were evolving even before the move.
"I had to make it a point to think, Do I actually care about this person?" she says, referring to a colleague she once considered a close work friend whom she'd grab lunch with. "Relationships have definitely been put on the back-burner with the, 'Oh, by the way, how was your weekend?' rather than a direct conversation that emphasizes I care about what's going on [in this person's life]."
There are ways to make real connections, even through a screen, though it's not always easy. As a disabled person, Kristen Parisi, 36, has had to develop virtual relationships throughout her career. Parisi, who has used a wheelchair since the age of five, had trouble connecting with her coworkers when she was the only one who worked remotely part-time. (Something she did because a lack of transit accessibility made it difficult for her to commute to work every day.) Back then, in 2014, Slack wasn't popular and neither were video calls, so she defaulted to Yahoo! Messenger, which nobody really used either. She can relate to the isolation that many people feel today—the inability to "click" with coworkers virtually, especially with the added layer of exhaustion and burnout from the pandemic. Still, Parisi is doing her best to make those connections while her and her team work remotely.
"I have a coworker I pinged on Slack one day and I was like, 'I always notice you dress so nicely on these Zoom calls and I'm in crappy T-shirts, where do you do your shopping?'" Parisi recalls. "It started from there and very quickly evolved into a friendship with this person I've never met. The majority of our friendship is over Slack."
Research has proven that forging friendships with coworkers has a positive impact on job performance and overall happiness at work, so it's important to at least try to form relationships with our colleagues beyond day-to-day tasks. But will the friendships we once had ever be the same again? With no option for spontaneous hallway run-ins or post-work drinks at the bar around the corner, cultivating and maintaining our work friendships requires more effort than ever before. It's up to each of us how much we put into them and, ultimately, how much we value them as we adapt to a hybrid world.
As I prepare to sign off for the day, I check the time on my computer again—6:20 p.m.—and realize Bridget is three hours behind on the West Coast, where she's been living since the start of the pandemic. Before I close my laptop, I ping her to let her know I miss her. While I wait for her response (typing...), I reminisce on the evenings we would linger near our desks to chat as our coworkers swiftly cleared out to beat the commuter rush. The bustling office fading to the sounds of our voices echoing in the near-empty hallways. As I take in the familiar stillness, this time as a party of one, I understand that my work friendships will probably never be the same—and that's okay. Evolution makes room for reimagination, and we're all just doing the best we can right now, together.
Related Story
Celebrity news, beauty, fashion advice, and fascinating features, delivered straight to your inbox!
Rachel Epstein is a writer, editor, and content strategist based in New York City. Most recently, she was the Managing Editor at Coveteur, where she oversaw the site's day-to-day editorial operations. Previously, she was an editor at Marie Claire, where she wrote and edited culture, politics, and lifestyle stories ranging from op-eds to profiles to ambitious packages. She also launched and managed the site's virtual book club, #ReadWithMC. Offline, she's likely watching a Heat game or finding a new coffee shop.