The Best Defense in Football
More than a decade ago, Anastasia Danias was just another lawyer at a big firm — until she jumped ship to join the legal department of the NFL. Today, the 39-year-old is the NFL's vice president of legal affairs, representing the league in some of the thorniest, most-talked-about cases in sports.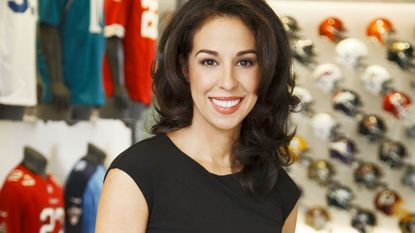 (Image credit: Isabel Asha Penzlien)
Marie Claire Newsletter
Celebrity news, beauty, fashion advice, and fascinating features, delivered straight to your inbox!
Thank you for signing up to Marie Claire. You will receive a verification email shortly.
There was a problem. Please refresh the page and try again.
MC: Did you grow up watching football?
AD: I was the only girl in a family of many, many male cousins who lived, breathed, and died football, so I almost had no choice in the matter. I grew up in Queens, New York, rooting for the Jets. My mom raised me by herself. She's got a great story, actually. She went back to school in her 30s while working to make ends meet, and now she's a physician. When she had class- es at night, I'd often go with her. Later, she went to medical school, and if she couldn't find a babysitter, I'd wait outside the cadaver rooms doing homework while she did her anatomy rotations. I was about 10 at the time.
MC: She must have stood out, a woman entering med school at that stage in her life. Did that make an impression on you?
AD: I think I was struck more by how hard she worked to fulfill her goals. At that age, I was less focused on the gender differences in the profession.
MC: After graduating from Fordham Law School, you joined one of the top law firms in New York City and focused on intellectual property, but you left to work for the NFL after just two years. Those junior associate jobs are notorious for being a grind, especially for women considering motherhood. Was that the case for you?
AD: Being a young associate means a lot of in- tense hours; it's kind of a rite of passage at law firms. The more senior you get, the more control you have over your schedule. But I was single when I made the jump to the NFL — work-life balance wasn't a consideration for me at the time. One of the biggest differences in becoming in-house counsel at a company is that you get to think about long-term strategic and business goals and budgets in a way that you don't get to do while you're at a law firm. That was very appealing to me.
MC: How did you come to apply for a job at the NFL?
AD: I remember it was very, very late at night. I was doing some research on a website dedi- cated to intellectual property matters, and along the side of the screen, there was a list of job openings, including one for an associate who had [my kind of] experience and was interested in moving into the sports world. I thought, It's 1:30 in the morning, what's another 15 minutes to get my résumé together? A few weeks later, I got a call from the NFL. I thought that maybe it was my season tickets coming through.
MC: What was the interview like?
AD: I metwithabout 12 different peopleover a six-month period. It was intimidating in many ways. I was meeting with some of the most incredible legal minds working on ground- breaking litigation matters that I had only read about before.
MC: What kinds of cases do you handle?
AD: The job that I was hired for was really focused on intellectual property law. But my portfolio has expanded in a very big way. I've since become responsible for managing the antitrust challenge to the NFL's lockout of its players last year. More recently, I've become the lead in-house lawyer managing the per- sonal injury lawsuits that have been filed by retired players.
MC: How did your role in the head-injury cases come about?
AD: I'd workedon anumber of other litigation matters, and when this one came up, I raised my hand. I knew it would be challenging, that it would be important. The suits touch upon such interesting legal issues, and I wanted to be a part of that.
MC: What's the NFL's position on these lawsuits?
AD: The 6,085 plaintiffs [among them, 3,973 former players] are basically claiming that the NFL knew or should have known of what they claim are long-term cognitive risks of repeated head injuries, and that the NFL either hid those risks or didn't do enough to prevent them. We vigorously dispute those claims. We're still in the very early stages. Given how many plaintiffs there are and that we'll need to delve into the medical history of each one, the litigation has the potential to go on for many, many years.
MC: You're the mother of two young children. Knowing what you know, would you let your kids play football?
AD: Football is a wonderful sport that encourages leadership, discipline, teamwork, and physical fitness. And I think, as with any physical sport, parents have to be aware of the risks for injury and work with coaches to make sure they are mitigating them.
MC: How much face time do you get with NFL Commissioner Roger Goodell?
AD: I've had many dealings with Commissioner Goodell. Two years after I started, I was asked to be the corporate secretary for the league, which meant that I had to attend owners' meetings. I did everything from taking minutes to working with the owners on various resolutions. Not only did it give me great exposure to the personalities in the league, but it also gave me a better understanding of league priorities and how they were viewed at the most senior levels. The lesson there is, so long as you are developing a rapport with senior leaders, even a task that seems administrative in nature can lead to more substantive opportunities to advance.
MC: Is it safe to say that you work in a mostly male, macho kind of environment? What's that like?
AD: As a general matter, men hold most of the leadership and ownership positions in the sports industry, and the NFL is no different. But in my experience, I think that the differences that drive management styles are less gender-driven and more about individual personalities. I feel like there's always a little bit of mentoring involved in managing. I try to take the parts of leaders that I admire and incorporate them into my own style. I think one of the mistakes that many women make, and one that I made early on in my career, is a tendency to be apologetic. I can't tell you how many women come into my office and say, "I'm sorry to bother you with this." It's far more productive and confidence-inspiring to be direct and straightforward.
MC: You'll give a major press conference in New Orleans just before the Super Bowl to talk about the NFL's measures in thwarting counterfeit merchandise and tickets. How are you preparing for that?
AD: The Super Bowl's very well attended, so there's certainly an intimidation factor, and I want to be sure that I am not only prepared in my written remarks but also ready for questions from the media, which are sometimes tough. I anticipate what kinds of questions I'll get and the themes I want to develop. Being well-prepared is critical.
MC: Do you like doing press?
AD: It's a mixed bag. I love the Q-and-A with the media — it has that same quality of oral arguments. But, obviously, as a litigator, you just want to make sure that you're making your arguments in court, not to the media.
MC: Who will you be rooting for come game time?
AD: As an NFL employee, I root for all 32 teams equally — some more equally than others.
Celebrity news, beauty, fashion advice, and fascinating features, delivered straight to your inbox!