Virtual Reality Has a Female Mafia—and They're Looking for New Recruits
Tech's next wave is rolling in, and women are on the front lines.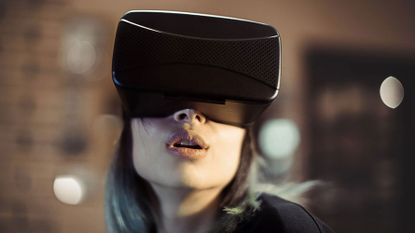 (Image credit: Getty Images)
We've all heard the abysmal gender-imbalance-in-tech statistics: Women made up only a fourth of the professional computing occupations in the U.S. last year, according to the National Center for Women and Information Technology. But set apart from that tired narrative, some female pioneers in the Virtual Reality sector have not only become part of the team, but are leading it—and working to help others break barriers too.
Because VR is still in its infancy, women like Heard City Managing Director Gloria Pitagorsky—whose work focuses on the sound component of the technology—are driving innovation as they experiment to see how consumers react to new experiences. "Everyone is trying to figure out how to use this," Pitagorsky says. "This" meaning something like a NASCAR demonstration (for which Heard City mixed the audio) that transports the viewer onto a racetrack, where the revving of powerful engines merges with the scene of a car taking off at top speed.
Novel, but VR companies are still working to produce a more accessible product. While Oculus and HTC have headsets available, the market for individual buyers hasn't spread as far as possible yet. In 2015, the New York Times sent out Google Cardboard to print subscribers, but it didn't exactly have the game-changing response expected by a new technology.
"Some people threw it out," Pitagorsky says. "They had no idea what it was. I think these are all steps. We're getting there."
As the VR industry figures out its place, women have taken advantage of the opportunity to get in on a new industry while it forms.
Take Julia Sourikoff, head of VR and 360 video at Tool of North America, which creates experiences for Ford, BMW, the MS Society, and Infiniti. Toward the beginning of her career, as she was helping to launch a thought leadership summit, Sourikoff was tasked with putting together an event on the changing nature of media and communications; eventually, she began establishing initiatives like traveling exhibitions and a fellowship program, all geared toward VR.
"We started demoing our first VR projects in 2013," says Sourikoff. "And the immediate response from the audience, seeing people react to this medium relative to other creative platforms, I knew this was truly a groundbreaking technology that was going to define the way stories would be told in the 21st century."
In another sense, the means by which some of these women wound up in VR are often as modern as the technology itself. For Resh Sidhu, creative director of virtual reality at Framestore—the firm behind the visual effects in movies like Gravity, The Dark Knight, and Harry Potter and the Deathly Hallows: Part 1—breaking into the tech scene involved stints in graphic design and advertising—and a long-held aversion to doing anything prescribed by her gender.
"I went through life doing all of the things people don't expect girls to do," says Sidhu. "I think there are so many preconceived notions about paths that we're supposed to take, and I think that I didn't believe them at a very early age. I wasn't rebellious, I was just very focused on doing the things that I enjoyed, and that has led me to being right here."
Pitagorsky's background similarly influenced how she lends her skills to give back. Her family emigrated to the U.S. from Guatemala as refugees who relied on food banks and libraries for services. She credits the people who supported her growing up with fostering in her a sense of philanthropy.
"I am a business owner and a mentor because I had so many wonderful people in my life," she says. "I had a community of people pushing me forward. I preach for mentors. If you're one of the best, your responsibility is to teach that to someone else, to really pay it forward, and get more women in the industry."
Pitagorsky isn't alone in wanting to make breaking glass ceilings a group activity. One organization, Women in Virtual Reality, created by Maria Korolov of VR publication Hypergrid Business, introduces women in the field to each other and celebrates their contributions. And during this year's Tribeca Film Festival, Sourikoff co-hosted a dinner honoring women in the VR space.
"There is this mutual support among women in this industry, and a feeling of camaraderie and community," Sourikoff says. "We want to see each other excel, we are excited to be a part of this burgeoning very early medium, and we want to make sure that we are just as crucial in shaping it as anyone else."
Events like this not only allow women in the industry to get to know one another, but also foster potential partnerships and create lines of communication to bring others on board.
"[I've reached] out to the women who have joined me at the dinner and others I know, asking, 'What badass ladies do you know that I should be talking to right now about getting more hands on in VR?'" Sourikoff says. "'Who do you think would be an interesting fit for a director, artist, or some kind of creative collaborator interested in the space right now?'"
With a variety of roles yet to be filled throughout the industry, the opportunity for women to jump in is there.
"You can be the person that works in the marketing department at a brand," Pitagorsky says. "You can be the sound designer that is creating these 3-D sounds for this virtual experience, you can be the person that's doing the color grading for all of this, you can be the director on the shoot. There's so many possibilities of where you can get into this field."
Follow Marie Claire on Facebook for the latest celeb news, beauty tips, fascinating reads, livestream video, and more.
Marie Claire email subscribers get intel on fashion and beauty trends, hot-off-the-press celebrity news, and more. Sign up here.