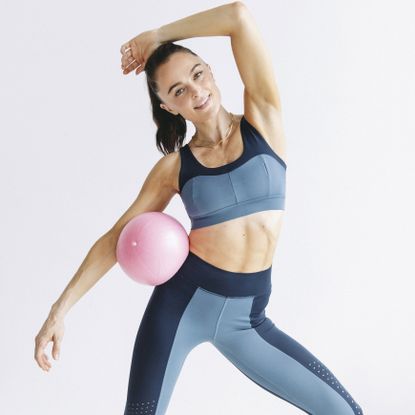 (Image credit: Megan Roup)
Quality sleep is critically important for our mental health. So, what we sleep on matters: Your mattress should be both comfortable and durable, made of quality and nontoxic materials. Just ask Megan Roup, celebrity fitness trainer and founder of The Sculpt Society. After she became pregnant with her first child in 2021, she upgraded her bedroom and chose an Avocado Green Mattress because it was "organic and clean," as she puts it.
Roup has a passion for dance and fitness, and her brand centers around dance cardio and sculpting workouts that basically anyone can do. So, it's clear that she cares deeply about her health and wellbeing (and the health and wellbeing of her exercise community). Roup has programming options for every stage of life; whether you're a beginner, pre/postnatal, or recovering from an injury, she works hard to encourage her community to get away from the "before and after body" attitude that the exercise world so often focuses on and wants to make moving your body safe, fun, and effective. For her, it's all about making healthy choices and loving your body—in whatever state it's in.
That's why Avocado was a good fit. Their mantra is "natural, safe, and responsible." America's #1 best-rated certified organic mattress, Avocado products feature Global Organic Latex Standard (GOLS)-certified organic latex and Global Organic Textile Standard (GOTS)-certified organic wool and cotton. Their products are made in Los Angeles, CA, with the best materials: They have a Vegan Mattress made without wool, a Latex Mattress without springs, and (of course) their 100 percent organic Green Mattress.
All that, plus an internal, zoned, pressure-point support system for proper back support and extended durability? It's a perfect match for even the most committed fitness trainers like Roup—as well as anyone else who just wants to have a good sleep and feel good about their mattress purchase.
Below, Roup gets candid about her mental health, what brings her joy (and what serves as her guilty pleasure), and the importance of centeredness and sleep to her daily life.
Social media has a big impact on my sense of well-being.
My definition of a mental health day is having down time, getting outside and doing something fun!
I unwind with Magnesi-Om from Moon Juice.
My happy place is wherever I'm with my husband and daughter.
On a good day, I deal with rejection by staying calm and focused; on a bad day, I deal with rejection by letting it affect me.
The not-so-great coping mechanism I had to abandon is my 4th cup of coffee after 1 pm.
When I'm being pulled in many directions, I feel overwhelmed.
The workout I turn to to calm down is The Sculpt Society.
When I can't fall asleep, I take CBD.
If I'm stressed before bed, I journal; if I'm stressed when I wake up, I meditate.
When my partner/kid/family is driving me crazy, I take a walk outside.
When I became a mom it really put things into perspective.
The one person I know I can always be myself with is my husband.
I feel the most confident when I'm moving my body.
In my time of need I turn to my friends and family.
When negative self-talk is filling my head, I re-set by checking back in and changing the conversation I'm having with myself, and/or changing the stories I'm believing about myself.
My comfort food is cereal.
The weirdest way I self-soothe is an infrared sauna.
The song I put on for positive vibes is any '90s r&b or hip hop song.
The TV show I watch to de-stress is any rom-com.
I combat stress by taking deep breaths.
A past mental health misconception I had was therapy was for only those who had clinical depression or anxiety.
I first realized I needed to take care of my mental health in my early 20s.
My favorite self-help book is Women, Food, and God by Geneen Roth or anything by Gabby Bernstein.
When I'm down I want my friends to help lift my spirits.
I'm not proud of it, but scrolling on social media makes me feel better.
I think meditation is amazing, I wish I was more consistent with it.
My security blanket is getting eight hours of sleep on my Avocado mattress.
My favorite way to recenter is dance cardio.
My favorite non-medicine medicine is sunshine and movement.
The lowest I've ever been was at age 19 and I came out of it by 25.
My mental health mantra is you are enough.
If you want to take the plunge and get a mattress that's made out of organic, natural materials (for an affordable price, of course), now's the perfect time. From now until June 6, 2022, you'll receive 10 percent off the entire Avocado website with code SAVE10.
Marie Claire email subscribers get intel on fashion and beauty trends, hot-off-the-press celebrity news, and more. Sign up here.