Meet the 26-Year-Old CEO of That Chic Activewear Line You're Seeing All Over Instagram
Outdoor Voices founder Tyler Haney on the advantages of having no experience, networking, and how to actually have a good time working out.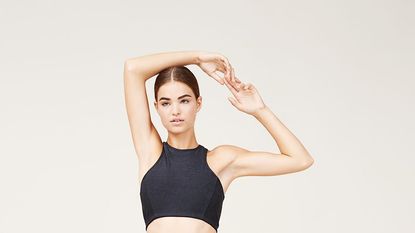 (Image credit: Courtesy Outdoor Voices)
Tyler Haney launched Outdoor Voices—a workout line full of rich colors, distinctive textures, and unique cuts—in 2012, but creating an athletic brand for the cool-girl set is only her first act. Haney wants to change how we see working out, making it less about competition and getting faster and stronger, and more about enjoying the (usually pretty limited) time we have to exercise.
The brand, whose name is a play on adults telling children to use their "indoor voices," encourages that sort of individual expression and dressing to reflect the gratification physical activity can bring. And it's a message a lot of people are getting behind: This year, the company closed on a $1.1 million round of funding. Marie Claire hung out at the brand's showroom and chatted with Haney about her vision, her network of young, wellness-minded founders, and using social media platforms like Instagram to establish a brand.
Marie Claire: How did you conceive Outdoor Voices? How did it go from idea to reality?
Tyler Haney: "I grew up in Boulder, Colorado, and I like to start there because it informs a lot of our approach to activity. In Boulder, casual activity is sort of baked into everything that you do. There's no real separation between your active life and your life-life. That's a big part of our creative approach. I grew up super active, running hurdles and playing basketball. When I was in high school I was wearing brands like Nike and Under Armour that definitely give you the feeling that you need to be bigger, better, faster, stronger. As I graduated out of that phase and realized I wasn't going to be a professional athlete, I wanted brands that embodied a bit more of a balance between being feminine and athletic. I didn't feel like there was a brand that embodied that yet. That was the initial feeling that I wanted to create a brand around."
MC: The textures of Outdoor Voices' pieces are so distinctive. How did you develop them?
TH: "While I was at school in Parsons, I became obsessed with technical and functional material. I started working on development with mills that worked with Nike and Lululemon to create a fabric that was sweat-wicking and compression oriented but different than what was out there. You were used to seeing these flat, black Lululemon leggings and for me, I'm obsessed with texture. So I spent time developing a compression fabric that when you look close, there's a lot of contrast in the material. After working on the fabric, I came out with a five-piece activewear kit that was all about core essentials. And the aesthetic was a lot more in-line with brands like Acne Studios or Rag & Bone, rather than the neon and black you traditionally saw with Nike or Lululemon. That was the basis of how I got started."
MC: You went from being a student to running your own company. How did you learn so quickly to be a manager?
TH: "I've cherished not having the experience, which is a bit counterintuitive. But it allows you to not have preconceived boundaries or notions of ways of doing things. That's been 90 percent helpful and 10 percent frustrating, because you're hedging your self-experience all the time. That's truly the best way to go about disrupting the category: not really knowing how other people have done it. It's definitely been fun. Not having the experience, you have to very much convince people right off the bat that they want to be a part of your company. So enthusiasm has to be high and being very articulate and confident in what we're doing. Just so you're making a very clear vision. And I've found that as I've tightened that up, I'm getting better and better people to join the team."
MC: Sweetgreen cofounder and co-CEO Nicolas Jammet is on your board, and Outdoor Voices has a collaboration with Man Repeller's Leandra Medine. Is there a community aspect to being an emerging wellness-oriented brand? Do you have a network of like-minded peers?
TH: "There are two ways to think about it. The first one that we're going after is 'active but not defined by it.' So Leandra was kind of a perfect fit for us in that sense, in that she's a phenomenal blogger, but she also is very active. That's the way we like to think about our customers. And then, in terms of Sweetgreen, I think they've done a really nice job resonating with the same demographic that we're going after. In this new age of brands like Sweetgreen and Reformation and Glossier and even Warby Parker, we really have felt that there's an activewear brand missing, but we sit nicely amongst those brands. We've been fortunate to work so closely with Sweetgreen, which is a few years ahead of us."
MC: How have you used Instagram and other forms of social media to market Outdoor Voices?
TH: "One thing in particular is we want to go digital first. Instagram's been key. We did our first small Instagram campaign in May, which was the #DoingThings campaign. The response was pretty amazing. For us, the campaign is about cherishing the moments you get to go exercise. And so what we've found is that we asked customers to rally behind #DoingThings. A ton more people than we expected were willing to post themselves out in the world doing all sorts of different activities. I think Outdoor Voices is great in that it is sort of democratic in that way. It's not a prescriptive brand. We're giving you the functional clothing to go do whatever activity you are most into."
MC: Do you think e-commerce is going to replace brick-and-mortar stores for emerging brands like yours?
TH: "Not necessarily. I think there's been a five-year trend that e-commerce is where it's at, but I think to build a full-on, big-time lifestyle brand, you have to be on the channel. We have a shop in Austin, Texas, and it's pretty incredible to see how much that shop affects the uptick in awareness, and people coming online from Texas as a region. For us, we're firstly about e-commerce, secondly about retail, and then thirdly about wholesale. The more products we can get distributed right now, the better it is for our awareness."
MC: You've experienced a lot of success with ecommerce. Is this because you're able to market so successfully online and on social?
TH: "Absolutely. That's where most of our attention is. That, from a business perspective, is what makes sense as we're trying to be a new generation of activewear. Nike and Lululemon obviously have online portals, but their focus is on retail. That's where we feel like we can really resonate with people our age. Creating interesting, novel content that lives on the digital channel. That's where we're shopping, and that's where our customers are shopping."
MC: What's been the best part of launching and running Outdoor Voices?
TH: "The team is definitely amazing, and so is bringing people together through activity. We have a number of different group activities that we host, like Outdoor Voices Jogger's Club and workout happy hours. We do a basketball game on Fridays twice a month with our team. Starting out we had no bench, now we have quite a stacked bench. As we grow, it's fun to keep traditions like that going. We just got back from yoga. We do team yoga on Mondays and invite some of our friends to join us. That's at the root of what our impact is. That's the best part so far."
I'm the features editorial assistant at Marie Claire. Before working at MC, I spent time in the production department at The New Republic and writing about politics for Bustle. When I'm not writing, you can find me museum-hopping, practicing mediocre yoga, and stalking pugs on Instagram.